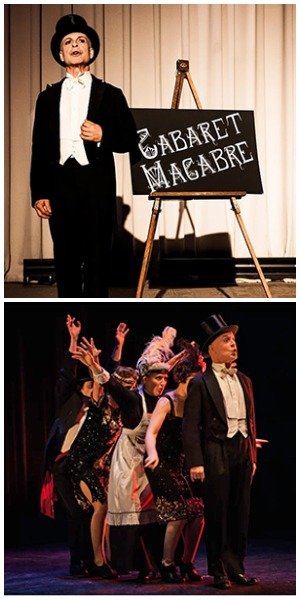 Happenstance Theater (www.happenstancetheater.com) is a six-member, Rockville, MD-based performance troupe steeped in the traditions of commedia dell'arte, clowning, circus, and vaudeville. The award-winning company, which visited St. Mary's College two years ago for its performances of BROUHAHA, is committed to devising, producing, and touring original, performer-created visual and poetic theater that stretches the boundaries of traditional circus/clowning practices.
CABARET MACABRE, which concludes our fall performance schedule, is inspired by the pen-and-ink illustrations of Edward Gorey, the Victorian nightmares his macabre narrative works conjure, "dangerous croquet, Gothic romance, afternoon tea, and perils of the deep." The show captures Happenstance's witty and visual theatrical collage that is the stamp of their work.
In 2014, CABARET MACABRE was nominated for three local "Tony Awards," the Helen Hayes, for Outstanding Costume Design, Resident Production (Sabrina Mandell, co-artistic director of the company); Outstanding Movement, Resident Play; and The Charles MacArthur Award for Outstanding New Play or Musical.
Performances of CABARET MACABRE are free and open to the public. Reservations required. To make reservations, contact the Theater Box Office at boxoffice@smcm.edu or by telephone, 240-895-4243.
During their residency, company members will conduct two workshops on devised theater and on improvisatory performance. These workshops are free and open to the public as well, but space is limited. Time and location TBD. Please check back periodically for more information.