Arboretum Committee Members

The Arboretum association also has a special group of committee members, made of students, staff, faculty, and local community members. This committee meets once a semester to maintain the arboretum and make any necessary updates.
Arboretum Intern, Samantha Berenschot-Bucciero (then link to their pages and photos).
Sam works for the Office of Sustainability! Her job is to maintain the organization of the committee, make sure that St. Mary's Campus is still a registered arboretum and coordinate events such as Arbor Day. She also updates our social media and monthly newsletter.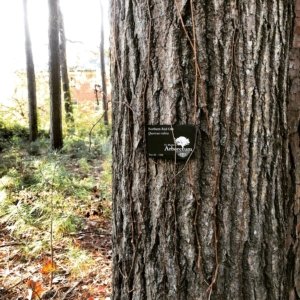 Committee Chair, Maury Schlesinger
Maury is the Director of Facilities Planning at SMCM. As the leader of the committee, his role is to schedule committee meetings and delegate responsibilities. 
Funding, Dave Sushinsky
 Collaborates with the intern to manage funds for the arboretum.
Maintenance, Steven Gregory and Justin Mattingly
Responsible for the health of the trees and collecting data.
Mapping and Tour, Dr. Jon Lina and Dr. Barry Muchnick
These faculty are responsible or creating and updating the tour and map.
General Committee Member, Dr. Bob Paul
As a professor emeritus of biology, Dr. Bob Paul is dedicated to helping us identify new plants and give us recommendations on what trees will grow best on campus.

Contact the Arboretum
Arboretum email: smarboretum@smcm.edu
Follow the Arboretum on Social Media
Insta: @smarboretum
Twitter: @SMCMarboretum
Facebook: St. Mary's Arboretum Association