St. Mary's College of Maryland is committed to promoting sustainable eating practices, from the food we purchase to the ways in which we manage food waste. Read on to discover the many sustainable eating initiatives at St. Mary's.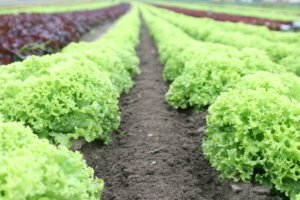 Bon Appetit
Buying Local & Staying Green
Bon Appetit, our meal provider, is committed to sustainable dining. They've partnered with us to promote "Farm to Fork" practices, like using produce grown on our very own own campus farm!
Bon Appetit also works with the Southern Maryland So Good campaign to bring locally produced agricultural products, seafood, free-range poultry, and naturally raised beef to the campus.
In an effort to reduce our carbon footprint, we now operate on a reusable To-Go box system. That means no more styrofoam waste!
The Office of Sustainability also implemented composting in the Great Room in 2017.
Check out the Bon Appetit Website to learn more about the carbon footprint of our food.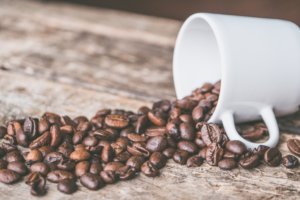 Coffee @ the Daily Grind
Fair-Trade & Shade-Grown
The Daily Grind and The Pub both serve coffee that is certified as fairly traded, shade-grown, and organic. Fairly traded products guarantee that farmers are paid a fair wage for their product. This certification (also available for teas, chocolates, sugar, and beans), helps support small businesses and local farmers.
Plus, shade-grown products protect workers and natural ecosystems. Growing coffee in the shade cools off the workers while also providing a natural habitat for thousands of migratory bird species in the canopy overhead.
Organic & Pesticide Free
Meanwhile, USDA organic certification ensures that no pesticides are used during cultivation of the coffee, which helps to protect farmers and local ecosystems. By buying organic, St. Mary's protects the environment and our consumers from genetically modified organisms (GMO's).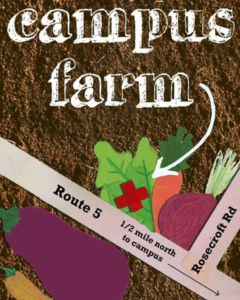 Kate Chandler Campus Farm
Small Beginnings
The farm started as a small patch of ground between the Greens and what is now LQ. In this small, shaded plot, the Community Garden Club maintained its steadily-producing garden but dreamed of bigger things.
Steady Growth & A Bumper Crop
In 2010, those dreams became a reality. With the help of the Environmental Studies Department and the Sustainability Committee, the Community Garden Club leased a piece of the Bean farm from Historic St. Mary's City. Their first planting season was so successful that they were able to donate pounds of produce to the local homeless shelter as well as to Bon Appetit.
What's Next?
The Kate Chandler Campus Farm is a student-run organization that oversees the planting and harvesting of produce and herbs used in campus dining. In 2011, the farm expanded to a full acre lot and continues to strive to break new ground.
The farm is currently seeking grants to build a greenhouse. The greenhouse will hold herbs to be used in Bon Appetit's daily menus. The farm also aims to increase it's supply of food to the campus, thus making St. Mary's College of Maryland less dependent on outside suppliers.
The composting program is currently underway at the farm. The process takes about six months. Once complete, the compost can be used as nutrient-rich soil for the farm's crops.
For more information or to get involved, contact smcmcampusfarm@gmail.com.
What We Plant
Everything! The Campus Farm experiments in a variety of planting with all different types of crops. Some of our past crops include: Flowers, Cilantro, Parsley, Chamomile, Spinach, Lettuce, Kale, Tomatoes, Basil, Onions, Carrots, Snap Peas, Radishes, Beets, Spring Greens, Various Herbs.
Where We're Located
The Campus Farm is located at the intersection of Route 5 and Mattapany Road, just past Rosecroft Road. You'll see a small white house with a dirt driveway; the farm is located behind this house. It's an easy ten minute walk from campus.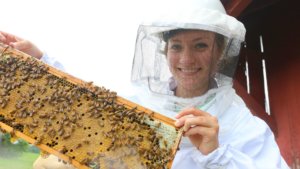 Honey Harvesting
Because Seahawks Love Their Honeybees!
Did you know that the Kate Chandler Campus Farm harvests its own honey? It's true! In partnership with the Office of Sustainability, the farm manages two bee hives which are located on site. Last year, our honey won first place at the St. Mary's County Fair!
Honeybees are vital to healthy ecosystems, and the Office of Sustainability is proud to contribute to healthy bee populations at St. Mary's College of Maryland.