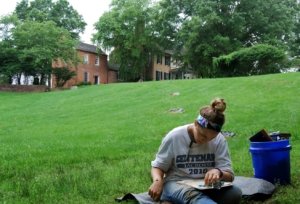 Environmental Studies at St. Mary's College of Maryland
A rural, waterfront campus: the best place to get an education in environmental studies
Our waterfront campus offers plenty of hands-on experience for environmental studies students. Located in rural Southern Maryland along the St. Mary's River, we boast a living arboretum and vibrant watershed right in our backyard!
Supportive faculty will guide you through independent research in small class sizes. Many environmental studies majors even contribute to international research, like the Office of Sustainability's own Kaitlin Aaby!
The Environmental Studies program is cross-disciplinary in nature, meaning you will gain skills from a variety of fields. ENST courses stem from many different departments, including art, biology, chemistry, creative writing & literature, legislation, public policy, and more.
In addition, St. Mary's College of Maryland offers three tracks for environmental studies majors: environmental science; environmental policy and social sciences; and environmental humanities. For more information about different ENST tracks, check out the course catalog.
Check out more information about the environmental studies academic program at St. Mary's College of Maryland.