What is it?
The Green St. Mary's Revolving Fund is a revolving loan fund that supplies money for green projects at St. Mary's College of Maryland.
How does it work?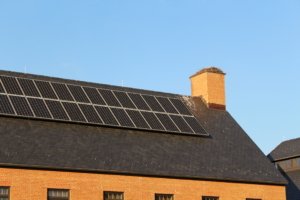 When GSMRF funds a sustainable project, money from the revolving loan fund pays for a portion or all of that project. Since green projects are designed to save money over time, the projects eventually pay for themselves. The money saved over time is then funneled back into the GSMRF, even after the project has been paid for. This way, the GSMRF continues to grow.
A portion of the GSMRF loan fund comes from student fees. In 2007, St. Mary's College of Maryland students overwhelmingly voted to increase student fees by $35 / year to support GSMRF funding. The Student Government Association also gives money to GSMRF each year as a percentage of their total budget (2.5%).
Why do we have it?
St. Mary's College of Maryland is dedicated to the preservation of priceless environmental resources. Reducing our carbon footprint has always been a priority for the students, faculty, and staff at St. Mary's. Without adequate funding, it would be impossible to progress towards our goal of becoming 100% carbon-neutral by 2020.
GSMRF enables us to construct sustainable projects that reduce our carbon footprint while also conserving financial resources. Plus, GSMRF plays a vital role in supporting student-designed green projects. GSMRF also enables the Student Government Association to allocate their budget towards other activities.
How do I get involved?
Come up with a green idea that could benefit the school
Find a staff or faculty member who would be willing to be your advisor (Sustainability Fellow counts!)
Complete a proposal in collaboration with your advisor
Submit your proposal to the Sustainability Fellow
If the proposal is approved, the project can progress!
Past Projects