St. Mary's College of Maryland is committed to constructing a greener campus. Read on to find out how we strive to improve our relationship with the environment.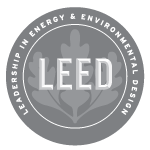 LEED Certified Buildings
The United States Green Building Council awards LEED certification to buildings based on their level of sustainability. LEED stands for Leadership in Energy and Environmental Design.
St. Mary's College of Maryland is proud to have multiple LEED-certified buildings across campus. These buildings conserve energy and water, reduce waste, reduce harmful greenhouse gas emissions, and utilize renewable building materials.
Our Green Buildings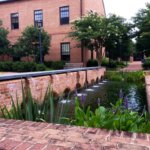 Goodpaster Hall,
LEED Silver
Saves 300,000 gallons of water annually
30% reduction in water use and sewage output accomplished through use of waterless urinals, dual-flush toilets, and gray-water systems which recycle water from sinks for flushing
Uses 30-40% less energy than a conventional building due to smart design and use of highly efficient equipment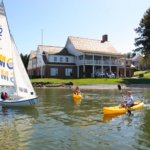 Muldoon River Center,
LEED Silver
Geothermal heat pump that reduces 40% of the power it takes to heat and cool the building
Gray-water system, waterless urinals, and dual-flush toilets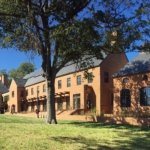 Anne Arundel Hall,
LEED Gold
19Kw photovoltaic array (solar power)
Constructed from efficient and sustainable materials
Gray-water system, waterless urinals, and dual-flush toilets
Admissions Office
Geothermal heat pump that reduces 50% of the power it takes to heat the building and 30% to cool the building
Reduced electrical consumption and carbon dioxide emissions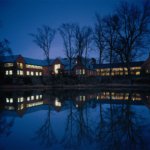 Hilda C. Landers Library
3kW photovoltaic array (solar power)
Water saving low-flow toilets
Smart Power
Energy-Efficient Washers
The front-load washing machines installed in all of our campus laundry facilities save up to 70% more water than traditional top-load machines.
Motion Sensor Lights
Motion sensor lights are installed all over campus. These lights reduce electricity consumption when there is no activity in the area.
Water Conscious
Low-flow Toilets & Showers
Most of the toilets and showers on campus are low-flow devices. This means they use significantly less water than regular devices.
Low-flow toilets do not have the tank on the back. Some of the toilets are also dual-flush, which promotes water conservation by giving users the option to use a full-powered flush or water-conserving flush.
Green Policies
Anti-Idling Policy
We strongly encourage students to turn off their cars while waiting or chatting with others. Not only is idling costly for drivers, but it also emits unnecessary greenhouse gases that are harmful to our planet.
Green Cleaning Supplies
Housekeeping purchases green cleaning supplies for the campus. We also encourage our residential students to clean their living spaces with environmentally-friendly materials.