Make a difference
The Campus Sustainability Intern works with students, faculty and staff on a wide array of sustainability initiatives. This includes working closely with the Sustainability Fellow and campus stakeholders in the research, implementation, and analysis of sustainability projects and co-curricular sustainability programming. All interns are expected to be leaders, researchers, advocates, and participants.
Be part of the team
Students will learn basic methods of environmental impact assessment and project management, strengthen written/verbal communication skills, develop leadership skills and collaborate as part of a team, develop strong organizational habits, and increase knowledge of sustainability principles and applications. Students may have the opportunity to present at and/or attend a conference relating to campus sustainability.
Click here to meet the current team!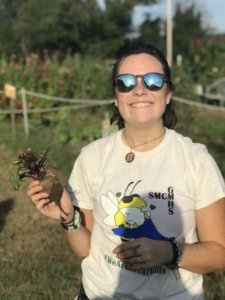 Choose your path
The Sustainability Interns should indicate their interest and be prepared to do projects in one or more of the following areas of campus sustainability:
Renewable energy, energy efficiency, and climate
Sustainable food and agriculture
Sustainable waste management
Sustainability education and outreach
Natural resources and conservation
"I feel empowered to take on tasks that support our institution and align with sustainable and environmental missions."

~ Samantha Berenshot-Bucciero, Sustainability Intern 2018-2019
Become a Sustainability Intern!
Applications for the Sustainability Internship are sent out every semester. Keep an eye out on InsideSMCM!