Sept 10-17, 2012
Visiting Collaborative Fellow: Ellie Baker, interdisciplinary
SMCM faculty collaborator/sponsor: Susan Goldstine, Department of Mathematics
Ellie Baker and Susan Goldstine are writing a book on applying mathematical principles to the design of bead crochet bracelets. Crafting Conundrums: Puzzles and Patterns for the Bead Crochet Artist will include the mathematical theory behind a new approach to bead crochet design and a large selection of patterns illustrating the theory.  The Artist House residency gives the authors an opportunity to revise the book chapters and review which bead crochet patterns to include.  Some of the material in Crafting Conundrums expands on Goldstine and Baker's prior publications, "Building a better bracelet: wallpaper patterns in bead crochet" in the Journal of Mathematics and the Arts, and "Bead Crochet Bracelets: What Would Escher Do?" in the 2012 Conference Proceedings of Bridges: Mathematics, Music, Architecture, Art, Culture.

Ellie Baker holds a B.F.A. in Sculpture from the Rhode Island School of Design and a Ph.D. in Computer Science from Harvard University. She has worked as a high school fine arts teacher, a software engineer, and a computer science researcher. Her employment history includes stints at Bolt, Beranek and Newman, a major contributor to the development of the Internet, and at Thinking Machines Corporation, an early pioneer in massively parallel computing. Baker's research interests typically lean toward the visual. Most recently she has become passionate about mathematical connections in pattern design for the craft of bead crochet and is working on a book on this topic with mathematics professor Susan Goldstine. Baker's prior work included studying facial image database search strategies and development of the "Drawing Evolver," an interactive simulated evolution system (mentioned in Stuart Mealing's book "Computers and Art") for creating drawings of faces and other subjects.  Baker's collaboration with Susan Goldstine and Sophie Sommer has produced artwork exhibited in the juried shows of mathematical art at the national Joint Mathematics Meetings (2010 and 2012) and at the upcoming Bridges 2012 international mathematics and art interdisciplinary conference. Baker currently lives in Lexington, Massachusetts. For more info about Ellie Baker  http://www.ellie-baker.com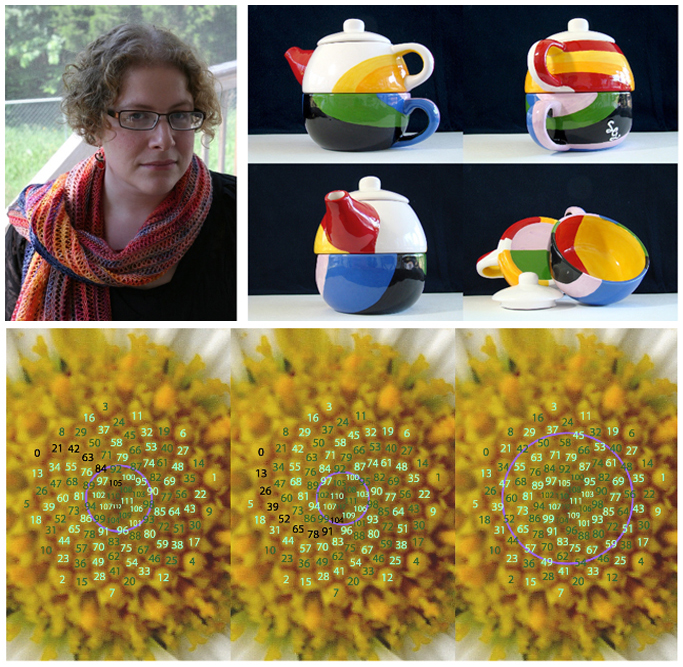 Susan Goldstine received her A.B. in Mathematics and French from Amherst College in 1993 and her Ph.D. in Mathematics from Harvard University in 1998.  She joined the faculty of St. Mary's College of Maryland in 2004, where she is currently Associate Professor of Mathematics. While her original research specialty is number theory and algebraic dynamics, Professor Goldstine has become increasingly focused on the intersection of mathematics and the arts.  She has constructed numerous tactile and visual mathematical models employing such diverse media as yarn, fabric, thread, beads, paper, steel wire, copper tubes, pinecones, and pottery, though not all at once.  Her own artwork, as well as joint artwork with Alison Frane, Ellie Baker, and Sophie Sommer, has been presented in papers in Math Horizons and the Journal of Mathematics and the Arts and displayed in the juried art exhibition at the national Joint Mathematics Meetings.  Professor Goldstine is also an avid cook, and while she usually pursues non-mathematical cookery, she hopes one day to reproduce the interlocking Escher swan cookies she made for a lark as an undergraduate.  In the SMCM Mathematics and Computer science department, she strives to maintain her reputation for having the office with the most toys.  More info about Professor Goldstine.