Wednesday September 16, 2015
4:45 – 5:45 Cole Cinema
Join us for a discussion with alumna Erica Maust '09 and designer Andrew Olsen to hear about their urban Farm + floral design studio: Chicory. What began as a neighborhood beautification project has turned in successful green business.
In 2014, Erica Maust and Andrew Olson had the opportunity to transform a vacant quarter-acre, city-owned parcel of land in the Mantua neighborhood of Philadelphia into a cut flower garden. What began as a neighborhood beautification project evolved quickly, and the two formed chicory, an urban flower farm and design studio. The two grow hundreds of varieties of cut flowers and foliage on the small parcel of vacant space and create unconventional and elegant floral designs for weddings and special events. They also provide free workshops within the community on urban gardening. They are currently searching for more vacant land in the city to expand their growing space, and working on a book about floral design (forthcoming Fall 2016)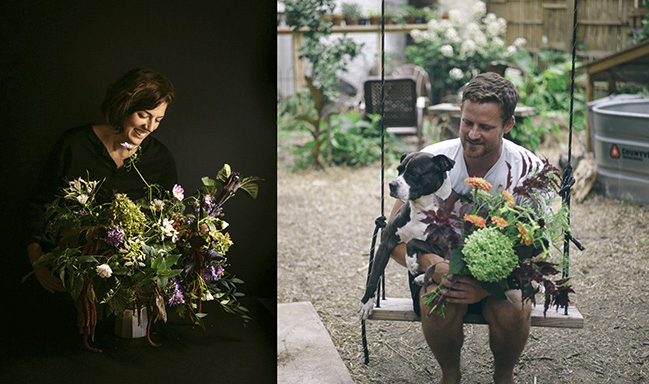 Erica Maust is a freelance designer and farmer-florist in Philadelphia. She received her BA in Art from St. Mary's College of Maryland in 2009, and attended the University of Pennsylvania School of Design and received a M.A. in Historic Preservation. While at PennDesign, she studied landscape preservation and the impact of environmental color in urban communities. She later worked for a non-profit in Philadelphia (The Woodlands Trust for Historic Preservation), and she is also a freelance graphic designer, with clients that include PublicStuff, The World Bank, PennDesign, and Anthropologie.
Andrew Olson is an accomplished horticulturist with more than a decade of experience of growing and designing urban landscapes in Philadelphia. He received his B.A. from the University of Delaware then spent 3 years working as an AmeriCorps volunteer at Earthcorps, a non-profit specializing in urban parkland restoration, and 2 years working for an organic landscape maintenance and installation company. Olson worked as the Public Landscapes Manager at the Delaware Center for Horticulture to design, implement, and maintain over 25 public landscapes throughout the city of Wilmington. In 2009, he turned 2 vacant city lots next to his home in Southwest Philadelphia into a thriving organic urban garden known as Farm 51.