Dahlberg is the SMCM-MICA Artist House Teaching Fellow and artist-in-residence for the Fall 2015 semester.  Dahlberg earned a MFA in Painting from the Hoffberger School of Painting, Maryland Institute College of Art in 2015, and a BA in Visuals from Brown University. He has been awarded residency fellowships by the Skowhegan School of Art, Vermont Studio Center and a Fulbright Fellowship to Brazil. While in residence at SMCM this fall he is creating new works in the Artist House visual artist studio and teaching Introduction to Drawing. Also during his residency, Dahlberg will have a one-person exhibition in the Art Annex Gallery from September 28-October 14, 2015 entitled, No Man's Nomad.
Opening September 28, 2015
4:45 – 5:45 pm, Art Annex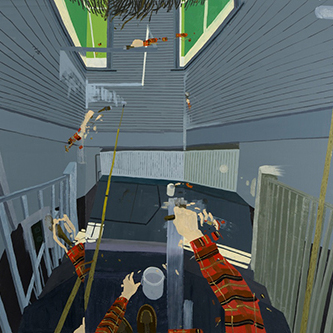 The exhibition will run through October 14, 2015.