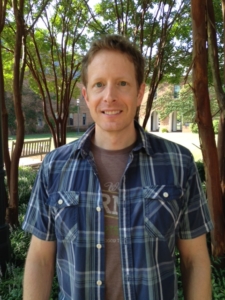 Can you tell me about your research?
I specialize in the population ecology of forest insect pests, and the interactions among plants and insects. I am particularly interested in factors that influence important demographic parameters of insect populations. Much of my recent work has focused on the effects of temperature, and how altered thermal regimes could impact pest outbreaks.
How did you get to where you are now, in terms of your education and training in science?
I'm originally from the suburbs of Rochester, NY. I completed my B.S. in Environmental and Forest Biology from SUNY ESF and went on to do an M.S. in Environmental and Plant Biology at Ohio University.  Afterwards, I worked as a research technician in the Forest Ecology lab at the Smithsonian Environmental Research Center in Edgewater Maryland, just outside of Annapolis. I left the Smithsonian to begin a Ph.D. program in Ecology and Evolutionary Biology at Dartmouth College in Hanover, NH. I then worked as a post-doc in the forest entomology lab at the University of Massachusetts, and spent the past year as an Assistant Professor in the Biology Department at Utica College in upstate, NY.
What does your research team currently look like?
Being a new faculty here, I'm still in the process of getting my lab up and running, although I do have a few ongoing projects with collaborators at other institutions. If students are interested in the work I do, they should feel free to contact me and we can discuss some potential ideas.
What classes will you teach in the fall? Which are you most excited to teach?
I'll be teaching the plant physiology course (BIOL 435) and the Contemporary Bioscience (BIOL 101) course for non-majors. I really think both will be fun and interesting!
At St. Mary's, the students have an unofficial slogan "Keep St. Mary's Weird." Do you have any endearing quirks that fit with this motto?
I have a habit running off after interesting insects that might happen to fly by. If you see me walking around campus and I suddenly bolt off in another direction, that's probably why.
Is there anything I didn't mention that you'd like to add?
I would just add that I'm really looking forward to my time here at St. Mary's,
What research do you plan to conduct in Maryland?
The coastal regions of Maryland have been experiencing outbreaks of southern pine beetle recently. This insect has greatly expanded it's influence in the northern extremes of its geographic range in recent years. Maryland has a number of potential host pine tree species that aren't prevalent in this insect's historic southern habitat. Some basic observational and experimental studies could reveal important information about how variation in host species might affect beetle population dynamics.
What is your favorite aquatic organism and why?
I think I'm going to have to go with the mantis shrimp on this one. Mostly because of their incredibly unique eye characteristics.