The Department of Chemistry and Biochemistry at St. Mary's College of Maryland announced that its biochemistry program has received accreditation from the American Society for Biochemistry and Molecular Biology through 2023. Current students enrolled in the program can participate in the 2016 ASBMB certification exam this April. St. Mary's College is the first public institution in Maryland to receive this prestigious accreditation, and one of about fifty schools in the country holding the designation.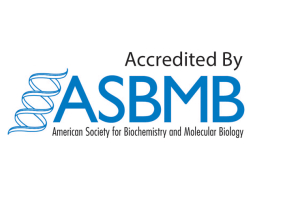 The ASBMB received a National Science Foundation grant in 2010 to develop the accreditation standards. The ASBMB Degree Accreditation Program is designed to recognize undergraduate biochemistry and molecular biology programs whose "features and infrastructure meet the standards set forth by the ASBMB." Students at accredited schools can obtain a certified degree by exhibiting satisfactory performance on a national exam administered by the organization. This evaluation instrument gives students an independently constructed and scored tool for assessing their level of achievement and the program's effectiveness. It is also an important way to demonstrate their competitiveness with peers from across the nation when applying for graduate programs, professional programs and jobs.
"We are really excited and proud to have earned this accreditation," said Pamela S. Mertz, associate professor of chemistry and biochemistry. "Our chemistry program has been accredited by the American Chemical Society since 2003. This new accreditation makes it clear that both St. Mary's chemistry and biochemistry programs fulfill or exceed national standards."
The application for accreditation, which Mertz describes as "massive," evaluates more than a college's curricular offerings. "They asked about research opportunities, diversity, instrumentation, how we teach our labs, and much more," Mertz recalled. She was pleased to see that in the acceptance letter the association lauded the school for having "excellent faculty, who are outstanding in teaching and research, and a rich interdisciplinary curriculum with inquiry components woven throughout."
As the ASBMB notes on its website, "biochemistry and molecular biology are distinguished by their focus on information flow, structure, function and mechanism within overarching biological contexts." Now that the St. Mary's program is accredited, the ASBMB encourages the college to "actively and visibly promote the excellence and innovation in undergraduate biochemistry and molecular biology education symbolized by the accreditation." Mertz states that the accreditation may help recruit new students to the program and will provide the school with important assessment feedback about how to continuously improve the program in the future.
More information: