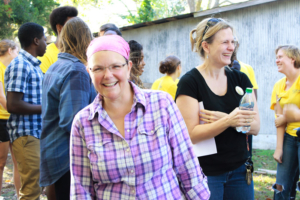 Professor of English Katherine "Kate" Chandler died April 1, 2017, at age 67, after a two-year battle with cancer.
She earned her B.A. in English Literature from New College of the University of South Florida in 1978; her master's degree in English from The Pennsylvania State University in 1988 as well as her PhD in 1995.
While a graduate student at Penn State, Kate taught writing and earned two awards for her teaching. She joined the faculty of St. Mary's College of Maryland in 1996 after serving two years as a lecturer. She taught courses in writing and composition, literature, studies in authors, landscape and nature writing, and environmental perspectives. She also mentored more than 25 St. Mary's Projects.
In 2011, she was honored with St. Mary's College's Homer L. Dodge Award for Excellence in Teaching. That same year, she was awarded the Andy Kozak Faculty Contribution to Student Life Award as well as membership in Omicron Delta Kappa national leadership society.
Kate's scholarly publications and conference presentations include several articles about nature in "Beatrix Potter Studies" and articles about environmental literature. She co-edited a book, "Surveying the Literary Landscapes of Terry Tempest Williams: New Critical Essays" (Univ. of Utah Press, 2003). She wrote 85 articles as the "Nature Notes" columnist for the College's River Gazette between 2001-2011.
She helped to found the Environmental Studies Program and from 2007-2012, was the program's coordinator. She had co-chaired the Chancellors' Point Project Committee since 2009. She had been, since 2010, the faculty adviser to the Campus Community Farm, and facilitated organic farm produce sales to the campus food service provider.
For 40 years, she was editor and researcher for her husband, author Roy "Rocky" Chandler. Together, they wrote three young adult novels. She was also a Sunday-school teacher and relief services coordinator for The Church of Jesus Christ of Latter-day Saints.