Faculty who serve as study tour leaders receive a variety of support through the program development and implementation process. For details on proposing and leading a study tour, it is crucial to review in detail the OIE's Study Tour Guidelines.
Please note: In order to maximize study tour promotion timelines with the OIE's reduced staffing capacity, the deadline for 2024 Study Tour Proposals is March 15th.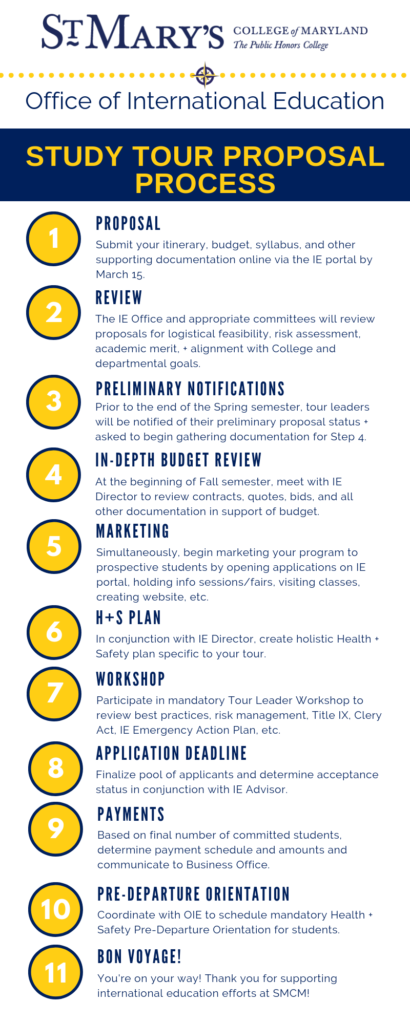 How to Apply
Before any promotion or implementation of a study tour can begin, a Study Tour Proposal needs to be submitted for review. This proposal can be accessed on our Via TRM application portal during our proposal period (through mid-March, a year ahead of time), and includes:
Study Tour Proposal (This includes detailed information on course content, program provider, safety assessment, logistics, etc.)
Study Tour Budget Form
Detailed Itinerary
Proposal from an approved provider of choice*
*In order to align with best practices, all new Study Tours are required to work with a US-based study abroad provider. You are welcome to choose your provider from the approved list below. If there is another provider you prefer, or you need assistance finding an appropriate provider, please contact the Director of International Education.
Application Deadline
All program proposals should be submitted by faculty in the Study Tour Proposal Program application in Via TRM by March 15 to be considered for the next academic year.
Program Approval Process
Each program will be reviewed for safety and academic content by:
Department Head
CRC
Dean of Faculty and Provost
Director of International Education
Please note that programs that diversify our current geographic offerings are highly encouraged, and that approval of a program does not guarantee it will fill and run. In order to reduce competition and increase support, the number of study tours running will be limited each year.
Pre-Departure Support
Upon approval of a Study Tour Proposal, all study tour leaders will complete a faculty program application. This application includes:
emergency contact information
signing several electronic documents
a copy of your passport
The Office of International Education will continue to support Study Tour Leaders throughout the various phases of preparation, including:
Recruitment: the Fall Study Abroad Fair is now dedicated to SMCM semester and study tour programs
Financial Details: the OIE works closely with the Business Office to bill study tour students
Health and Safety: the OIE trains all Study Tour Leaders on best practices in Risk Management,  purchases international health insurance for all participants, and conducts pre-departure orientations tailored to each Study Tour
For questions concerning Study Tours, please contact the Director of International Education.