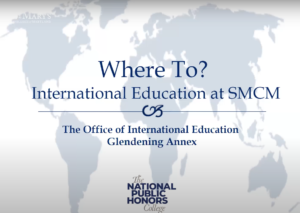 1. Watch the above video if you would like some more information about study abroad!
2. While you're researching your ideal program, browse our thorough "Program Finder" Sheet!
3. Make sure you have a passport that will be active for 6 months after your desired program end date. If you don't, please do this as soon as possible because it can sometimes take months to carry out. More information about this process can be found here.
4. Sign up for a 1-1 advising appointment here.
5. Go to Via TRM, the SMCM OIE's application platform, and create an account (or sign in with your existing account).
6. When you're ready to apply, click "Programs" at the top of the page, filter to find the program you're looking for… and….
7. Click "Apply Now!"
NEW! Global Scholars Distinction Opportunity
Did you know that you can apply to be a Global Scholar if you are participating in an international experience? For more information, please see the GSD FAQs page and the Learning Contract. The Global Scholars Distinction Learning Contract. Once you commit to study abroad, you will have the option to sign up for this distinction.
Deadlines:
Program Applications
Feb. 1 – Summer Study Tours
March 15 – Academic Year and Fall
April 15 – Summer
Oct. 15 – Winter and Spring
Scholarship Applications
Feb 1 – Summer
March 1 – Academic Year and Fall
Oct. 1 – Winter Break, Spring Break, and Spring
Non-SMCM Program Proposals
March 1 – Academic Year and Fall
April 1 – Summer
Oct. 1 – Winter and Spring
Eligibility Requirements:
Minimum GPA: 2.5
Sophomore standing
Be in good behavioral and academic standing
At the time of applying for a visa, if necessary, must have a passport active for six months beyond program end date.
Programs often have higher eligibility requirements, especially regarding GPA and language-level. Always check your program's requirements before you apply to see if you are a good candidate for that program. Please do not hesitate to ask your Study Abroad Advisor in the OIE for help!