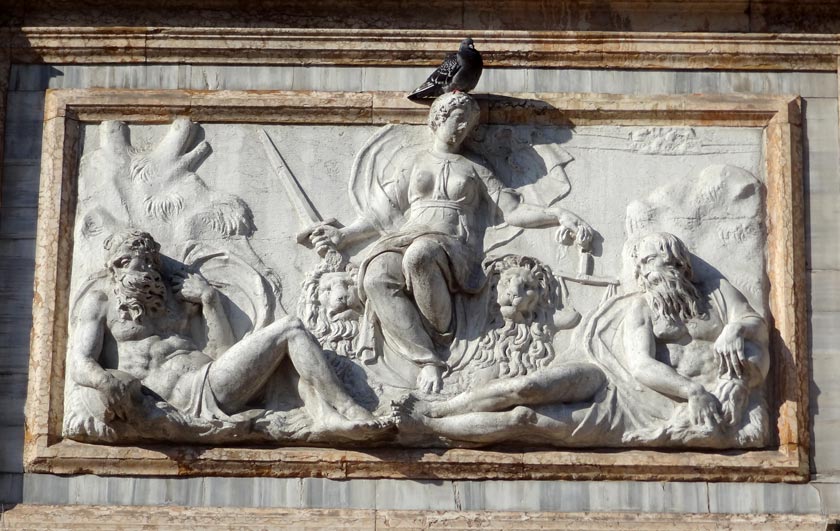 Pre-Requisites
Minimum GPA: 2.5
Judicial Check
Dates
Fall 2024 Program Dates: September – December

SMCM Application Deadline: March 15th
Arcadia Application Deadline: April 20th, but apply sooner!
Highlights
Study among the best in studio art, fashion, graphic design, and interior design in Europe
Take liberal arts courses in the birthplace of the Renaissance
Experience apartment-style living in the heart of Florence
Financing Studying Abroad
Office of International Education Scholarships (Need-Based, Merit-Based, Region Specific, Language Study)
Arcadia Scholarships (General, Pell Grant Recipient)
Speak with the Office of Student Financial Assistance for Options
About the Program
SMCM students have the opportunity to join students from all over Italy and the world to study at Accademia Italiana in Florence, Italy.  One of the best art, fashion and design schools in Europe, Accademia Italiana was founded in 1984 and is the perfect setting for professional growth and specialization in various design, artistic and linguistic fields.
No prior knowledge of Italian language is required, and courses are offered in both English and Italian, allowing students to combine liberal arts courses and Italian language and history with strong offerings in studio art, fashion, graphic arts, interior and industrial design and textiles.
Location
Florence is located in the heart of Italy's Tuscany Region in western Italy along the Arno River.  It is 172 miles north of Rome and 185 miles south of Milan.  It is the capital of its region and has a population of approximately 400,000 people.  Florence is famous for its history as a center of medieval European trade and finance and is considered to be the birthplace of the Renaissance.
The Accademia Italiana is located in two beautiful renaissance buildings directly across from the famous Palazzo Pitti in Florence's Oltrarno district, just steps away from the Ponte Vecchio.
Academics
All SMCM students will take an Italian language course for 4-credits as well as four additional 3-credit courses per semester.  The Accademia Italiana offers a wide range of courses to choose from, many of which are taught in both Italian and English.  These courses are designed to provide deep insights into Italian culture and focus on the unique history and traditions of Florence and Tuscany.
Art and design courses are open to all students.  In these courses you will be integrated with Italian and other international students. If you do not have a background in these areas, you may enroll in beginning-level courses. Although most introductory art and design (300 level and below) courses are taught in Italian, they will likely have either an instructor who speaks English or assistants who can facilitate communication, so eligibility is not contingent upon your proficiency in Italian.
To be considered for upper-level courses (400-500 levels), you will need to demonstrate skill in the subject area and/or have proficiency in Italian language.  Students wishing to enroll in art and design courses may be asked to submit a portfolio or slides of recent work.
Housing and Meals
While studying at the Accademia Italiana, you will live in furnished apartments in the heart of Florence. Apartments typically house between two and six students in shared bedrooms and your roommates are likely to be other North American students studying at Accademia Italiana.  Most apartments are within a 10-20 minute walk to campus.
Each apartment will be slightly different, however, each apartment will have bedding and towels provided along with internet access.  Some landlords may provide additional amenities such as laundry facilities or television, but these items should not be expected.  Laundromats are within walking distance if your apartment does not provide one.
Living as a Florentine, you will do your shopping at nearby markets and stores and will be able to prepare your own meals in your apartment's kitchen.  You can also purchase meals at any of the nearby local eateries.  Meal plans are not included.  During orientation students will be showing where the nearest markets are and given tips on how to shop like an Italian.
Student Life
The SMCM-Arcadia in Florence program will begin with a comprehensive on-site orientation with the Arcadia staff who will be your 24/7 support for the duration of your program.  Your orientation will include information on academic contracts, behavioral expectations, cultural differences, internet access, cell phones, banking, health and safety, housing issues, and emergency contact information in addition to a series of excursions around Florence and Tuscany.  Students will be moved into their housing at the conclusion of orientation.
Living in Florence, students will find that, although it is a larger city, it is very manageable and easy to navigate on foot.  With a number of public green spaces, as well as intriguing architecture found around town, riding a bicycle is a popular mode of transportation.
Important Links
How credits taken abroad will transfer back to SMCM.
The academic and judicial requirements for any student considering studying abroad.
How financial aid will apply towards your study abroad program and what scholarships are available.
Payment processes for semester-long, short-term, and non-SMCM study abroad programs.