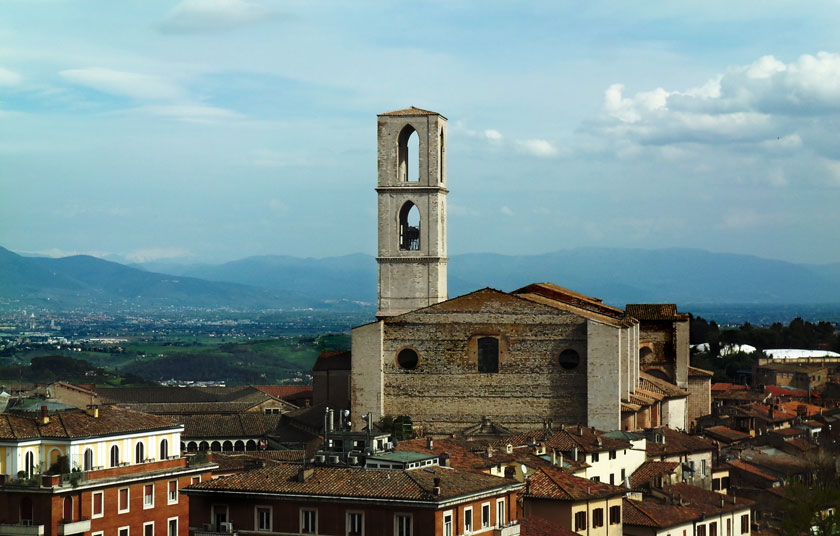 Pre-Requisites
Minimum GPA: 2.75
Judicial Check
Currently Accepting Applications for:
Fall 2024 Program Dates: August – December

SMCM Application Deadline: March 15th
Arcadia Application Deadline: April 20th, but apply sooner!
Highlights
Study in Central Italy with easy access to Rome, Florence, Siena and beyond
Picturesque cobblestone streets on which to shop and verdant hills to hike
Italian students in your English-taught courses
Unique Food and Sustainability Studies Program
Internship, service learning, and volunteer opportunities
Course List
Financing Studying Abroad
Office of International Education Scholarships (Need-Based, Merit-Based, Region Specific, Language Study)
Arcadia Scholarships (General, Pell Grant Recipient)
Speak with the Office of Student Financial Assistance for Options
About the Program
SMCM in Perugia, Italy offers students the opportunity to study at the Umbra Institute, which offers a variety of courses across multiple disciplines for study abroad students.  No previous knowledge of Italian language is required.  The diverse faculty and staff at the Umbra Institute strive to incorporate a genuine Italian experience into all elements of both the academic curriculum and student life.
SMCM's partnership with Arcadia Abroad creates an immersive experience for students to learn beyond the classroom.  More than simply visiting a landmark or touring the city, students engage with the culture of the place, its people, environment and its traditions.
Location
Often called "the big university town in a small Italian city," Perugia's hilltop location serves as the ideal backdrop for your study.  Rich in art, architecture, and historical significance, it is internationally recognized as a city of learning.
Perugia is the capital city of the region of Umbria in central Italy. Located approximately 100 miles north of Rome, it covers a high hilltop and part of the valleys around the area.  As of 2011, the city was home to about 150,000 residents, most of whom are Italian citizens.  The city is home to the Cattedrale di San Lorenzo, the Fontana Maggiore, the Orto Botanico dell'Universita di Perugia, and is well known for it's production of fine chocolates.
Academics
Perugia hosts the Umbra Institute, founded in 1999 as a center for higher education offering academic programs for students of U.S. colleges and universities. Nestled between colorful cafes, restaurants, museums, and art galleries in the historical center, the Umbra Institute houses a library, computer facilities, art studios, student lounge, and multimedia classrooms.
Although there is no Italian language pre-requisite for this program, all SMCM students will take a minimum of one Italian language course at the Umbra Institute, regardless of proficiency.  In addition, students will also take three or four elective courses taught in English which can be chosen from a variety of disciplines including food studies, humanities, independent research and community engagement placements.
Housing and Meals
At the Umbra Institute, students will be housed in student apartments, or flats, which afford a high degree of independence and allow you to experience university life as Italian students would.  Students can expect a 10-20 minute commute, by bus or other public transportation, from their housing to campus. Each apartment will be slightly different, but will typically house 2-8 students and include wifi access, linens, and shared kitchen facilities along with basic kitchen utensils.  Meal plans are not included as all apartments are self-catered.  The Umbra Institute and Arcadia staff will help you learn to navigate the local grocery stores and markets as well as more about general Italian apartment living.
Student Life
Upon arrival in Perugia, you will meet the Arcadia and Umbra Institute staff who will help you get settled into your housing and provide your on-site orientation.  All students participating in the SMCM-Arcadia in Perugia program are expected to attend orientation.  At this time, academic contracts will be signed and the staff will cover behavioral expectations, cultural differences, and practical matters, such as internet access, cell phone services, banking, health and safety, housing issues and emergency contact information.
While in Perugia, SMCM students are highly encouraged to get involved with the local community.  Community engagement is the guiding philosophy behind all Umbra academic programs, and opportunities exist allowing students to take part in academic internships as well as service learning and volunteer projects.  Thanks to the small size of the city, students are able to experience first-hand a real integration into Italian culture and way of life, combining challenging academic learning with an authentic interaction with the local community.
Important Links
How credits taken abroad will transfer back to SMCM.
The academic and judicial requirements for any student considering studying abroad.
How financial aid will apply towards your study abroad program and what scholarships are available.
Payment processes for semester-long, short-term, and non-SMCM study abroad programs.