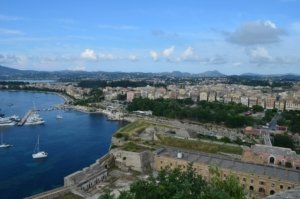 Pre-Requisites
Minimum GPA: 2.0
Judicial Check
Academic Conduct Review
Dates and Important Links
Summer 2024: Estimated Dates: May 28- June 16
UPDATED DEADLINE: Apply on Via TRM!  by JANUARY 1, 2024
Info Sessions:
Thursday, 11/30 at 11:30 am in MB
Thursday, 12/21, at 1 pm on Zoom
Highlights
Stay in Ancient Korinth, Delphi, Athens, and more!
Visits to the islands of Naxos, Paros, and more!
Estimated Program Cost: $5400 + 4 credits tuition (see below
*The budget page is detailed, please read it carefully. For in-state students, it will cost an additional $1394, for out-of-state, $1994.*
About the Program
This course satisfies the cultural literacy core requirement.
The 2024 Greece Study Tour (INTL330) will be the fourteenth run by Professor Michael Taber, Department of Philosophy and Religious Studies at St. Mary's College of Maryland, offering participants (whether current students at any university, alumni, or just people who've wanted to see this amazing land–we've had all of the above) an opportunity to gain a first-hand understanding of the layering of history in this part of the world.
This course can often be used to fulfill one of the following St. Mary's course requirements (4 credit-hours):

ENGL 380–Studies in World Literature: Greece Study Tour
ENST 380-Topics in Environmental Studies: Greece Study Tour
HIST 393–Topics in European History: Greece Study Tour
PHIL 380–Topics in Philosophy: Greece Study Tour
RELG 380–Topics in Religious Studies: Greece Study Tour
WGSX 350–Advanced Topics in Women, Gender, and Sexuality Studies: Greece Study Tour
TFMS 405-Topics in Performance Studies: Greece Study Tour
The course can also be used to satisfy the requirements of the Democracy Studies area, in consultation with the Coordinator of Democracy Studies, for what would be either HIST 393 or RELG 380 (which are on the list of DMST-satisfying courses), or as the four credits normally satisfied by independent study, internship, or directed research.
Which course the student takes this as should determine the content and methodology of the student's term paper, which is 8-12 pages and due well after the trip, August 1. Where possible, it should also determine the student's selection of a site paper and site report, and of the two Who's Who oral reports.
Regardless of how one registers for the study tour, any cultural literacy or ELAW-related learning outcome for the course is that at the completion of this course, students will be able to explain the impact of place and context on their understanding of specific course materials and experiences.
Students from other institutions should contact Professor Taber to get information from him relevant to getting pre-approval from their home institutions for transfer upon completion.
For Whom is This Study Tour Right?
We've had majors from Anthropology, Art, Art History, Biology, Computer Science, Economics, Education, English, Foreign Languages, History, Math, Musical Theater, Philosophy, Physics, Political Science, Psychology, Religious Studies, Sociology, and Theater, Film, & Media Studies. (And I might be forgetting a couple.)
We've had students who went on to med school (we have some lessons on Ancient Greek medicine) and law school (we have some lessons on the Ancient Greek and Roman legal systems).
We've had people who are NOT students, but were students a couple of weeks prior to the trip (a nice graduation present!) or last were students decades and decades ago.
So for students, one's major is not a consideration. And for others, nor is one's life stage. What IS a consideration is interest in learning more about this part of the world in the context of a warm and welcoming group of fellow learners.
About the Trip
A study tour is not simply an off-campus course. Not only do we get to see sites, structures, and landscapes that directly relate to our readings, but we learn that our image of Greece must extend beyond silent, weather-worn limestone foundations and pages in literally inanimate books. Greece has lived in dozens of centuries, and is still very much alive.
Greece, like the rest of southern Europe, gets its summer wind prevailing from the south. This means from the Sahara, though cooled some by the Mediterranean. It is hot, with summer highs in the 80's and 90's, and in a heat spell, the 100's. Summer rains are rare, and summer humidity a mere story (myth?) Greeks have heard about. Accordingly, Greeks take seriously the siesta time, which extends from about 1:00 to about 5:00 every afternoon. (The fact that precision is not possible here is part of the charm, and sometimes the frustration, of the land.) Hence, they start their days early, and extend them late. The Greeks consider anything eaten before 9:00 p.m. to be a pre-dinner appetizer.
Napping, however, is but one option for siesta. It is also good time for swimming at an area beach, for catching up on some reading or writing, for strolling to one of the occasional shops or cafes that does not close for siesta. However, this is a credit-bearing academic course. Those interested in three-plus weeks of Greek beaches, punctuated only by gift shopping and evenings in cafés, are advised that this study tour is not for them.
Typical Schedule
A typical day might look like this:
7:00 Breakfast in hotel restaurant (provided)

8:00 Depart (by foot, by taxis, by bus) to the historical site or museum of the day

1:00 Break for lunch either all together or in small groups, after which people can relax, nap, read, write homework assignments, or go in small groups to a local beach

6:30 Meet at a pre-arranged location for a seminar

9:00 Dinner either all together or in small groups

11:00 In small groups, visit a café or stroll the village square
Accommodations
Our long-time Greek travel agents, the Cocconi family at Educational Tours and Cruises, have arranged for us to stay in some memorable inns and hotels, all with standard amenities. See our Itinerary page for more details.
Faculty Leader
Michael Taber, mstaber@smcm.edu
How credits taken abroad will transfer back to SMCM.
The academic and judicial requirements for any student considering studying abroad.
How financial aid will apply towards your study abroad program and what scholarships are available.
Payment processes for semester-long, short-term, and non-SMCM study abroad programs.