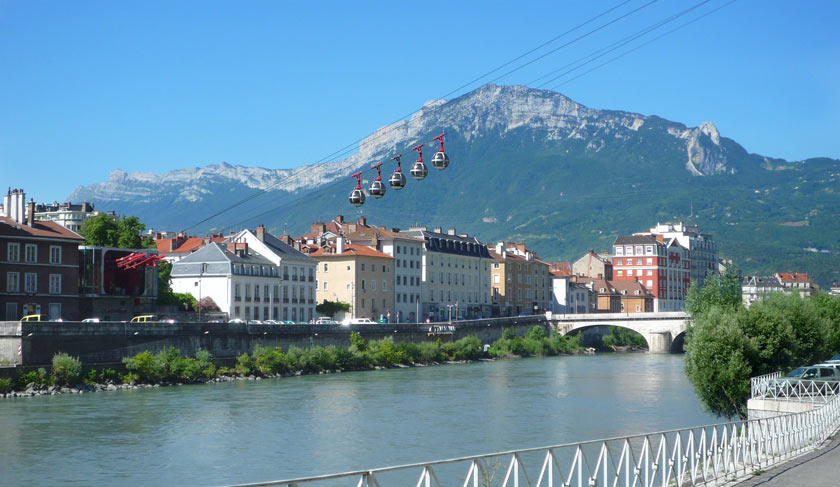 Pre-Requisites
Minimum GPA: 2.5
Foreign Language: 2 semesters of French with a "B" average or 4 semesters of French with a "B" average
Approval of SMCM French Language Faculty
Judicial Check
Dates:
Spring 2024 Estimated Program Dates:
French Language and Culture Program: January 9th – May 10th

SMCM Application Deadline: October 15th
AIFS Application Deadline: October 15th
Highlights
Study Abroad in the French Alps
Live with a local family
Volunteer opportunities
Home of the 1968 Winter Olympics
Course List
Financing Studying Abroad
Office of International Education Scholarships (Need-Based, Merit-Based, Region Specific, Language Study)
AIFS Scholarships (DEI, Need-Based, Merit-Based, Social Justice, Pell Grant Recipient)
Speak with the Office of Student Financial Assistance for Options
Note: It is difficult for ILC French majors and minors to obtain the needed upper-level credits in the Grenoble programs. Due to this, we do not recommend these programs to majors and minors. ​​We do recommend that all students interested in French programs consult with a French professor before selecting a program to discuss which programs best meet your needs.
About the Program
The SMCM-AIFS in Grenoble Intensive French Language program is designed for students who wish to develop proficiency in the French language.  Students can spend a semester or academic year in Grenoble, France at the Centre Universitaire d'Etudes Francaises (CUEF), affiliated with the University of Grenoble.
The University of Grenoble was founded in 1339 and now welcomes more than 60,000 students.  It is one of the most sought after universities in France and has an international reputation for excellence. The University occupies a splendid campus on the outskirts of Grenoble at Saint-Martin-d'Hères.
Location
Located in the French Alps, Grenoble is regularly voted the most student-friendly city in France and is perfect for anyone who loves the outdoors.  With access to hiking trails, lakes and ski slopes, students can experience the magnificent Alpine vistas and an authentically French culture.
Grenoble's location also allows you quick and easy access to anywhere in France. From Grenoble, you can be skiing in the upper Alps in an hour and a half, or take the train, the TGV, to Paris or catch connections from Lyon to go hiking in Provence, warm up by the Mediterranean or explore the regions of Burgundy or Champagne.
Academics
SMCM students must have completed a minimum of 2 semesters of French language with a "B" average or 4 semesters of French with a "B" average, depending on the level of the program they want to enroll in, in order to participate in the SMCM-AIFS in Grenoble program.
During a semester in Grenoble, students have a couple different program options.
University of Grenoble – French Language and Culture Program
This program is designed for students with an intermediate or above level of French who wish to improve their language skills and take courses taught in French or English in subjects including art history, business administration, economics, history, literature and political science.
Eligible students must have a minimum of one year of college level French.
Courses are taught at the Centre Universitaire d'Études Françaises (CUEF) at the University of Grenoble School of Language and Letters. All students take a French language course available at Intermediate, Advanced and Superior levels. Your level of French is determined by a placement test taken after arrival in Grenoble. Then choose from electives taught in French or English.
Most electives taught in French carry 2 recommended credits, meet for approximately 21 hours per semester and require a research paper which is equivalent to 10 academic hours of class. Electives taught in English carry a recommended 3 credits, meet for approximately 28 hours per semester and require a research paper which is equivalent to 10 academic hours of class. English electives require a minimum of 10 students to run.
AIFS encourages you to take electives taught in French in order to maximize your learning experience in France and to get the most out of the academic program. The French Vocabulary Enrichment courses are particularly recommended and the Written and Oral Expression course for advanced level students.
The minimum course load is 12 credits and the maximum course load is 16 credits. Students who place into the superior level 401 and who have completed at least three years of college French take a minimum of 2 French Language and Culture program electives taught in French at the CUEF and have the option of taking one class studying alongside French students at the University of Grenoble depending on class schedule and availability.
University of Grenoble – Intensive French Language Program
This program is designed for students who wish to begin, improve or perfect their knowledge of the French language. Five levels of French are available from beginner through superior.
The aim of the intensive French language course is to develop both written and oral expression, and comprehension by working on grammar and vocabulary while also learning about aspects of French life and culture. Professors provide a wide range of authentic and varied language activities based on newspapers, advertisements, texts from well-known authors and local and national media and films.
Your language level is determined by a placement test after arrival in Grenoble. Classes meet Monday to Friday for 4 hours per day for up to 240 contact hours per semester and a recommended 15 or 16 credits.
An additional program, the Diplôme Superieur d'Aptitude à l'enseignement du Français Langue Étrangère (Diploma of Ability to Teach French as Foreign Language) is designed for advanced level French or above students who are considering a career as a French teacher. This is available in the spring only.
Non-credit wine appreciation and cooking courses are also available for an additional fee on both programs.
Information Via the AIFS Grenoble Website
Housing and Meals
While in Grenoble, all SMCM students will be living in a homestay with a local French family.  For many students, the homestay experience will be the most rewarding part of your time abroad.  It is the best way to learn French, gain a unique and personal insight into French culture and integrate into the local community.  All families are carefully chosen and are required to meet high standards in order to be a part of the homestay program.  All students will be given their own key so they can come and go as they choose.
Living with a French family, you will truly get a taste of the local flavor.  Breakfast and dinner are provided daily with your family and lunch can be purchased at several cafeterias on the University campus.
Student Life
As part of the Grenoble program, SMCM students have several options for social and cultural activities and excursions and all students are provided with a travel pass for use on Grenoble's bus and tram system for the duration of their time in Grenoble.
Included in the program are 3 days in Provence and 4 days in Paris, as well as optional 2-day excursions to Burgundy and an Alpine spa weekend.  The AIFS staff also organizes tours of Grenoble and Bastille, wine tastings and hiking in the mountains, along with a calendar of weekly activities.  Typical activities may include visits to the Musée de Grenoble, the Chartreuse monastery, Château de Vizille, and day trips to Lyon and Annecy.
For skiers, Grenoble is the French capital of winter sports and was the home of the 1968 Winter Olympics and downhill skiing is available just 45 minutes from the center of town.  Students who have never skied before may take lessons and equipment may be rented easily and inexpensively.
For students interested in volunteering, the on-site AIFS staff can help you arrange local volunteer opportunities such as assisting students with English conversation practice in a primary or high school, helping in a library and working with local charities.  Students can volunteer 4 hours per week at the Grenoble American Corner.  The American Corner is sponsored jointly by the U.S. Embassy and a host country organization. The fundamental function of the American Corner is to make information about the U.S. available to people in foreign countries through multimedia, conferences, reading rooms and contact with U.S. citizens.
Important Links
Faculty Liaison
Dr. Laine Doggett – ledoggett@smcm.edu
How credits taken abroad will transfer back to SMCM.
The academic and judicial requirements for any student considering studying abroad.
How financial aid will apply towards your study abroad program and what scholarships are available.
Payment processes for semester-long, short-term, and non-SMCM study abroad programs.