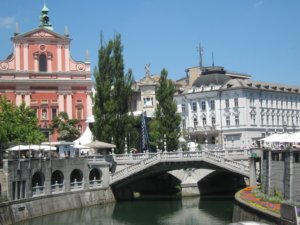 Pre-Requisites
Minimum GPA: 2.5
Language of Instruction: English
Judicial Check
Currently Accepting Applications for:
Spring 2024 Program Dates: Mid-February – Early July

SMCM Deadline:  October 15th
Ljubljana Deadline: November 15th
Highlights
Engage with a large community of Slovene students, alumni, and professors who have been involved with SMCM for years!
Experience Slovenian culture firsthand
On campus housing offered at domestic student rates
Course List
Financing Studying Abroad
Office of International Education Scholarships (Need-Based, Merit-Based, Region Specific, Language Study)
University of Ljubljana Listed Scholarships  (Various)
Speak with the Office of Student Financial Assistance for Options
About the Program
Established by beloved faculty Robin and Julia Bates, the Ljubljana exchange has a rich history. The inbound exchange coordinator at Ljubljana herself studied at SMCM as part of the program. Students approved to participate in the exchange by the Office of International Education and faculty liaison will be nominated to the University of Ljubljana and complete their online application. Due to the difference in academic calendars between the US and Slovenia, SMCM students are eligible to participate in this program during the spring semester only.
Location
Ljubljana is the largest city in Slovenia, as well as its capital. A green city split in two by the Ljubljanica River, it is an arts and gastronomical destination in Europe. It is also within close range of UNESCO World Heritage Sites, castles, parks, cathedrals, museums and more!
Academics
Students will enroll primarily in English courses within the Faculty of Arts. A Slovenian language course is also required. SMCM students will take 4-5 courses, dependent upon contact hours, and will work closely with the SMCM exchange coordinator onsite to ensure full-time enrollment in courses at the appropriate level is secured. Possible courses include:
Basic Slovenian (required)
Anglophone Lit
Medieval Lit
British Poetry
Victorian Lit
Short Story
Canadian Lit
Literary Theory
Cultural modules (American, British, Canadian, Australian)
Housing and Meals
SMCM students will be housed in the University dormitories on the basis of availability. If rooms are not available at the time the student applies for accommodations, student organizations on campus can assist in locating private accommodation.
Student Life
On campus at the University of Ljubljana Faculty of Arts, students can expect to be paired up one-on-one with a student mentor to help them in the acculturation process. Additionally, optional trips and other organized activities are offered by the university in which SMCM students may elect to participate.
Important Links
How credits taken abroad will transfer back to SMCM.
The academic and judicial requirements for any student considering studying abroad.
How financial aid will apply towards your study abroad program and what scholarships are available.
Payment processes for semester-long, short-term, and non-SMCM study abroad programs.