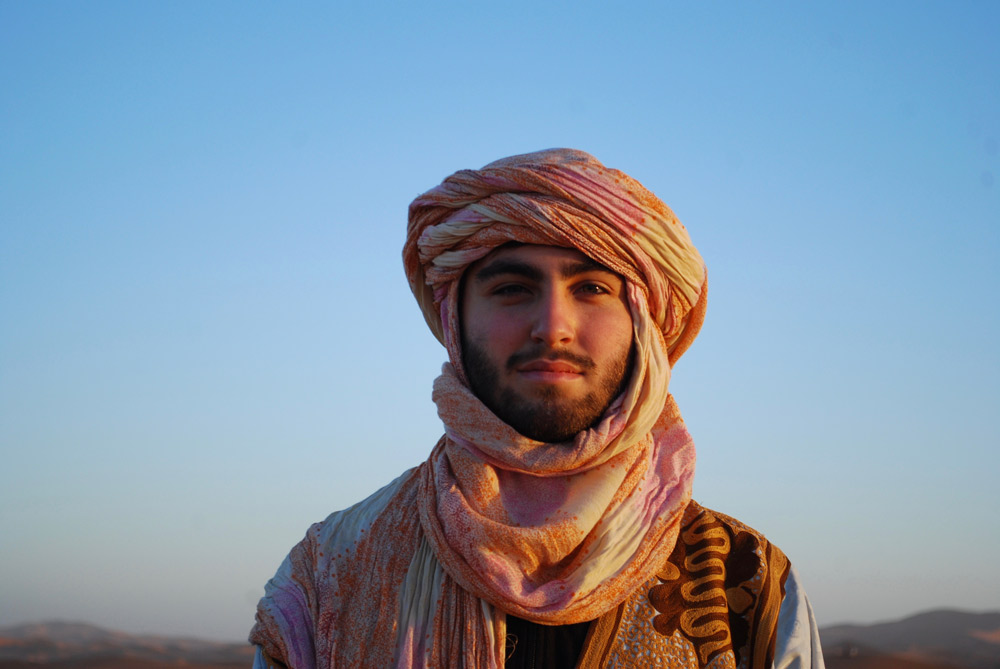 Pre-Requisites
Minimum GPA: 3.0
Judicial Check
5 semesters of College-level French with a B- average for the Regional French Program
Dates
Spring 24 Program Dates: Early January to Early May

SMCM Application Deadline: October 15th
AMIDEAST Application Deadline: ASAP! Rolling Admission
Highlights
Organized excursions around Morocco
Learn some Arabic!
Ability to live and learn alongside Moroccans
No student visa needed for US Citizens; may need to renew entry after 90 days
Course List
Financing Studying Abroad
Office of International Education Scholarships (Need-Based, Merit-Based, Region Specific, Language Study)
AMIDEAST Scholarships (Need-Based, Blog Abroad)
Speak with the Office of Student Financial Assistance for Options
About the Program
Morocco is a gateway to Africa and the Arab world. A meeting point for civilizations and continents situated on the northwest tip of Africa, contemporary Morocco with its nearly 35 million people is a fusion of Arab, European, and African cultural influences. In Morocco, visitors have the opportunity to experience life in a Muslim country while exploring the distinct society and traditions of the Maghreb. The AMIDEAST Education Abroad Regional Studies in French Program in Rabat offers a diverse set of courses taught in French on Morocco in its Muslim, Arab, African and Mediterranean contexts. In addition, students learn Moroccan Arabic and have the opportunity to study Modern Standard Arabic if they so desire.
Location
Rabat
Rabat is one of Morocco's "imperial cities," as well as its political capital. It is home to the leading educational institutions in the country and offers students opportunities to move from the shops and cafes of the "European" city to the winding alleys and exciting markets of the old medina in a few minutes' walk. (Information via AMIDEAST website)
Academics
Rabat
Students in the AMIDEAST Education Abroad Regional Studies in French Program in Rabat carry a 15 credit hour load each semester. All students enroll in Moroccan Arabic and select four other courses from offerings taught in French covering such diverse topics as Islam, Women in the Muslim World, North African cinema, the history and politics of Morocco and Morocco's relationships with its European, Mediterranean and African neighbors. Please check out potentially available course syllabi here.
Alternatively, if students would like to enroll in Modern Standard Arabic (5 credits) they could then choose to take two or three Regional Studies courses (depending on their preference). If students choose to take two Regional Studies courses they will enroll in a total of 14 credits, whereas if they take three Regional Studies courses you will enroll in a total of 17 credits.
Students must have at least intermediate-high proficiency in French to enroll in the program. Students who wish may also enroll in Modern Standard Arabic, which is offered at seven different levels. All courses, other than Moroccan and Modern Standard Arabic, are taught in French exclusively for the AMIDEAST program, and students take classes only with other program participants.
Please note: All lectures, readings and written work in this program are in French. (In fact, an application requirement for admission to the program is a sample of writing in French.) Library resources of the AMIDEAST Education Abroad Program and the National Library of Morocco are available to students on the program. In addition, a Moroccan graduate student will be assigned to each course to assist students.
Housing and Meals
Rabat
All AMIDEAST Education Abroad students live with a Moroccan Family. Moroccan families have been carefully screened by AMIDEAST/Morocco from a database of qualified applicants. Students usually are placed with a roommate from the AMIDEAST program into families who have previous experience hosting American students through AMIDEAST. Most host family members speak Arabic as a first language and also speak French; a small number of family members also speak Spanish or Amazigh (Berber) as well. AMIDEAST matches students in the French Regional Studies Program with strong French speaking families in order to improve language acquisition. While all placement preferences may not be met in every case, AMIDEAST will strive to make the best match to ensure a rewarding and pleasant living experience. In the event of a problem, AMIDEAST Education Abroad Program staff members will be available either to mediate or to arrange a new host family placement. Students living with host families will be given a stipend for lunch, as often class schedules prohibit students from return to their host families for lunch.
Student Life
Rabat
In addition to the academic program, the AMIDEAST Education Abroad Program in Rabat offers a variety of additional learning opportunities to enhance participants' study abroad experience.
Civil Society: Students will encounter a variety of Moroccan civil society organizations ranging from political and human rights groups to women's organizations to sports clubs. AMIDEAST will organize special activities to facilitate student connections to these organizations.
Service-learning: AMIDEAST coordinates organized service-learning projects either for individual students or for larger groups. With many connections to a wide range of organizations in Morocco, AMIDEAST can adapt projects individual student interests to ensure a unique and satisfying service-learning experience.
Cross-cultural learning: AMIDEAST organizes a variety of cross-cultural learning opportunities. Ranging from meet-and-greets to formal presentations, these events give participants the chance to interact with Moroccan students, to learn more about Morocco, and to introduce others to American culture.
How credits taken abroad will transfer back to SMCM.
The academic and judicial requirements for any student considering studying abroad.
How financial aid will apply towards your study abroad program and what scholarships are available.
Payment processes for semester-long, short-term, and non-SMCM study abroad programs.