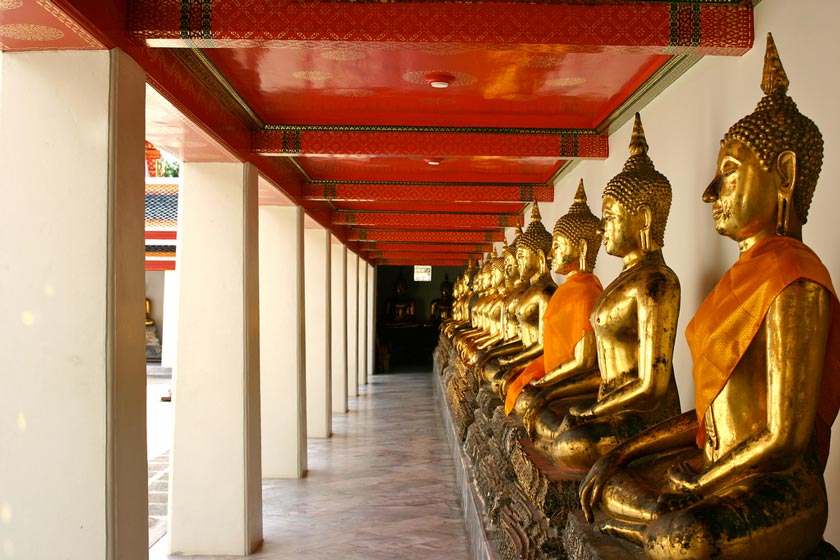 Pre-Requisites
Minimum GPA: 2.5
Judicial Check
Must have valid passport or have passport application in progress at time of application
Currently Accepting Applications for:
Spring 24 Estimated Program Dates: January 2nd – April 8th

SMCM Application Deadline: October 15th
CIS Abroad Application Deadline:  October 15th
Highlights
Study at the oldest university in Thailand, Mahidol University
Join one of their large number of clubs and organizations
Live near the Grand Palace, Wat Pho and Wat Arun
Summer Internship Options available
Financing Studying Abroad
Office of International Education Scholarships (Need-Based, Merit-Based, Region Specific, Language Study)
CIS Abroad Scholarships (Merit-Based, First-Generation, BIPOC, LGBTQ+)
Speak with the Office of Student Financial Assistance for Options
About the Program
SMCM-CIS in Bangkok allows students to enroll at Mahidol University where they have the opportunity to take courses in English alongside other international and local students. Mahidol University was founded in 1889 by his Majesty, King Chulalongkorn the Great Rama V, making it the oldest educational institution in Thailand.  Over the course of a trimester, students will take 12 to 16 credits in courses such as Biology, Chemistry, Environmental Studies, Media Studies, Thai Culture, and more.  The university's overarching goal is "to prepare students to live and work in a diverse and increasingly globalized world by promoting a spirit of excellence within the faculty, staff, and students."
Students will also have the opportunity to participate in the University's clubs and organizations and take part in a volunteer or service-learning orientated project during their time in Thailand.
Location
Bangkok is the capital and most populous city of Thailand.  Located on the western bank of the Chao Phraya River, what was once a small trading post and fishing town in the 15th century is now one of the most dynamic and exciting cities in Southeast Asia.  As the country's political, economic, spiritual and cultural hub, Bangkok is very influential in the arts and entertainment.  While living there, students will enjoy access to both cosmopolitan amenities and conveniences as well as a treasure of cultural and heritage attractions.
Bangkok is a huge metropolitan city it is made up of districts that include the central Siam Square, the financial district in Silom, Thonburi on the west bank of the Chao Phraya River, "Old Bangkok" in the area of Rattankosin with the famous Grand Palace and Wat Pho, the multicultural district of Yaowarat and Phahura, and the Ramkhamhaeng area for shopping and amusement parks.
Academics
The majority of courses at Mahidol University are worth four semester credits.  Most SMCM students will take four courses for a total of 16 semester credits. All courses are taught in English and students will be learning alongside other international and Thai students.  The classroom environment at Mahidol is designed to be interactive and encouraging of discussion and critical exploration of ideas.
A wide variety of courses are offered in:
Asian Studies
Biology
Chemistry
Computer Science
Economics
Environmental Science
History
Intercultural Studies and Languages
Physics and Engineering
Psychology
Sociology
Television and Film Production
Thai Culture
Housing and Meals
SMCM students will live in Green Park Home Village with Thai and other international students.  Green Park Home Village is a comfortable 3-story building approximately 10-minutes by bus from campus.  Rooms are a mix of single and shared rooms with shared bathroom facilities.  All are fully furnished and include an air conditioner.  Green Park Home Village also features a common lounge, kitchen, internet, laundry and cleaning services.
Meals are not provided, but students may either cook for themselves in the shared kitchen or enjoy eating on campus.
Student Life
Students will be met at the Suvarnabhumi Airport (Bangkok International Airport) in Bangkok by the CISabroad on-site staff upon arrival.  During the first few days, the staff will assist students with their adjustment to living in Bangkok and will provide a comprehensive orientation.  The orientation will cover topics such as academic, safety, housing, food, and transportation.  Students will be shown important points of interest at the university and familiarized with the neighborhood.  They will also be provided with a short study tour of the surrounding area.
Many of the city's attractions, including entertainment venues and popular shopping districts are easily and inexpensively accessible by public transportation, and the university also offers many opportunities for students to immerse themselves into the culture.  Students are encouraged to explore the various student clubs in numerous athletic, cultural, religious, and artistic areas.  There are also a wide range of social and cultural activities and events throughout the year such as seminars, exhibitions, and intramural sporting competitions.
Important Links
How credits taken abroad will transfer back to SMCM.
The academic and judicial requirements for any student considering studying abroad.
How financial aid will apply towards your study abroad program and what scholarships are available.
Payment processes for semester-long, short-term, and non-SMCM study abroad programs.