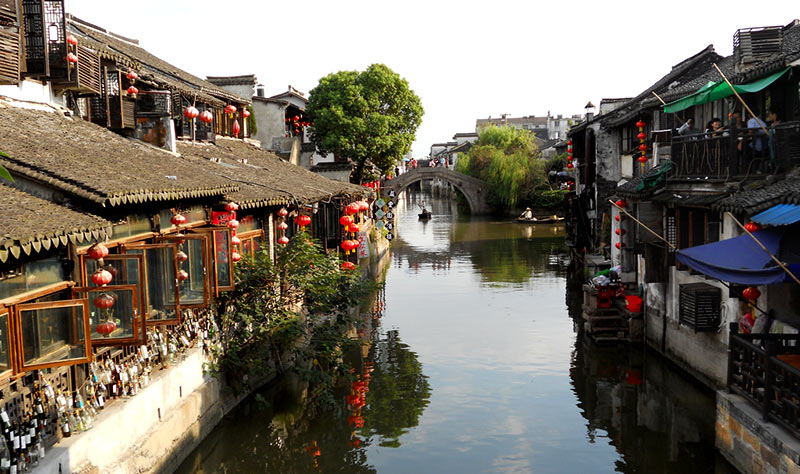 Pre-Requisites
Minimum GPA: 2.75
Foreign Language: 2 semesters of Chinese
Approval from SMCM Chinese faculty
Judicial Check
Currently Accepting Applications for:
Spring 24: (Tentative) Early February – Late June

SMCM Application Deadline: October 15th
Fudan Application Deadline: TBA
Highlights
Live in the bustling cosmopolitan city of Shanghai
Monthly stipend for meals
Study intensive Chinese courses and/or select English courses
Course List
Financing Studying Abroad
Office of International Education Scholarships (Need-Based, Merit-Based, Region Specific, Language Study)
Speak with the Office of Student Financial Assistance for Options
About the Program
Fudan University is one of China's most prestigious learning institutions.  Founded in 1905, Fudan strongly values expanding opportunities for students to learn outside of the classroom.  The school promotes building a campus culture with a rich history and distinctive Fudan characteristics that serve to expand students' minds and ideals, shape integrity, determination and character, and bring about academic advancement.
Fudan was one of the first universities to accept foreign exchange students after the Communist Revolution.  Today, Fudan University has established exchange relationships with more than 200 universities and research institutions in about 30 countries and world regions.  Every year, the campus welcomes approximately 7,000 international students from around the world.
Location
Fudan University is located in the cosmopolitan city of Shanghai, or Hu for short.  Situated on the estuary of the Yangtze River, this international metropolis draws worldwide attention and serves as the most influential economic, financial, and cultural international trade center in East China.
The main campus consists of two main areas, the Handan Campus and Jiangwan Campus, along with two branch campuses, Fenglin and Zhangjiang.  There are convenient options for transportation and amenities in the area surrounding the campus.
Academics
SMCM students study intensive Chinese language full-time at Fudan University.  Upon arrival, you'll take a placement test to determine your level of Chinese-language proficiency, and will then be assigned to appropriate courses in Chinese language.  The courses offered include:
Chinese Language as Grammar
Chinese Language as Reading
Oral Chinese
Translation
Composition
Selected Newspaper Readings
Language Laboratory Comprehension
Students who demonstrate a high-level of Chinese language proficiency on the placement test may proceed directly into concentrations in Chinese literature, history, laws, philosophy, economics or other fields.
It is important to note that at Fudan, academic success is based solely on how well students do on exams. The final exam carries great weight and class attendance is a major factor.  If a student misses more than a third of classes, the final exam grade will not count and the student will not pass.
Fudan's web site offers additional information about courses and registration.
Housing and Meals
Students live in a multi-story, international residence hall that houses international students from all over the world.  Students will be housed in four-person suites with shared living rooms and bathrooms.  Each student will have a private bedroom. A small fee for electricity usage may be charged to the student if usage exceeds a set limit.  A small fee for Chinese government mandated health insurance will also be charged.
Although meal plans are not available, students will receive a stipend of 1,100 yuan per month for food and are welcome to shop at local stores or purchase meals on campus.
Student Life
Classroom study is often supplemented by trips organized and sponsored by Fudan University to work units, institutions, and cultural events in Shanghai.  In addition, there is a one-month break during the Chinese New Year in January or February. There is a week-long break in May and another in October during which students may travel independently or with Fudan University groups.  All travel undertaken during the Chinese New Year is at the student's own expense, but since trips are sponsored by the university, they are heavily subsidized.  During the fall semester, international students also enjoy a week-long break in December.
Students at Fudan are highly encouraged to participate in a variety of student organizations or sports activities.  There are approximately 260 clubs and organizations which are divided into 18 categories: skill enhancement, media, electrical, hobbies, management, scientific research, humanities, politics, music, dance, theater, ball sports, chess and card games, fitness, outdoor activities, public welfare, tutoring, and international exchange. Likewise, volunteer serve has become a popular part of Fudan student culture. The university currently has 42 volunteer service stations and more than 50 college and department volunteer service teams and public welfare clubs.
Important Links
Faculty Liaison
Dr. Charles Musgrove – cdmusgrove@smcm.edu
How credits taken abroad will transfer back to SMCM.
The academic and judicial requirements for any student considering studying abroad.
How financial aid will apply towards your study abroad program and what scholarships are available.
Payment processes for semester-long, short-term, and non-SMCM study abroad programs.