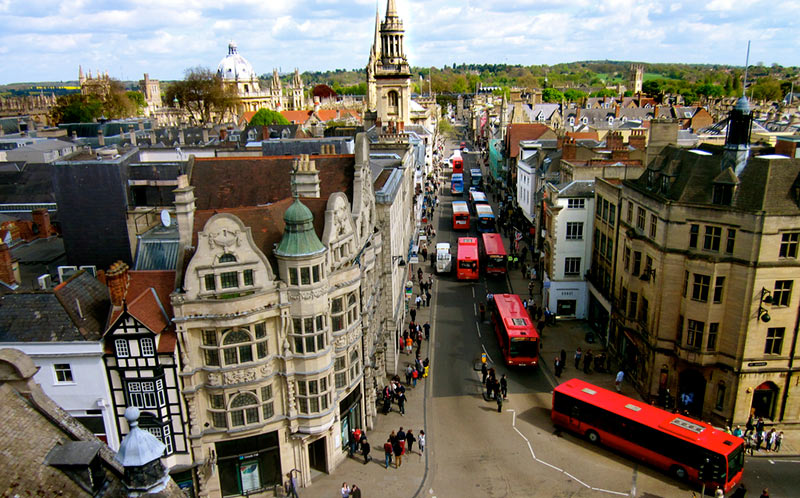 Pre-Requisites
Minimum GPA: 3.5
Judicial Check
Currently Accepting Applications for:
Spring 2024 Program Dates: Early January – Mid April

SMCM Application Deadline: October 15th
CMRS Middlebury Application Deadline: October 1st
Highlights
Study humanities in the vibrant city of Oxford, England
One-on-one Tutorial Classes with Oxford Professors
Admission to the Bodleian Library
Financing Studying Abroad
Office of International Education Scholarships (Need-Based, Merit-Based, Region Specific, Language Study)
Speak with the Office of Student Financial Assistance for Options
About the Program
The SMCM-Middlebury College: Centre for Medieval and Renaissance Studies (CMRS) Humanities Program in Oxford, England offers a culturally immersive and academically rigorous experience for study abroad students.  CMRS offers a first-rate academic program and course offerings which give students a genuine experience of the traditional Oxford one-to-one tutorials and lectures.
CMRS was founded in 1975, by Drs. John and Sandy Feneley to establish in Oxford a permanent institute for the interdisciplinary study of the Medieval, Renaissance and early modern periods and to provide academic training for overseas students who wish to complete part of their education in Oxford but are not matriculated members of any of its colleges. See the CMRS Brochure and this video for more info!
Location
CMRS is located within 150 yards of Carfax, the ancient crossroads of the city and centre of Oxford's academic, cultural and social life.  The Centre is housed in St. Michael's Hall, in the centre of Oxford, ideally placed for easy access to London and to airports, rail and coach stations for weekend visits to the continent, Ireland or other parts of the United Kingdom.
Oxford itself is the home of many of the world's greatest writers, if filled with scenes from hundreds of years of medieval history and yet is home to modern facilities for shopping, restaurants, and sporting events.
Academics
Academics at CMRS are focused on history, literature, and the arts, however, qualified students from all disciplines are welcome to apply.
The curriculum at CMRS is based on three academic components:
Research seminars, for which students take on independent projects, supervised by faculty members, that include a significant research paper based on work in the various libraries, art galleries, and museums in and around Oxford.
Reading seminars, for which students choose topics in medieval, early modern, or modern subjects that include literature, history, art history, classics, philosophy, religion, and political and social theory, and engage in small seminars taught by local faculty.
Two one-on-one tutorials, which are designed by students and tailored to their academic interests, and carried out with instructors that are usually Oxford University faculty members.
During a semester, a student takes four courses for a total of 16 credits: the Integral Course, one Seminar Course, and two Tutorial Courses.
Housing and Meals
Student's are housed in St. Michael's Hall, a centrally located facility with classrooms, a 40-bed dormitory, a large kitchen, and various social spaces.  Rooms are shared, and are all comfortably furnished with linen, duvets (comforters) and blankets provided.  A local grocery store, pubs, and other shops, as well as Keble College resources, are all within walking distance.
Students are responsible for providing their own meals while at CMRS.  Breakfast, lunch, and dinner are available for purchase in Keble's magnificent neo-Gothic dining hall weekdays, with brunch and dinner on Saturdays and Sundays. Dinner from Sunday to Friday is formal and members of the college are required to wear academic gowns, supplied by CMRS.
Student Life
Students attending the CMRS program are considered Associate Members of Keble College, one of the largest colleges at Oxford.  This status affords students access to campus facilities and a wide range of opportunities for integration into university life including the Bodleian Library, the junior common room, and association with college clubs and sports teams.  Many students follow their own interests at Oxford and take advantage of the numerous social and sport clubs and societies.
Easy access to public transportation makes it possible for most students to travel while studying at CMRS.  However, students are encouraged to be cautious when booking travel during the semester as academic commitments will not be rearranged to suit travel plans.
Important Links
How credits taken abroad will transfer back to SMCM.
The academic and judicial requirements for any student considering studying abroad.
How financial aid will apply towards your study abroad program and what scholarships are available.
Payment processes for semester-long, short-term, and non-SMCM study abroad programs.