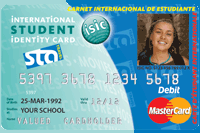 SMCM students are now eligible to obtain an ISIC card through the Office of International Education. The ISIC is a great piece of identification to have while traveling as well as something that offers you additional travel protection and great discounts around the world (including the U.S.).
Benefits of the International Student Identification Card
• NEW: ISIC MasterCard ® Prepaid Card.
• Discounts with retailers like Microsoft, Macy's, Target.com and many more!
• Access to flexible Student Exclusive airfare on many of the world's leading airlines
• Discounted train tickets and rail passes
• International recognition of your full-time student status
• 24-hour Help Line emergency service
• Discounts and Specials at hotels and hostels around the world
• Basic sickness and accident travel insurance for international trips
About the ISIC Prepaid MasterCard ®
The ISIC Card – the only UNESCO endorsed, globally recognized, form of Student ID is now also a MasterCard © prepaid card. If you chose to activate your MasterCard © prepaid card, you will enjoy:
• No credit checks or bank account required
• No minimum balance
• Peace of mind with easy and convenient load methods, including direct deposit
• Safer than cash, FDIC Insured and backed by MasterCard's Zero Liability protection
• Use in stores, online, or anywhere MasterCard is accepted
• Access to more than 1 million ATM's worldwide
ISIC cards cost $25 and are good for one year from date of issue. We recommend all students purchase an ISIC card at least three (3) weeks prior to your date of departure. Any questions always feel free to stop by the International Office and our staff will be happy to assist!