Move In Day
Thursday, August 29 – September 2, 2019
Move-in for new residential students will take place on Thursday, August 29, 2019 8am-2pm. There will be returning students and staff available to help unload cars and carry items into the residence halls after new students have checked-in in the lobby or Resident Assistant Office of their assigned building.
Commuter Check-in
Thursday, August 29, 2pm-3pm OR Friday, August 30, 8:30am-9:30am
Commuter students can check-in at the O-Hub on Campus at St. John's Pond on Thursday, August 29, 2pm-3pm (park in Lot Z, V1, or T) OR on Friday, August 30, 8:30am-9:30am in Aldom Lounge (attached to the Campus Center — park in Lot K). Commuter students are strongly encouraged to attend all four days of the Orientation program as well, due to the nature of the program: transitioning you to life as a college student at St. Mary's- a new experience for you!
Orientation Team (OTeam)
The Orientation Team – OTeam for short – is responsible for welcoming new students to St. Mary's and helping them to transition to our college. The OTeam is made up of three parts:
Orientation Coordinators (also known as OCore)

responsible for the recruitment and development of the OTeam, as well as the execution of OTeam training and the Fall and January Orientation Programs

Orientation Staff

work on logistics, and help with set up and tear down

Orientation Leaders

lead their own group of new students during Orientation
Orientation Coordinators (OCore)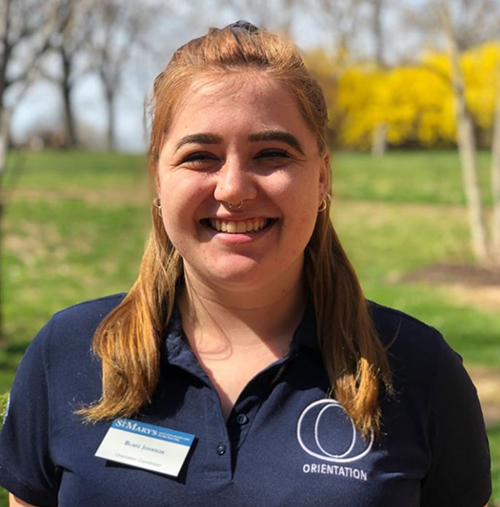 Blake Johnson
Class of 2021
Orientation Coordinator
Major: Theater, Film and Media Studies
Minor: English, Philosophy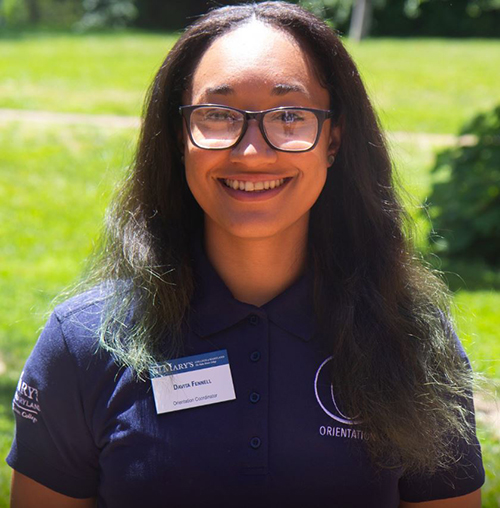 Davita Fennell
Class of 2020
Orientation Coordinator
Major: Art
Minor: Computer Science, Educational Studies
Questions?
If you have any questions, please email us at orientation@smcm.edu, or call us at (240)-895-4209.