Congratulations on becoming a Seahawk! We are excited to welcome you to St. Mary' College of Maryland (SMCM) and help you discover all that SMCM has to offer, from academic resources to making friends and getting involved, to becoming familiar with where things are on campus. Your experience at Orientation will provide you with a comprehensive introduction to our community and expectations, as well as provide you with all the support you need to transition successfully to the flock!
We recognize that transfers have different needs than first-time first year students. This program is an opportunity for new transfers to get to know each other and campus resources.
Transfer Orientation also gives new transfer students the chance and get acclimated after the first years arrive!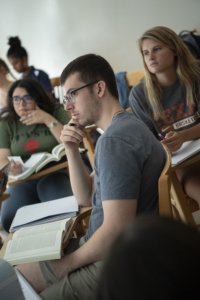 Schedule for Fall Transfer Orientation
Fall Orientation  Thursday, August 24th (Optional Day) Friday- Monday, August 29th, 2023
Thursday, August 25th We wish to welcome all transfer students into our community and recognize that some of you may have different priorities. That is why Thursday is an optional day but attendance Friday through Monday is mandatory unless noted. Meals will be provided for Transfer Students without meal plans. 
8:00am –  1:00pm Residence Hall Move-in & Orientation Check-in  |  Residence Halls
12:00pm – 2:00pm Lunch  |  The J. Frank Raley Great Room, Campus Center
3:30pm – 4:30 pm Commuter Student Orientation Check-in  |  PAC Lobby
5:00pm – 6:30pm New Student BBQ  |  Glendening Green
6:30pm – 7:45pm Campus Tour |  Around Campus
7:45pm – 8:30pm Twilight Ceremony |  PAC Courtyard
8:30pm – 9:30pm S'Mores and Games | Dorchester Circle
Friday, August 25th  (Mandatory unless noted.)
8:00am – 11:00am Transfer Residence Hall Move-in & Orientation Check-in  |  Residence Halls
8:15am – 9:00am Breakfast (Optional)  | The J. Frank Raley Great Room, Campus Center
9:00am – 9:20 am Assemble for Opening Convocation (Optional) | MPO Athletic and Recreation Center, Arena
9:30am – 10:30 am Opening Convocation (Optional) | PAC, Auditorium
11:00pm – 12:00 pm Commuter Student Orientation Check-in  |  PAC, Lobby
11:00pm – 12:00pm Lunch (Optional) |  The J. Frank Raley Great Room, Campus Center
12:00pm – 1:00pm Welcome and Transfer Student Success Panel | Campus Center, Cole Cinema
1:00pm – 2:30pm  Advising Appointment | Advisor's Office
2:30pm-3:15pm Core 301 Courses Meet  | In Classroom
3:30pm – 5:00pm President's Book Signing   |  PAC Auditorium
5:30pm – 6:15pm Dinner (Optional) | The J. Frank Raley Great Room, Campus Center
8:00pm – 9:30pm Daniel Martin- Magician (Optional)| PAC, Auditorium
9:30pm – 11:00pm  Late Night at the ARC (Optional)| MPO Athletic and Recreation Center, Arena
Saturday, August 26th:
10:30am – 11:15am Brunch  |  The J. Frank Raley Great Room, Campus Center
11:30am – 1:30pm  Transfer Student Resources |  Around Campus
2:15pm – 3:30pm Diversity SMCM | PAC, Auditorium
3:30pm – 5:00pm Where's My Class Tour | Around Campus
6:00pm – 7:00pm Dinner | The J. Frank Raley Great Room, Campus Center
8:30pm – 10:00pm  Outdoor Movie Night | Glendening Lawn
Sunday, August 27th:
10:30am – 12:00pm Brunch  |  The J. Frank Raley Great Room, Campus Center
12:30pm – 2:30pm Campus Resource Round Robin | Around Campus
Religious Community Life | Aldom Lounge
Waterfront Info Sessions | Muldoon River Center
Sustainability Info Session | Cole Cinema
Commemorative to Enslaved People | JLR Stadium
2:30pm- 5:00pm Waterfront Activities  |  James P. Muldoon River Center
Monday, August 28th:
11:30 am – 1:00pm Lunch with Core 301 Instructors |The J. Frank Raley Great Room, Campus Center