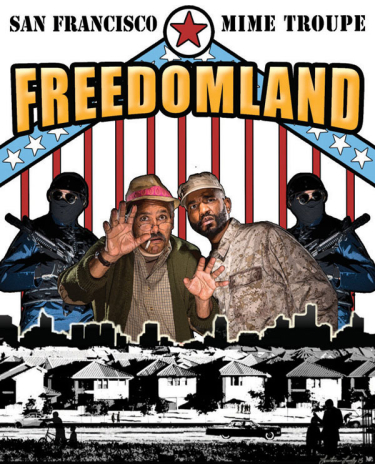 October 26 & 27 @ 8PM
FREE and open to the public
Reservations required. Seating is first-come, first-served.
Bruce Davis Theater, Montgomery Hall Fine Arts Center
A door is blown off its hinges! Into a blasted room of scarred walls and shattered windows, armed with M-16's, America's bravest duck and dodge for cover, finally training their deadly gunsights on … an old black man watching TV on his couch? This isn't Baghdad or Kandahar – it's home, and for ex-Black Panther Malcolm Haywood it's just another wrong-door police raid in the War on Drugs. So of course Malcolm is horrified when the grandson he's tried to protect, Nathaniel, returns from serving in Afghanistan only to find another war zone at home – and one where young Black men like Nathaniel are in the crosshairs! Meanwhile the Mayor and the Police Chief –one desperate for votes, the other desperate to fund his militarized police force –ramp up the fear (and their shiny new tank) to fight the newest, drug threat to America … worse than weed, meth, coke, crack, or crank, it's… SNORF!! And, of course, the SNORF trade is centered in the … darkest … part of town …
Are the police out of control? What happened to "innocent until proven guilty"? Is Malcolm's neighbor Luis (an undocumented immigrant,) actually a SNORF-lord? And can Malcolm convince his grandson that it is safer to re-up and fight overseas than to try to survive here at home, in Freedomland?
In the current climate of "Black Lives Matter" and local and national conversations about race, we are fortunate that the San Francisco Mime Troupe is set to perform FREEDOMLAND at SMCM.
Lauded as one of the finest agit-prop performance troupes in the world, the San Francisco Mime Troupe is theater of political satire, rooted in the performance traditions of commedia dell'arte (16th c. Italian street theater), broad farce, and melodrama. Since its inception 57 years ago (1959), the Troupe has performed its socially conscious theater worldwide to critical and popular acclaim.
The Department of Theater, Film, and Media Studies would like to thank the Office of the President, the Office of Student Affairs, SGA, Lecture and Fine Arts, Arts Alliance, the African & African Diaspora Studies program, and The Center for the Study of Democracy for their generous support of the residency of the San Francisco Mime Troupe.
Performances of FREEDOMLAND are FREE and open to the public. Reservations required. You MUST have a ticket to get into the event. Seating is first-come, first-served.
To reserve tickets, contact the Theater Box Office at 240-895-4243 (ext. 4243), or email boxoffice@smcm.edu.
Please check back periodically for updates about reservations for performances of FREEDOMLAND.