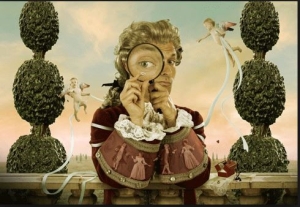 WHAT: Auditions, THE MARRIAGE OF FIGARO
WHEN: Tuesday & Wednesday, September 6-7
TIME: 7:00 – 9:00 p.m., both days
WHERE: Bruce Davis Theater, MH
It's a really BIG SHOW! A cast of 21!
Looking for clowns, fast-talkers, wits, lovers young and old(er), movers, shakers, dancers, musicians, and those who just want to have a darn'd good time!
No experience required to audition! Just prepare a 1-2-minute comic monologue of your choice; a prepared (memorized) piece is preferable to a cold reading. Reading the play before auditioning is strongly recommended! Copies are available at the circulation desk of the College library; just ask for the "Theater Production" binder, and a librarian will be happy to assist.
An audition sign-up sheet will be posted on the TFMS bulletin board in the Theater lobby, MH before classes get underway on August 29.
Please direct any questions about audition procedures or the production to director Mark A. Rhoda @ marhoda@smcm.edu.
THE MARRIAGE OF FIGARO will perform during the last week of the semester, December 7-11.