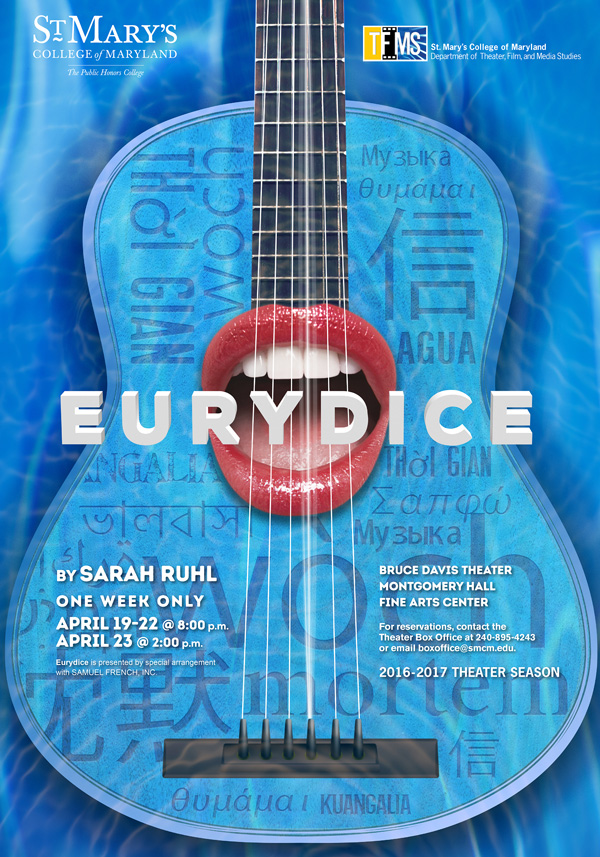 Sarah Ruhl's contemporary poetic retelling of the Orpheus/Eurydice myth imagines it from Eurydice's perspective. After she arrives in the Underworld, a place Ruhl describes as more Alice in Wonderland than Hades, Eurydice has a choice: to stay there with her father, in the room of string he builds for her, or return to the world above and her husband Orpheus, who writes music so beautiful it makes stones weep. Written partly as a way to "have a few more conversations with [my father]" who had died 10 years before Ruhl wrote her play, EURYDICE is a theatrical fantasia on love and loss, language and letters, longing and memory, music, water, and time.
Directed by TFMS faculty member Amy Steiger and with original music by SMCM student Robert Hayes. EURYDICE performs for one week only, April 19-22 @ 8:00 p.m. and April 23 @ 2:00 p.m.

To make reservations, email the Theater Box Office at boxoffice@smcm.edu or telephone 240-895-4243 (ext. 4243). Except for FREE ADMISSION ON OPENING NIGHT, ticket prices are $4 for students, faculty, SMCM staff, senior citizens, and Arts Alliance members; $6 general admission.