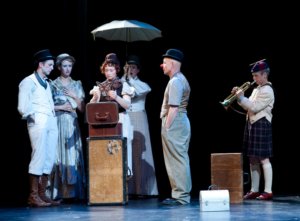 In this funny and poetic one-hour performance, a troupe of Victorian clowns greets the end of the world with pathos and levity. Their curiosity at the precipice lights up the darkness like a firecracker! What happens in that moment of illumination? Come find out from the multiple Helen Hayes award-winning company hailed by the Washington, D.C. press for its superb improvisatory skills, its physical humor, and, above all, its spontaneous interactions with the audience.
Happenstance Theater Company is a six-member, Rockville, MD-based performance troupe steeped in the traditions of the commedia dell'arte, clowning, circus, and vaudeville. The award-winning company is committed to devising, producing, and touring original, performer-created visual and poetic theater that stretches the boundaries of traditionalist circus/clowning practices. BROUHAHA – the show the company will bring to SMCM – combines the dark comedy of Irish playwright Samuel Beckett and of Federico Fellini's late Neorealist-inspired film, La Strada; throw in a dash of Ingmar Bergman's The Seventh Seal, images of refugees fleeing on foot, and the plight of Edwardian laborers, and you get "an existential escapade" of those on the "precipice at the end of the world."
Performances of BROUHAHA are FREE and open to the public. Reservations required. You MUST have a ticket to get into the event. Seating is first-come, first-served.
To reserve tickets, contact the Theater Box Office at 240-895-4243 (ext. 4243), or email boxoffice@smcm.edu.
You may pick up your tickets in advance during regularly scheduled Box Office hours or by 7:45 p.m. the evening of the performance you plan to attend (otherwise, unclaimed tickets will be released by Box Office staff).