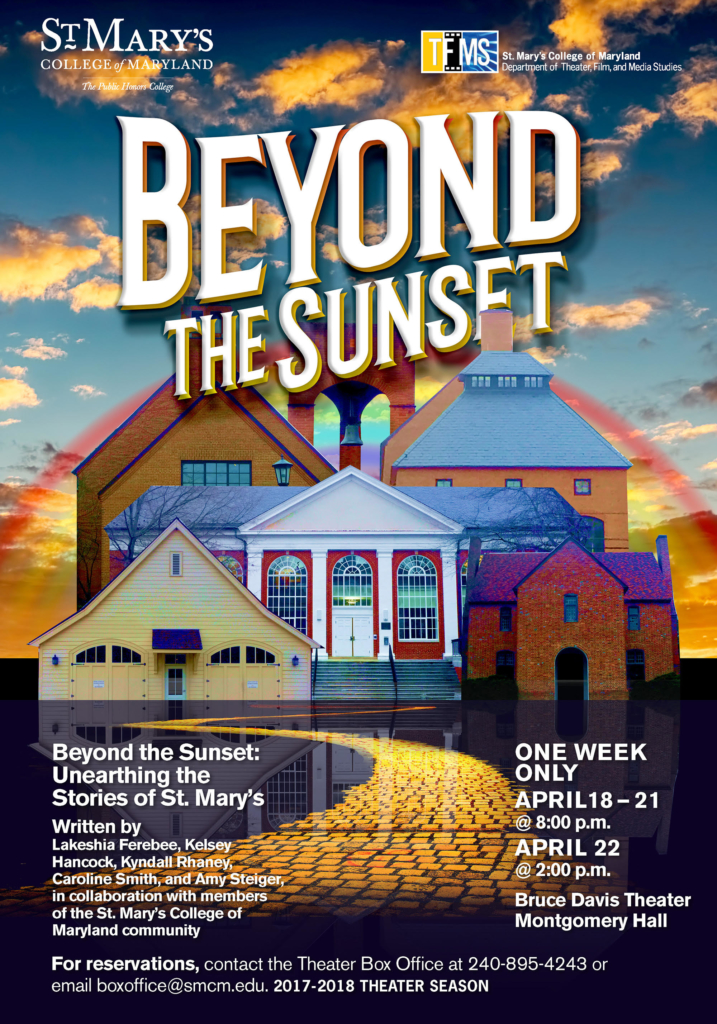 BEYOND THE SUNSET: UNEARTHING THE STORIES OF ST. MARY'S is conceived and directed by Amy Steiger. written by Lakeshia Ferebee, Kelsey Hancock, Kyndall Rhaney, Caroline Smith, and Amy Steiger, in collaboration with members of the St. Mary's College of Maryland community.
Roommates Diana and Judy are just getting started as SMCM students when a hurricane blows their dorm across Mattapany Road. After they and their friends land in an archaeological dig, scattering artifacts hither and yon, they look toward campus to see a place they don't recognize: gray, dusty, and falling apart. A benevolent and mysterious staff member sends them on a journey to find the displaced objects and recover the St. Mary's Way. This play, a poignant but funny twist on The Wonderful Wizard of Oz, was written in a fall 2017 course on community based theater. It was built from interviews and story circles with members of the St. Mary's College community to start conversations about how issues in the world affect campus experiences. Not recommended for children under the age of 14.
BEYOND THE SUNSET performs for ONE WEEK ONLY on the following dates and times:
April 18 – 21 at 8:00 p.m.
April 22 at 2:00 p.m.
Ticket prices are $4.00 for faculty, students, SMCM staff, senior citizens, and Arts Alliance members; $6.00 general admission. Reservations strongly recommended.
For reservations, email the Theater Box Office at boxoffice@smcm.edu or telephone 240-895-4243 (ext. 4243).