I loved the seminars in Ancient Corinth, reading Socrates at the site of his drinking the hemlock (so cool!), and all the time spent out in the sun exploring ruins and temples and museums. The Greece study tour is truly immersion-style learning at its finest… except you also happen to be immersed in the birthplace of democracy, in a culture renowned for its hospitality, and eating the most delicious food you've ever had in your life.
Really, the study tour is extraordinarily well-planned and executed, fantastically fun, and it truly makes the stories, history, and people of Greece alive in a way you wouldn't have known unless you went. Positively one of my best experiences at St. Mary's, hands down.  —  Jaclyn G., 2014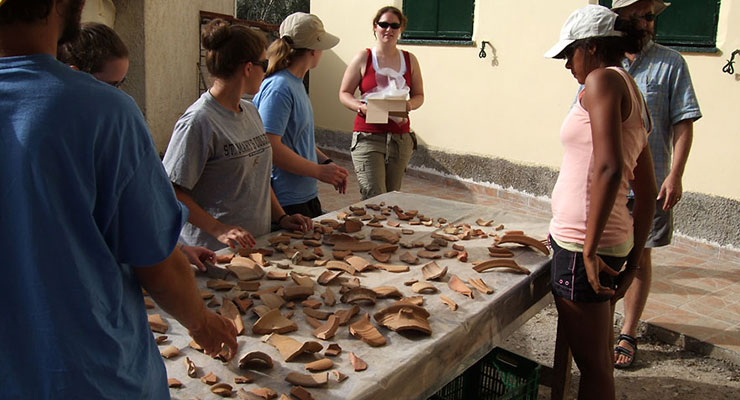 Grades for the course are based upon the following:
Pre-departure, a 4-5-page paper (plus bibliography and diagrams or maps) on the site you will have chosen for your site report – 10%, e-mailed to your professor no later than four days prior to departure.
Your oral site report (4-8 mins.) given to the group at the site – 5%
Your oral reports (3-5 mins. each) on your 2 Who's Who subjects – 5% x 2 = 10%
Your creative, oral re-telling of a Greek or Roman myth, not as an oral report, but as told from the point of view of one of the parties to the events, whether major or minor parties, or perhaps even of that of a bystander to, or a prop in, the events – 5%
Eight written assignments given in Greece (either responses of 250-750 words or quizzes on the reading) – 40%
An 8-12 page paper due August 1, on a topic relevant to the sites we visit or the issues raised in the readings and seminars – 30%
The final paper can have an archaeological, cultural, environmental, gender, historical, literary, philosophical, political, religious, or theatrical focus, but the topic must be discussed with the instructor prior to writing. The use of sources should be appropriate to the discipline for which you are registered for the course (English, History, etc.). A paper for History or for Philosophy, for example, must use (and not merely mention) primary sources.
Because work due in Greece is sequenced to our itinerary, such work submitted late will not be accepted and will receive a grade of zero.  For work due prior to departure (namely, the site paper) or after our return (namely, the final paper), late work loses one grade (10%), with an additional grade lost for each additional 24 hours of lateness.
I'll post in our course's Google folder a book with information about some 50 myths, from which each student will select a myth to tell creatively. (You can use other sources if you like; but this is not intended to be a time-intensive research project. That's why I'll post the book that gives the basic stories, and you can take it from there.)
Grading criteria for creative retelling of a Greek or Roman myth:
| | |
| --- | --- |
| Creativity in conception & execution | 10 points |
| Accuracy, fidelity to the traditions (with liberties taken only in the name of creativity) | 10 points |
| Use of narrative thread | 10 points |
| Clarity of presentation | 10 points |
| Evidence of preparedness, practice | 10 points |
| Total | 50 points |
For information on the site paper and site report, see here.
The Who's Who exercise consists of each of you choosing two figures from these lists (preferably not from the same category), researching them, and then telling the rest of the group about each figure in 4-6 minutes while we're in Greece. (No paper for this; just an oral report.)
Do not try to be encyclopedic about your figures, especially for those about whom much is known. Starting with a source like Wikipedia is fine. Starting and ending with it is not.
Your aim is to leave the group with an enhanced sense of the importance of your figures (especially as they are relevant to Greece), and to do this in a way other than by a bland reading of a dry list of disconnected facts. Your job is to bring these figures to life in a few minutes, by finding the story of someone's life. Attend even to matters like intonation and body language.
Notes are allowed, but the greater one's dependence on them, the less alive the figures become to the audience.
Grading criteria for the Site Report and the Who's Who reports:
| | |
| --- | --- |
| Completeness  (Hits what's important?) | 10 points |
| Accuracy  (Gets the details right?) | 10 points |
| Focus  (Avoids what's extraneous?) | 10 points |
| Clarity of presentation  (Confusing? Also, projecting voice, pronouncing names; and for the site reports, explaining technical terms, appropriately using any handouts) | 10 points |
| Evidence of preparedness  (Smooth?) | 10 points |
| Total | 50 points |
Here are examples of lists of possible Who's Whos from recent years. For the list of this year's, see here.
Political figures
Themistocles (Athenian statesman and general from the Persian Wars)
Pericles (Athenian statesman and general between the Persian and Peloponnesian Wars) and his companion-then-wife, Aspasia
Alexander the Great
Augustus (Roman Emperor 31-14)
Nero (Roman Emperor 54-68)
Hadrian (Roman emperor 117-138)
Marcus Aurelius (Roman emperor 161-180)
Commodus (Roman emperor 180-192)
Constantine (Roman emperor 306-337)
Justinian (Byzantine emperor 527-565; include his approach to religion)
Ioánnes Kapodístrias (one of Greece's founding fathers, from the 1830's)
King Otto of Greece (became king when he was 17, in 1832)
Eleutherios Venizelos (prime minister for 15 years in early 20th century, and was key in making the Greek nation what it is)
Constantine II (the last king of Greece)
Melina Mercouri (20th-century actress, politician, Minister of Culture, and advocate for the return of the Parthenon marbles)
Alexis Tsipras (current prime minister)
Cultural figures
Sappho (7th-6th-century BCE poet from the island of Lesbos)
Pheidias (= Phidias) (preeminent sculptor of 5th century BCE)
Aeschylus (author of the Oresteia trilogy of plays, which we'll be reading)
Sophocles (author of Oedipus Rex and Antigone, the latter of which we'll be reading)
Euripides (author of the play Medea, which we'll be reading)
Aristophanes (author of the play Lysistrata, which we'll be reading)
Thucydides (author of The Peloponnesian War, of which we'll be reading excerpts)
Socrates (5th-century BCE Athenian philosopher)
Plato (5th-4th-century BCE philosopher)
Aristotle (4th-century BCE philosopher and scientist)
Praxiteles and Phryne (preeminent sculptor of 4th century BCE and his controversial courtesan model)
Paul "the Apostle" (author of many letters preserved in the New Testament)
Herodes Atticus (a wealthy Greek orator and Roman senator who sponsored many buildings)
theological differences between Orthodox Christianity and Roman Catholicism/Protestantism, including the significance of the "Filioque" clause
the Romani (singular: Roma), aka Gypsies, incl. as they've lived in Greece
Thomas Bruce, of Elgin (famous/infamous for bringing the Parthenon marbles to Britain)
Heinrich and Sophia Schliemann (discoverers of Troy and Mycenae)
Sir Arthur Evans (discoverer of the Minoan palace of Knossos, which we'll visit)
Konstantine Kavafy (Constantine Cavafy, 19th cent., the most famous Greek modern poet)
Bernard Tschumi (lead architect of the new–2009–Acropolis Museum in Athens)
Scientific and mathematical figures
Hippocrates of Cos (physician)
Archimedes (engineer and inventor)
Eratosthenes (astronomer, mathematician who calculated the circumference of the earth)
Galen (physician)
Hypatia (mathematician and astronomer in 4th-5th century CE; she came to a tragic end)