The St. Mary's College of Maryland physics program is highlighted as a role model in the report, "Phys21: Preparing Physics Students for 21st Century Careers." The report, published by the Joint Task Force on Undergraduate Physics Programs (J-TUPP) and convened by the American Physical Society (APS) and the American Association of Physics Teachers (AAPT), selected the College as one of five case studies of successful, innovative physics programs.  Some elements highlighted by the report include:
the innovative introductory course sequence,
the career-preparation curriculum,
alumni networking,
experimentation and data gathering.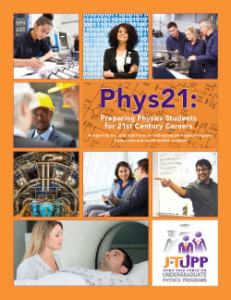 See more at the SMCM press release.
The full report is available for download.