Erin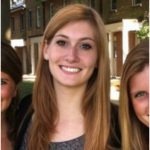 Knutson '15 (physics) was recently awarded a National Science Foundation (NSF) fellowship through its Graduate Research Fellowship Program. Knutson is currently studying atomic, molecular, and optical physics in the physics doctoral program at Tulane University.
"The fact that the NSF is willing to fund my research means they see a lot of promise in my career as a scientist," Knutson said.
She said she was honored to be included among so many impressive fellows.
While at St. Mary's College, Knutson participated in atomic physics research at Patuxent River Naval Air Station as part of a collaboration between the College and the Naval Air Warfare Center Aircraft Division (NAWCAD). At the time, she presented her research at a national conference — the Division of Atomic Molecular, and Optical Physics meeting of the American Physical Society. She also served as president of the Physics Club.
Knutson said she is "immensely" grateful to her physics professors at St. Mary's College. She also gave a nod to her liberal arts education.
"Awardees were chosen based on their potential for broader impacts to society as well as their intellectual merit, and I believe my liberal arts education set me apart from other physics doctoral researchers."
– See more at: https://www.smcm.edu/news/2017/03/erin-knutson-15-awarded-national-science-foundation-fellowship/#sthash.xIk3LEh2.dpuf