Thursday, 20 November
8:15 PM, Daugherty-Palmer Commons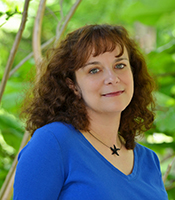 April Lindner is the author of three Young Adult novels: Catherine, a modernization of Wuthering Heights; Jane, an update of Jane Eyre; and Love, Lucy, a retelling of E. M. Forster's A Room With a View, forthcoming in early 2015 from Poppy. Lindner also has published two poetry collections, Skin and This Bed Our Bodies Shaped. With R. S. Gwynn, she co-edited the anthology Contemporary American Poetry for Longman's Penguin Pocket Academic series. A professor of English at Saint Joseph's University, Lindner lives in Pennsylvania with her husband and sons.
Co-hosted with The Women, Gender, and Sexuality Program