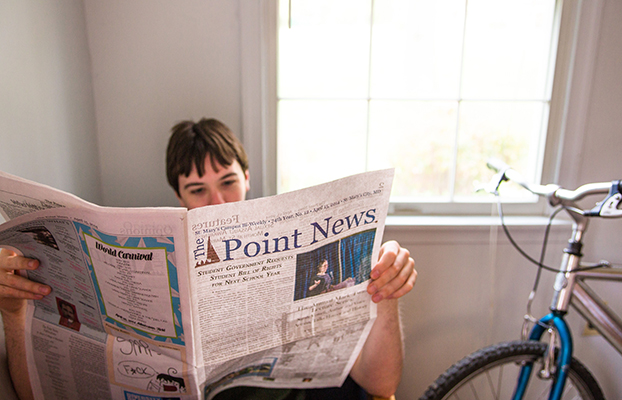 The Point News
The Point News is the sole student-operated newspaper at St. Mary's College of Maryland. It is published biweekly by a dedicated editorial staff of about 12 undergraduates. With each issue, we strive to focus on on-campus topics that we believe the campus community is interested in and will respond to. As a staff, we strive to adhere to strict journalistic ethics and we believe strongly that a campus' newspaper should be free from institutional interference. All content that appears on this website is researched, written, edited and published by students; this is a fact that we pride ourselves on. In recognition of the staff's hard work, The Point News has earned "First Place with Special Merit" honors from the American Scholastic Press Association. From: thepointnews.com
CoffeeHouse
Students gather to listen to live music performed by their peers. A new group performs each week, and information on the event is distributed through email. CoffeeHouse joins forces with the Spoken Word Club to involve student poets.
CoffeeHouse meets happen every Thursday at 8pm on the Campus Patio or inside the Campus Center during the colder months.
Creative Writing Club
The Creative Writing Club creates a community for St. Mary's students interested in creative writing. The club helps them improve their writing skills.
Club Activities:
Face-to-face and anonymous peer reviews
Writing exercises and contests
Book presentations
Voluntary participation in National Novel Writing Month (NaNoWriMo), which is amazing and so much fun!
This club meets each Monday and sends out weekly emails with writing prompts. For more information, contact Club President Breanna Thorne or Faculty Advisor Jennifer Cognard-Black.
The Writing Center
At the Writing Center, students discuss drafts of their writing with trained tutors. Tutors are available to help with any type of paper, including creative writing assignments, although some tutors may be more comfortable reviewing creative writing than others.