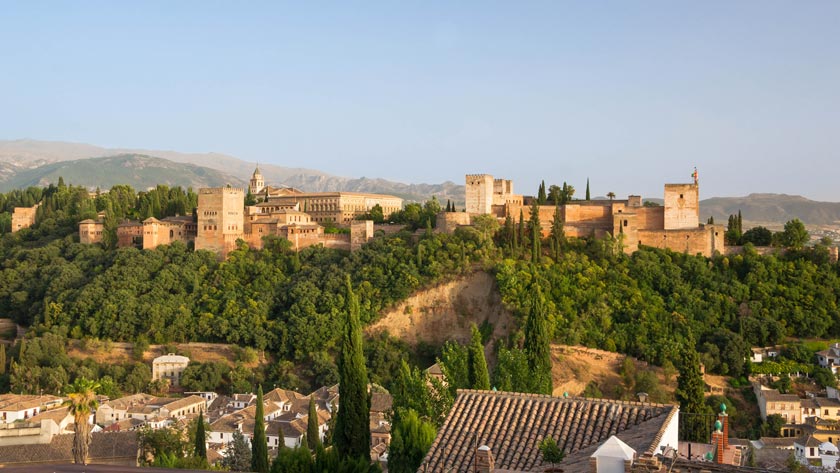 Pre-Requisites
Minimum GPA: 2.5
Must have taken either ILCS 202 or ILCS 260 before applying
Approval from SMCM Spanish faculty
Judicial Check
Currently Accepting Applications for:
Spring 2024 Program Dates: Early January – Late May

SMCM Application Deadlines: October 15th
ISA Application Deadlines: October 1st
Highlights
Includes a 5 day excursion to Morocco* Contingent on Pandemic
One month intensive language study prior to start of semester
Live in the heart of Andalucia, in view of the Alhambra
Course List
Financing Studying Abroad
Office of International Education Scholarships (Need-Based, Merit-Based, Region Specific, Language Study)
ISA Scholarships (Full Ride, DEI, Merit-Based, Need-Based)
Speak with the Office of Student Financial Assistance for Options
About the Program
SMCM partners with ISA to offer students the opportunity to study Spanish language and culture for a semester in Granada, Spain.  On-site ISA staff members provide 24/7 support, coordinate the arrival orientation, and host several excursions throughout the semester.  The orientation and excursions are designed to introduce students to Spain's history and culture, daily life in Granada, and the academic culture at the University of Granada.
The origins of the University of Granada can be traced back to the 14th century Arabic University of Madraza. With a history of over 700 years, the university is regarded as one of the country's major intellectual centers.  The University of Granada has an enrollment of over 80,000 students, 5,000 of which are international students.  Granada is home to the Alhambra and offers a rich multicultural history, a student-driven nightlife, and easy access to skiing and trekking in the nearby Sierra Nevada mountains.
Location
The city of Granada is located in the heart of Andalucia, in southern Spain and was the last Muslim stronghold to be recaptured by the Christian monarchs.  It's symbolic importance in the creation of modern Spain has made it a familiar name to historians and tourists alike.
It's unique location allows students to take advantage of nearby natural beaches as well as being only one hour by bus to either the Sierra Nevada mountains or the beaches of the Costa Tropical.  The mild climate of Granada invites its locals to live their lives in the streets; you'll see students, families, children, couples, and the elderly strolling throughout the city, enjoying good company and conversation and pleasant weather.
Academics
Students will take an intensive course at the beginning of the semester for approximately 1 month. Students' proficiency level for the intensive course is determined by a placement test taken upon arrival to Granada. After the intensive course is completed, students will take another placement test to determine their level for the regular semester courses.
The regular semester will consist of 5 courses, and all students will take Notions of Spanish Grammar and Spanish Speaking and Writing Skills at their respective language levels. Each student will also take Islamic Culture in Spain, taught in either English or Spanish, depending on placement. Students will then be able to choose two additional elective courses, taught in English or Spanish. If students place at the High Intermediate level or above, they will take all courses, including the electives, in Spanish. Students at the Intermediate level will take Islamic Culture in Spain and their two electives in English. Placement levels are determined upon arrival and after the 1 month Intensive Spanish course and so cannot be guaranteed.
Students who place at the High Intermediate level or above will receive ILCS 300 level credit for all courses taken in Spanish. Students who place at the Intermediate level will more likely receive lower-level ILCT credits for their electives. It is possible that one English-taught courses on the Spanish-speaking world may count to an ILCS major, but not an ILCS minor. English-taught courses may possibly count to a non-ILCS major or minor, and will be determined on a case-by-case basis in consultation with their department. ILC majors may also take Arabic to fulfill the additional language requirement for the major.
Housing and Meals
All SMCM students will be living in a homestay with a local family, which is the norm in Spain.  Students will be provided with three meals per day (breakfast, lunch, and dinner) and laundry service once per week for the duration of the program.  Students will usually share a bedroom with another ISA student.  Individual rooms may be requested for an additional fee.
Student Life
ISA's on-site staff assists students with all aspects of their experience abroad and the local ISA office serves as a common meeting place and resource center.  Students can enjoy free computer and internet access at the office, and will also have access to computer labs and WiFi at the university.
One aspect of life in Granada that SMCM students come to love is the historical tradition of the siesta.  Most stores will close for several hours in the afternoon when Granadinos enjoy an Andalusian feast and a nap.
Moroccan Excursion
All SMCM students will participate in a group excursion to Morocco while studying in Granada.  Students enter Morocco on a ferry across the Strait of Gibraltar towards the first stop in Fes, the world's only fully-preserved and continuously inhabited medieval city.  The group will sleep in Berber tents under a star-filled sky and awake to witness the sun rise over the desert.  Students will ride atop a camel into Merzouga, and visit Meknes, known as the "Versailles of Morocco."
Important Links
Faculty Liaison
Dr. Jose Ballesteros – jrballesteros@smcm.edu
How credits taken abroad will transfer back to SMCM.
The academic and judicial requirements for any student considering studying abroad.
How financial aid will apply towards your study abroad program and what scholarships are available.
Payment processes for semester-long, short-term, and non-SMCM study abroad programs.