Life is short. Art is long.
The history, theory, and study of theater studies through practical experiences in production techniques and creativity.
Critical inquiry. Creative expression. Social engagement. Guided by a belief in the transformative power of art and scholarship, theater studies offers an innovative curriculum in that encourages rigor and risk in students' creative and intellectual work.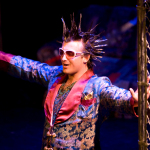 Theater Studies
Our students often combine a minor in theater studies with a major of a different discipline, such as psychology, art, anthropology, biology, English, history, economics, and so on.
Another attractive opportunity is combining a theater studies minor with one of the cross-disciplinary minors, such as Asian studies, African and African Diaspora studies, environmental studies, museum studies, or women, gender, and sexuality studies.
When you minor in theater studies, you will acquire a breadth of knowledge and an array of skills that will translate into many different fields. For instance, theater studies minors have gone into law, business, medicine, scientific research, secondary and higher education, broadcast and print journalism as well as into careers as theater educators and scholars, stage and film performers, stage managers, designers, TDs, and stage directors.