Erin De Pree, associate professor of physics, was recently elected to the chair-line of the M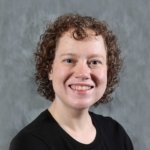 id-Atlantic Section of the American Physical Society, the primary national organization of the physics field.
De Pree will serve a four-year term beginning as vice chair for 2017 followed by chair-elect, chair and then past-chair.
The Mid-Atlantic Section of the APS is the regional unit covering Maryland, DC, Pennsylvania, Delaware, New Jersey and West Virginia.
Regional units are important to connecting physicists across many topical areas who live in the same region. They are especially essential to connecting students to physicists outside of academia.
"It's an honor to be elected by the section members and I look forward serving the section over the next four years," De Pree said.
– See more at: https://www.smcm.edu/news/2017/03/physics-professor-elected-chair-mid-atlantic-section-american-physical-society/#sthash.iuImfwZ5.dpuf