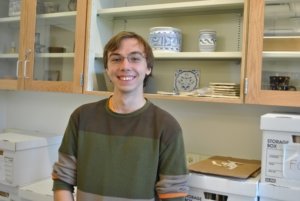 Ethan Brown '18 transferred his talents to St. Mary's College of Maryland and is majoring in Archaeology with a minor in museum studies. "During my time here, I plan on doing archaeological work at Historic St. Mary's City, as well as attend a field school to get more experience in the field."
As one of only two public honors colleges in America, St. Mary's College is committed to providing you a unique college experience. Ranked as one of the top public liberal arts colleges in the nation by U.S. News & World Report, Kiplinger's, and The Princeton Review, St. Mary's College delivers on an experience that is academically stimulating and personally fulfilling.
The right place for you.
With around 1,800 students and 147 full-time faculty members our student to faculty ratio is 10:1, ensuring you get the personalized experience you want. You won't get lost in the crowd of a large university setting. Along with small classes sizes, St. Mary's College offers outstanding faculty, who teach in an environment that encourages excellence. You'll love the sense of community and spirit of intellectual inquiry found on campus. St. Mary's College is also committed to the ideals of affordability, accessibility, and diversity.
Why St. Mary's?
Transfer merit-based scholarships available
Guaranteed housing for transfer students
A newly formed Transfer and Commuter Club
A 10:1 student to faculty ratio
Internships and experiential learning
Core seminars exclusively for transfer students
Articulation Agreements with most Maryland community colleges
Applying as a Transfer Student
We offer both The Common Application and our St. Mary's Transfer Application. Please choose your preferred application platform; no preference is given to either option.

The Common Application
The Common Application requires that you…
Submit a personal statement essay due by applicable date
Provide a unique essay to St. Mary's College (located on our Questions Page)

The St. Mary's College Application
St. Mary's College of Maryland also has its own online application which an applicant can use in place of the Common Application if they would like.
SMCM Admissions Checklist for Transfer Students
Common Application or SMCM application
includes personal statement essay submitted by the applicable deadline
Application supplement
Completed and submitted with the application
Letter of recommendation from a college professor
Official transcripts of all college work
For students with fewer than 24 earned credits, a final high school transcript must also be provided
Registrar report from most recent college attended
Should be completed by your college/university registrar or appropriate college official who can verify your enrollment and academic standing
Students with fewer than 24 earned credits must also submit SAT (code 5601) or ACT (code 1736) scores.
Download Form
$50 application fee required to submit application*