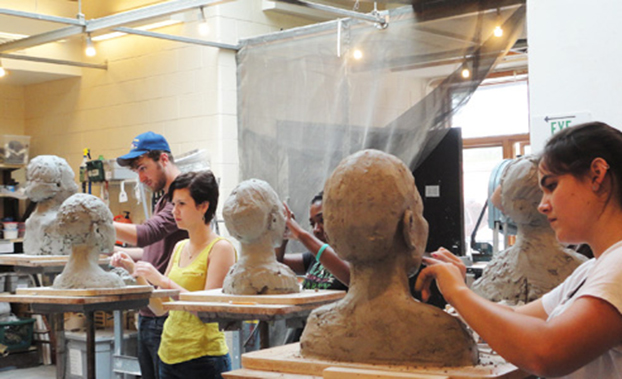 After creation, comes exhibition: the next step in your journey.
Developing your skills and getting the opportunity to display your work is a valuable experience for an art student. If you decide that you want to attend grad school for art or to pursue an artist career field then developing a portfolio is crucial part of planning for that next step.  Your body of work can also help you apply for grants, competitions, internships and other arts opportunities.  These opportunities at St. Mary's College can help you develop professional contacts and it's a great way to meet and bond with fellow artists.
For students who would like to pursue careers in other professions, these opportunities give you the chance to explore your creative abilities. You'll learn to see the world from different perspectives which broadens your social and cultural awareness. You'll learn to think critically and then how to clearly and precisely express those opinions. All of which will help your prepare for your next step.
No matter what your aspirations after graduation, most of these opportunities are just fun.
The Annual All Student Art Exhibition, Boyden Gallery at SMCM
One of our most popular opportunities, is our annual student art exhibition held every spring in the Boyden Gallery. It is well worth the effort to participate in exhibition opportunities on campus because they are specially oriented toward the emerging student artist.
Learn more about Creative Opportunities