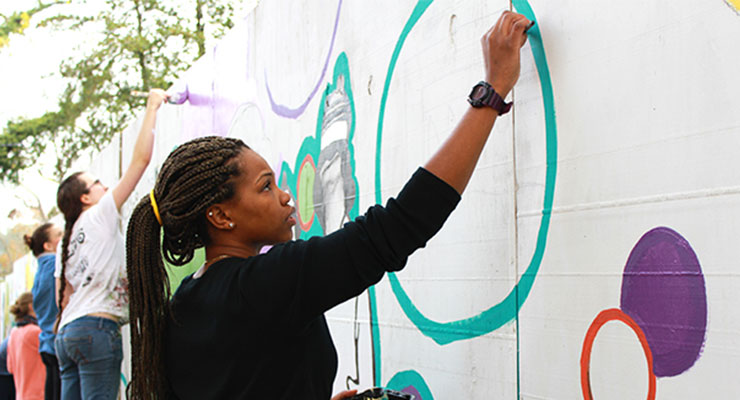 There are plenty of opportunities for St. Mary's Art and Art History students to explore, learn and create – all crucial steps in the development of a artistic mind.
Exhibition Opportunities
St. Mary's Exhibition Opportunities
Annual All Student Art Exhibition, Boyden Gallery, SMCM
St. Mary's Project Exhibitions
M&T Bank Show (selected from entries in the SMCM Annual student art show)
Arts Bridge (contact Carrie Patterson)
Boyden Gallery (collection management,gallery assistant/preparator)
Media Services (web support, AV maintenance, video production)
Office of Instructional Technology (instruction, tech support)
Learn more about Exhibition Opportunities
Collection of Fine Art
In the 1970's the impetus for collecting art grew from a desire to give students at St. Mary's the direct experience of fine art. Today the College's fine arts collection has swelled to over 2,000 paintings, prints, sculptures, textiles and photographs. Art and museum studies students benefit by opportunities for hands-on study and curation of the art. The college community and our visitors are welcome to enjoy this rich array of art on display in the gallery and in the 47 buildings across campus.
The collection's highlights include art works by Alexander Calder, Louise Nevelson, William Merritt Chase, Buckminster Fuller, Marc Chagall, Thomas Hart Benton, Salvador Dali, Pablo Picasso, Alberto Giacometti, Ad Reinhardt, and more.
The collection also includes works by current St. Mary's students and alums.