Diana Abells '11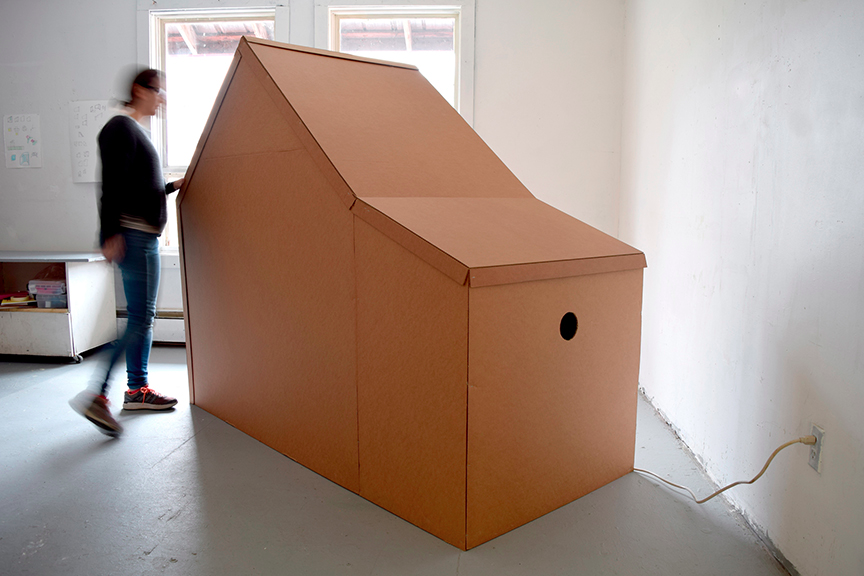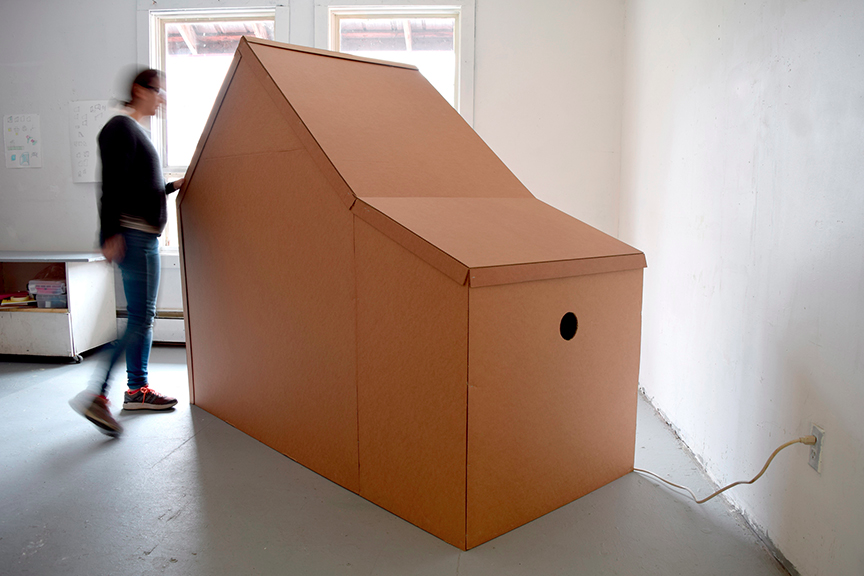 Diana Abells is an artist working across the mediums of video, installation and drawing. Born in Maynard, Massachusetts, she completed her BA with a double major in Art & Art History and Physics in 2011, and in 2015 she earned her MFA in art from The Ohio State University. Since 2015 she has been an adjunct professor for the Department of Art at The Ohio State, teaching classes on digital imaging, video art, and drawing. In 2017 Abells was a resident at the Vermont Studio Center. She has shown her work in the Columbus area including The Fort Hayes Shot Tower Gallery, EASE Gallery, Urban Arts Space, multiple collaborative installation projects at The Ohio State University's Hopkins Hall Gallery, and a solo installation at The Shed. She is a member of the Columbus based artist collective MINT, and is the recipient of a supply grant from the Greater Columbus Arts Council. In her recent work, Abells examines memory, misunderstanding, and desire in childhood. Through a variety of mediums including video, 3D modeling, installation, and drawing, Abells depicts remembered architecture and situations from her past as she brings together information from her own memories, found photographs, internet searches, and recorded footage in playful attempts at using the personal to address what are possibly universal notions of perception. Diana returned to SMCM in Spring 2018 as an Artist House artist-in-residence.
Michael Bargamian '13
Current Position: Currently employed by the Howard County Department of Planing and Zoning and works in their print shop. He will also be interning at the Hirshhorn Museum and Sculpture Garden during the course of their new exhibition entitled Damage Control, which runs from October 2013 until February 2014.
Jade Feng Lee '11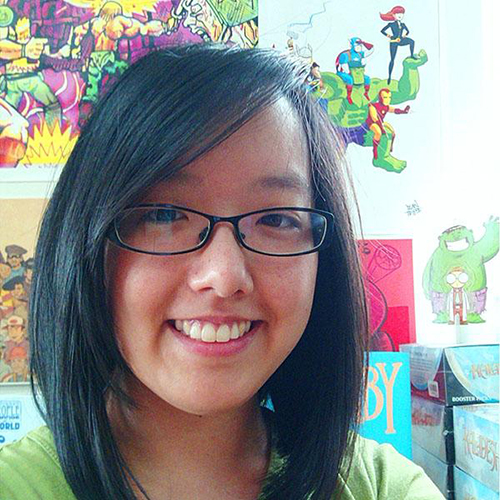 Jade Feng Lee is a cartoonist and illustrator based in Maryland. Her comics work uses fantasy and food motifs to explore narratives about identity, diaspora, and human connection. She is currently working on CORAL a middle grade graphic novel about a young girl's coming of age through her experiences surrounding the Dragon Boat Festival. Samples of her work can be found on her website www.dumplingheart.com.
Remina Greenfield '12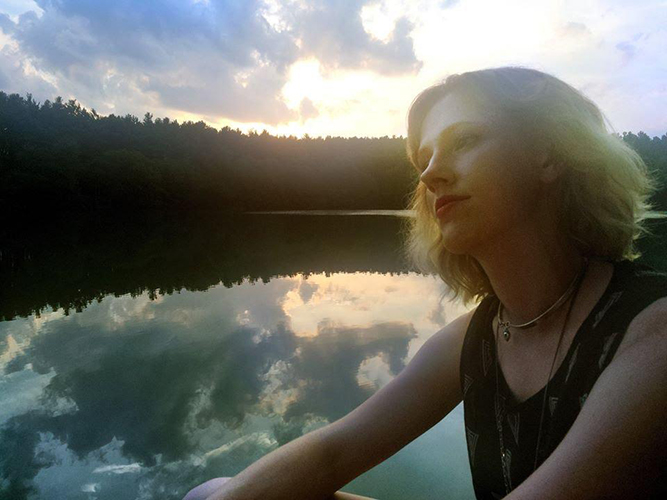 Remina Greenfield is a digital artist, writer, and feminist. Her work focuses on themes of intimacy, identity and surveillance as expressed through digital, interactive, and installation-based work. Remina recently completed an artist residency with Agora Collective and is working toward an MFA in Design and Technology at Parsons School of Design.
Grace Humphries '17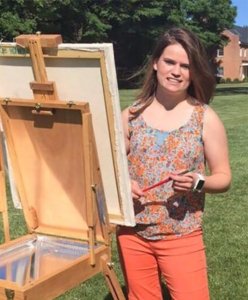 Grace Humphries on her experience at the New York Studio School marathons, summer 2017:
When I paint, I let myself go. As I work, it starts to become less about what I think, less about the plan, and more about the emotion behind it all. My time in New York City was about control – a contradicting idea to all that I was once accustomed to. Yet, if I was to improve as an artist, I knew it would not happen by free falling into the canvas. Blocks of color, light and dark, composition – these would be the components that would allow me to better illustrate the prominent sides of human nature that enveloped my life and the world around me. It was still about acting and responding to a feeling and an idea, but it was transitioned through these smaller segments and series of decisions. I began to break down my process in a way that would elevate my execution of a painting.
Tara Hutton '11
Current Position: Working at Bowdoin College as the Visual Arts Technician. Before she moved to Maine, Tara worked in various jobs as an art instructor, freelance graphic and web designer, and gallery assistant. She also was the St Mary's College Studio Assistant from 2011 to 2013.
Michelle Kohler '01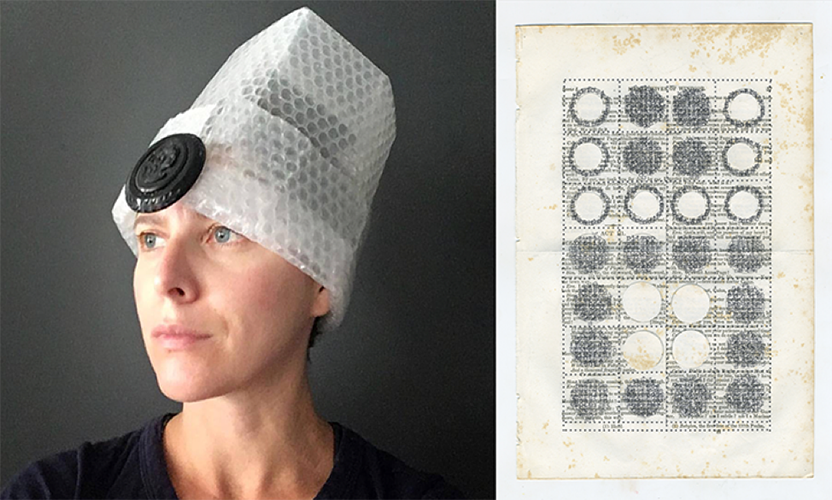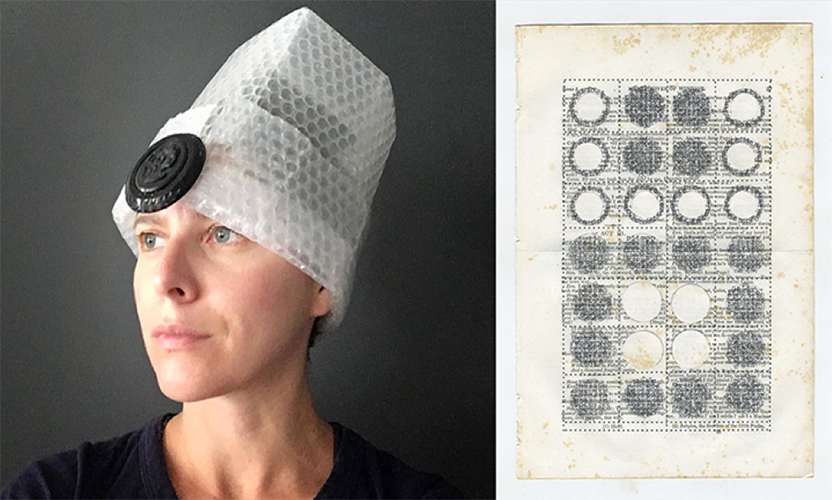 Michelle Kohler '01 is a conceptual artist working in Washington, DC. Using the constraints of domesticity, her work emerges at the intersection of art and everyday life. Through text, installation, and performance, Michelle examines the distance between the numinous and the mundane, self and other. Inspired by 17th Century tantric paintings, she uses a typewriter to transcribe spiritual texts into contemplation forms. The mechanical up and down, left and right motion of the typewriter frames her interest in non-dualism. Practicing the ideals set out in texts, she playfully seeks boredom and discomfort as opportunities for creative intervention. Through collaborations, Michelle interrupts accepted stories and habits, often trying to embody the experience of another person.
Michelle received a MAT in Art from the Corcoran College of Art and Design and graduated from St. Mary's College of Maryland in 2001 with a BA in Art and Art History (ART). For the past four years, Michelle has been a resident artist in motherhood. As an ARIM artist she has collected a year's worth of number 2 pencils from the playground, gone hunting with her father, and published The Bhagavad Gita Typestracts, the complete Bhagavad Gita written in visual form. She is a decorative painter, a certified yoga therapist, and a former DC Public School teacher. Michelle's work has been shown at Gradient Project Space in Thomas, WV. She is the beneficiary of the 2011 McCarthy Tall Tales Prize, a geodesic dome owner, and spent her honeymoon hiking 1000 miles on the Continental Divide Trail. In addition to creating new work, while in residence at the Artist House Michelle will participate in the ART SMP mid-term reviews and visit the new Professional Practices course as a visiting artist. Michelle returns to SMCM in Spring 2019 as an Artist House artist-in-residence.
Cole Meyerhoff '16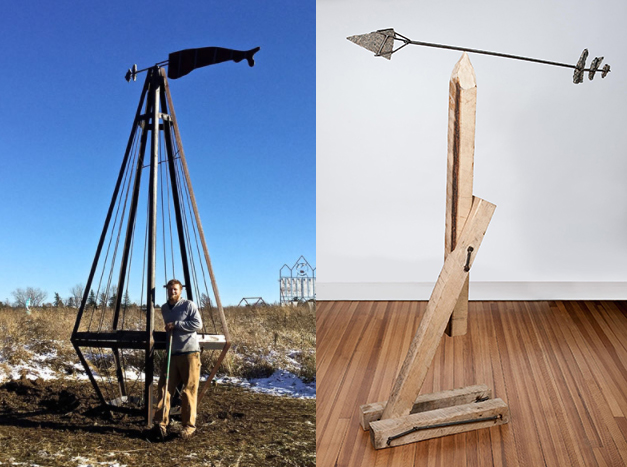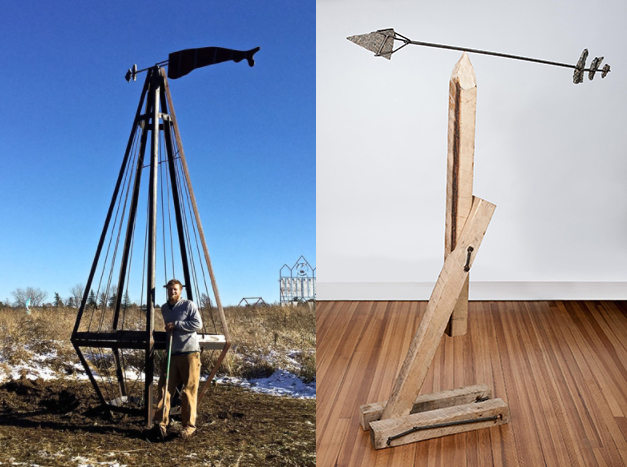 Cole Meyerhoff graduated in 2016 from SMCM with double major in Art and Environmental Studies. Before starting at the College, Cole spent his 'gap year' participating in a number of programs including Haystack Mountain School of Crafts on Deer Isle, ME; Penland School of Crafts in Spruce Pine, NC; and he worked as a shop hand for Albert Paley Studios in Rochester, NY. He also spent a summer as a wooden boat restorer's assistant and concluded his year with a two-month long internship at The Cape Eleuthera Institute on Eleuthera in the Bahamas. Cole was the recipient of the Senior Art Award in 2016. Since graduating, Meyerhoff completed a three-month long internship and installation at Franconia Sculpture Park in Shafer, MN. Meyerhoff has exhibited at Casket Arts in Minneapolis, MN and currently exhibits his work at Trippe-Hilderbrandt Gallery in Easton, MD. In February 2018 he was an Artist House artist-in-residence at SMCM.
Koko Olszweski '12, MAT '13
Current Position: An AmeriCorps National member with Habitat for Humanity in Vancouver, WA where she gets to drive a truck and teach others how to build life-sized, functional sculptures- commonly referred to as houses. Koko graduated from SMCM in 2012 with her degree in Art and Art History with minors in sociology and education and from the MAT in 2013 with her masters in K-12 Art Education.
Shannon Rafferty '14



Since graduating from St. Mary's in 2014, Shannon moved to Philadelphia and started working at a boutique Management Consultancy specializing in strategic communications. She also kept drawing and painting on her own and continued her studies by attending a marathon program at the New York Studio School and through short stays at the Mount Gretna School of Art. After two years of working professionally, Shannon applied for Master degree programs in Landscape Architecture and began her degree work at the University of Pennsylvania in the Fall of 2016. During her summers since starting graduate school, she has worked as a mural assistant through the Philadelphia Mural Arts Program and as the Development and Design Coordinator for the Philadelphia Parks Alliance, a nonprofit advocacy that aims to organize and strength community networks with the goal of improving the health of the public realm.
Allison Yancone '11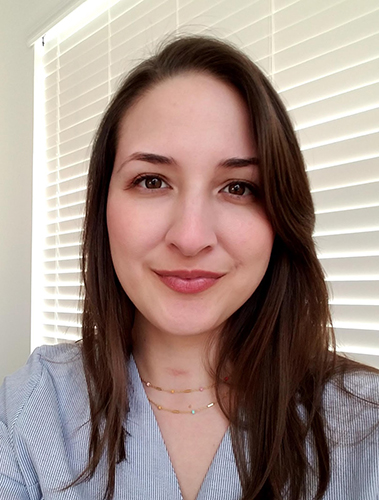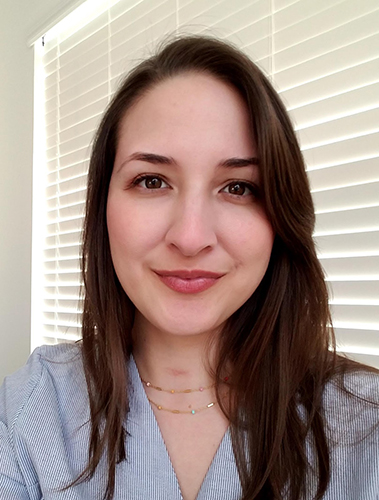 Allison Yancone graduated from St. Mary's in 2011 and later completed the Master of Arts in Teaching (MAT) graduate program at Maryland Institute College of Art (MICA). Currently, Allison teaches visual art to students at Bohemia Manor Middle School, a public school in Cecil County. Allison continues to create nature inspired artwork and is working to further expand her artistic practice by selling artwork and prints online.
Garrett Zopfi '13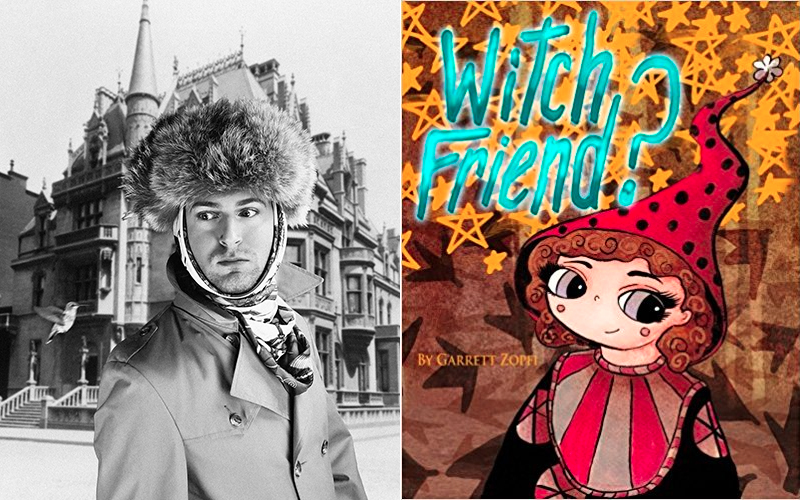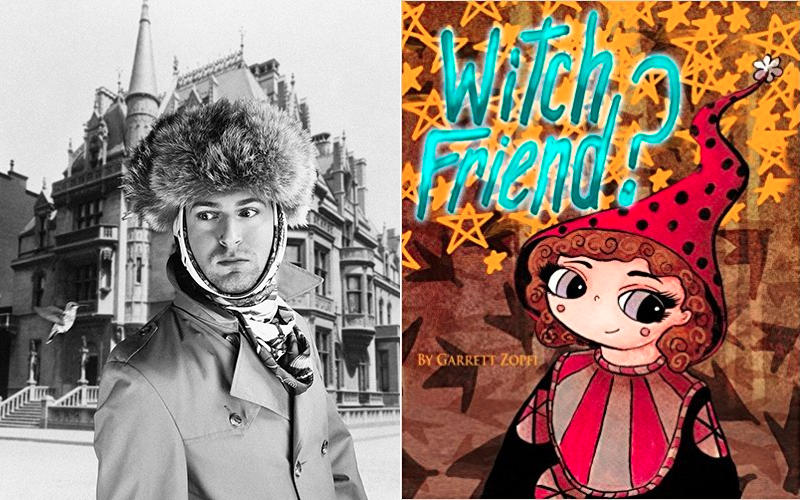 My education at St Mary's (SMCM) truly crafted a strong and diverse foundation for my occupations in creative professional fields. Since matriculating, the diverse framework of theory and application I learned through the liberal arts curriculum at SMCM provided me with the language to express my interest and intent and pursue subjects of curiosity; whether curating bespoke holiday tea China in a Vanderbilt mansion in Newport, R.I. or producing drawings with a Chamorro guide in the jungles of Guam. The human centered approach of the liberal arts and focus on writing taught at SMCM has been invaluable in my career with the U.S. Navy as a Public Affairs Specialist in the Far East theatre- learning how to research, empathize, and anticipate the reaction to information from a diverse and sensitive audience would not be possible without my time studying Art and Art History at SMCM. The example of the successful professional artists and art historians in the SMCM department of Art and Art History showed me that I can be successful pursuing what I love to do, like publishing my picture book "Witch Friend?"-available on Amazon. I treasure my time at St. Mary's and the encouragement and advice I received from the professors sticks with me and its effect on my professional life is unquantifiable.
Bio: Garrett Zopfi (1991-) was born on the eve of Halloween in Baltimore, Maryland. He has produced award winning Artist Books and Illustrations like Shadowman, The Baba Book, and The Lament of Rumpelstiltskin. He draws inspiration from mythologies, folklore, and tall tales and how they morph and blend together as the people who tell them do the same. Garrett Zopfi attended St. Mary's College of Maryland where he studied Art and Art History. He lives in Japan with his husband and two small dogs. His book Witch Friend? is available on Amazon.com.
2000 – 2010
Brian Boyle '10


Since graduating in 2010, Brian went on to earn his Master's in Communication with Honors from Johns Hopkins University in 2017. In 2012, he was recognized at the White House as a Champion of Change from President Obama, and as a Daily Point of Light award recipient from President Bush, and received the Johns Hopkins Martin Luther King Jr. Community Service award in 2013. IN 2017, Brian returned to SMCM to participate in the St. Mary's College of Maryland triathlon, and completed his first 100-mile ultramarathon in 2015 and a second 100-mile ultramarathon in 2017. Brian and his wife, Pamela Boyle, welcomed their daughter to the world, Clara Lynn Boyle, on July 27, 2017. Brian published his second book, "The Patient Experience: The Importance of Care, Communication, and Compassion in the Hospital Room" in 2015, and with his wife, published his first children's book, Swim Bark Run in June 2018.
Hannah Piper Burns '06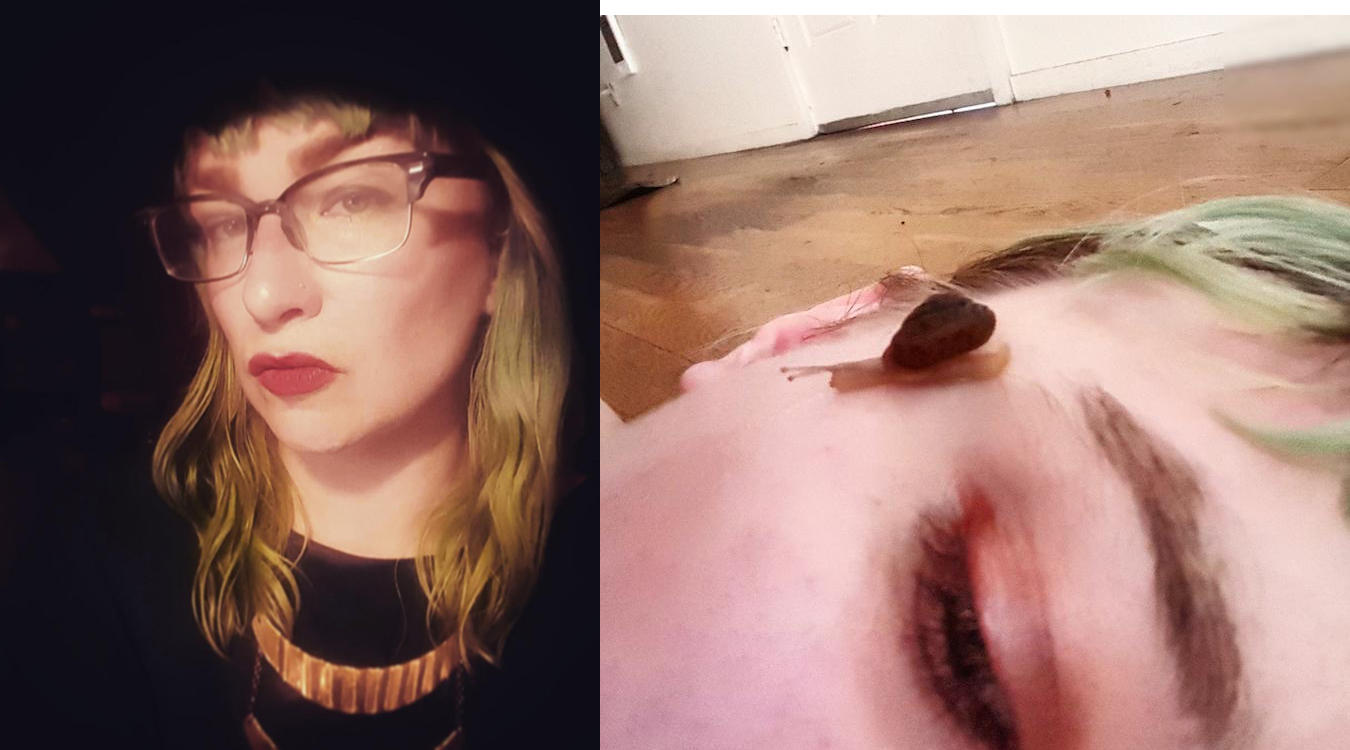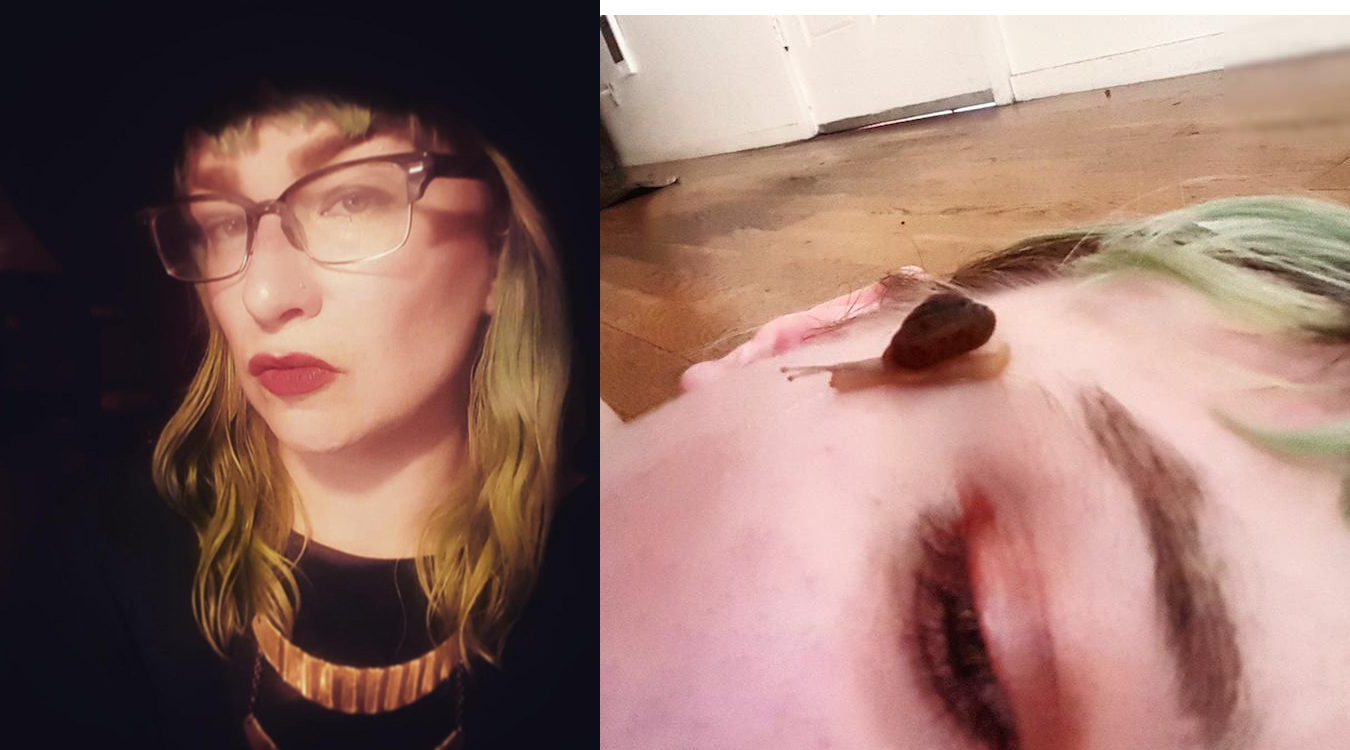 Since she graduated from SMCM, Hannah has attained an MFA in New Genres from the San Francisco Art Institute and moved to Portland, OR, where she currently works as a copywriter and multimedia artist. Her projects, which span video, object, performance, installation, text, and interactivity, have recently been shown widely across the United States and Canada, including recently at the Walker Art Center in Minneapolis, the Indie Bits festival in Columbia, South Carolina, the Winnipeg Underground Film Festival, and as part of Physical Education's "Say When". Her video "Outer Darkness" won "The Unreal Reality Award" at the 43rd Northwest Filmmakers' Festival, and she was an inaugural New Media Fellow at Portland-based media center Open Signal in the Spring of 2017. Her solo exhibition Venus Retrograde, which uses reality television (specifically "The Bachelor" and its spinoffs) as her source material, is currently on view through August 12, 2018 in the APEX gallery at the Portland Art Museum. From 2012-14 she co-founded and co-directed Experimental Film Festival Portland, and from 2015-2017 she co-founded and co-directed Compliance Division, an artist-run live-work project space. She is also a co-organizer of ALTcade, a semi-annual showcase of experimental interactive art and video games that has been active in Portland since early 2017.
https://www.hannahpiperburns.com/
https://portlandartmuseum.org/exhibitions/apex-hannah-piper-burns/
https://walkerart.org/magazine/contemportentary-the-archive-is-a-port-in-the-squall
Ken Castelli '06
Current Position: Currently lives and works on Tangier Island, a Chesapeake Bay island off the coast of Virginia. From 2007-2010, he served as the Artist-in-Residence on Tangier Island, VA (through the Tangier History Museum and Interpretive Cultural Center), a program he helped establish. During his first two years as the Artist-in-Residence, Ken helped with design and construction of the museum displays. He also taught art classes and has become involved with the community. His work has been shown at the Carla Massoni Gallery in Chestertown, MD, and he has also been a visiting artist for "Art in the 'Toon Age" at the Delaware Art Museum.
John Deamond '06
Current Position: Attending the low-residency program at Parsons, The New School For Design in pursuit of his MFA in photography. He is also an instructional assistant in the Department of Visual Arts & Design at Montgomery College in Takoma Park, MD. John recently created a book for Transformer Gallery's "Sketch" exhibition that he plans to publish in a few years.
Website: John Deamond Work
Jen Dohne '02
Current Position: Recently completed her MFA in the sculpture program of the School of the Visual Arts in New York. She is living and working in Brooklyn. Jen returned to SMCM in fall, 2005 as artist in residence at the Artist House.
Amanda Geary '03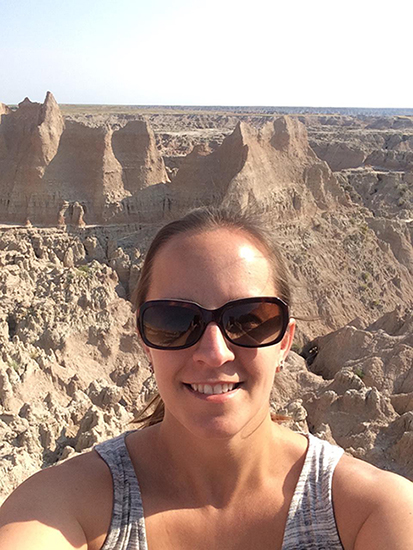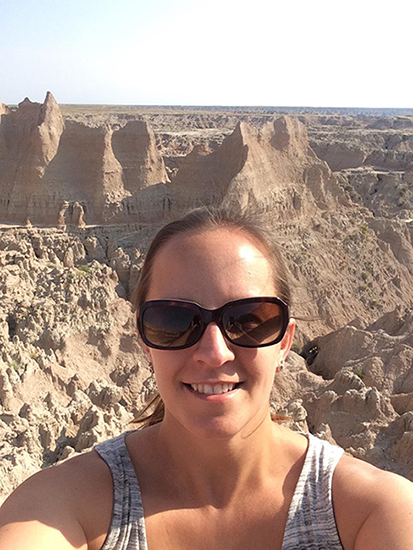 While earning her BA in Art and Art History at SMCM, Amanda was accepted into the 6-week immersion summer program, Design Discovery at Harvard University. Upon graduation in 2003, she earned a Master of Architecture from the Rhode Island School of Design (RISD) and then worked for a small architecture firm in Providence, RI. In 2010 she moved to Naples, Florida. In 2014 and she started her own design firm, Van Eliza Design and in 2017 she became a registered architect in the state of Florida.
Gina Gwiazdowski '00
Current Position: A graphic designer for Booz-Allen Hamilton here in southern Maryland. She handles the formatting and graphics for briefs, slick sheets, and multimedia presentations, and in her spare time walks her puppy.
Danielle Hersey '03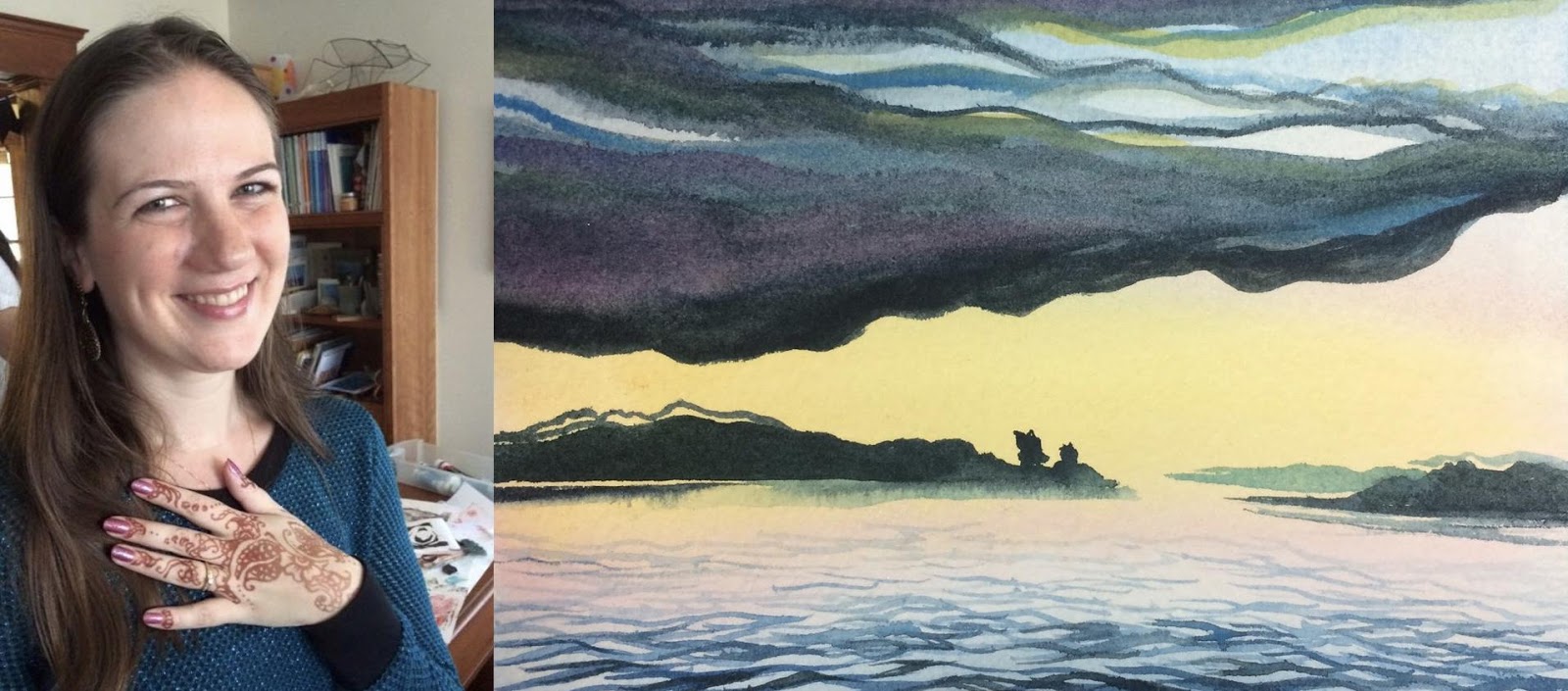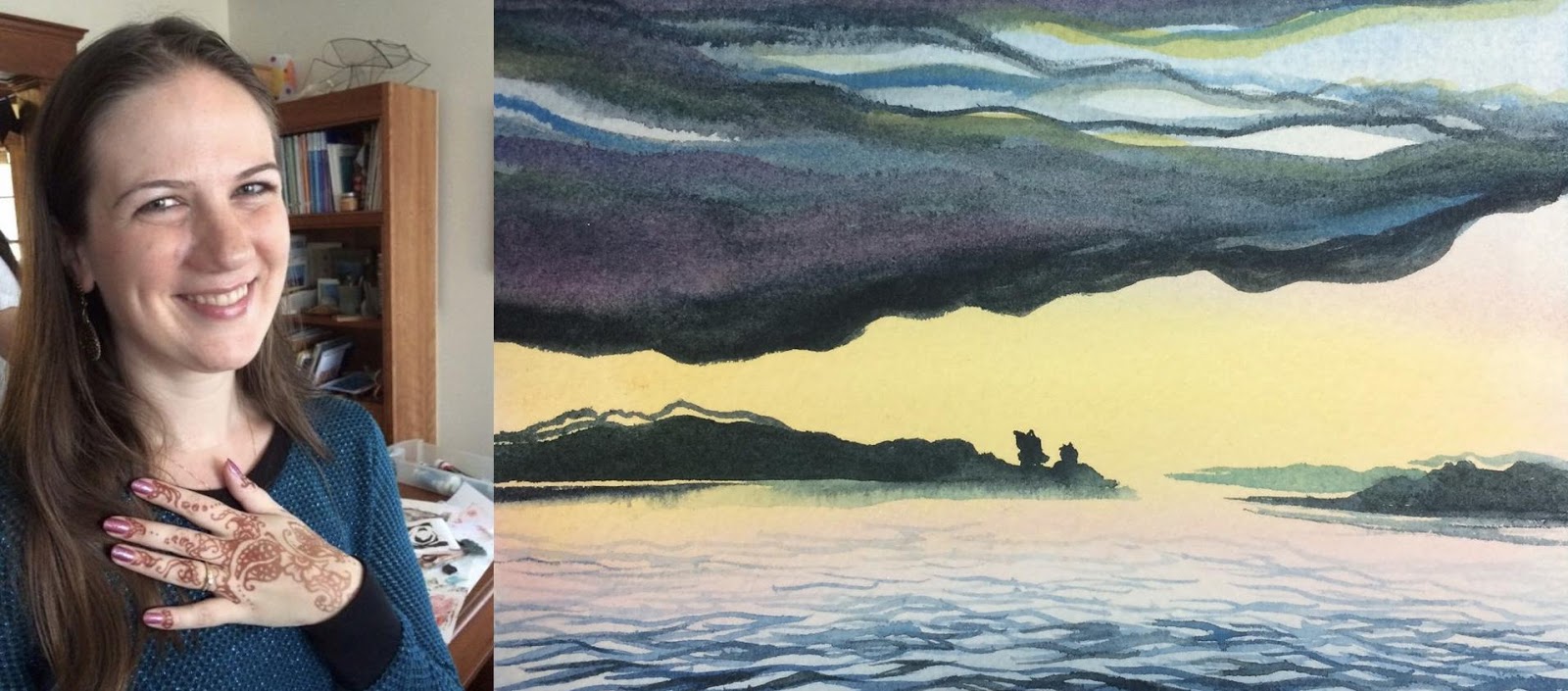 Danielle graduated from St. Mary's in 2003 with a major in Art and Art History. Her current position is as a Teacher of English to speakers of other languages and Maker Movement Coordinator in São José dos Campos, Brazil. Danielle's summer study abroad trip to Cortona, Italy during her studies at St. Mary's ignited a passion for both landscape painting and language learning. After earning a certificate in Children's Book Illustration from Rhode Island School of Design, her travels and adventures with language and creative communication led her to become an English language teacher. Currently teaching in Brazil, she combines her love for art and language by leading the way in bringing the maker movement into English language learning. When not teaching or writing, Danielle still paints landscapes, combining her enchanting experiences with the Saint Mary's River with the lush, mountainous landscapes of the state of São Paulo in water media collages. She blogs about the maker movement and her cross-cultural experiences at gringasjc.blogspot.com.
Alexis Hill '09
Current Position: Working at the National Archives and Records Administration in College Park, MD as an exhibits information technician with the Center for National Archives Experience located in Washington, DC since January 2010. During late summer and fall 2009, Alexis worked as a visitor service representative at the National Building Museum in Washington, DC. She currently lives in Mitchellville, MD.
Matt Hollis '03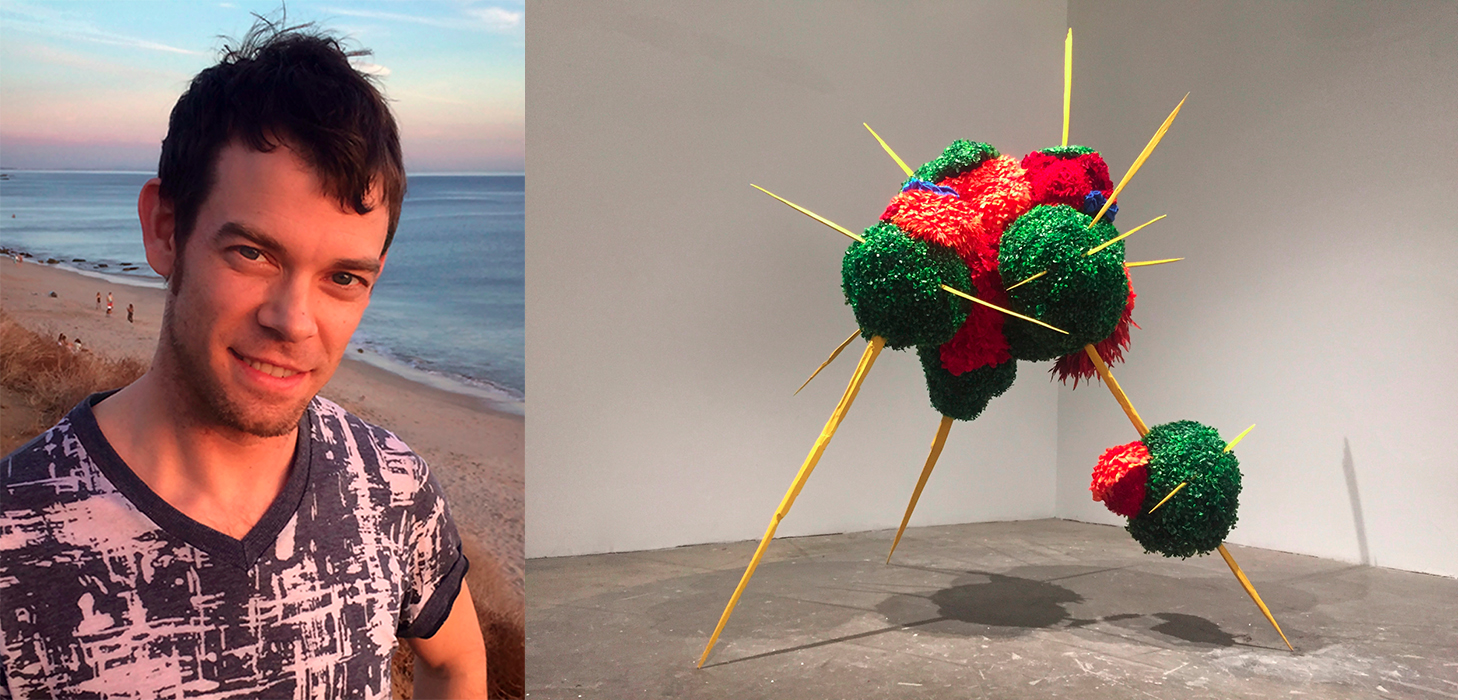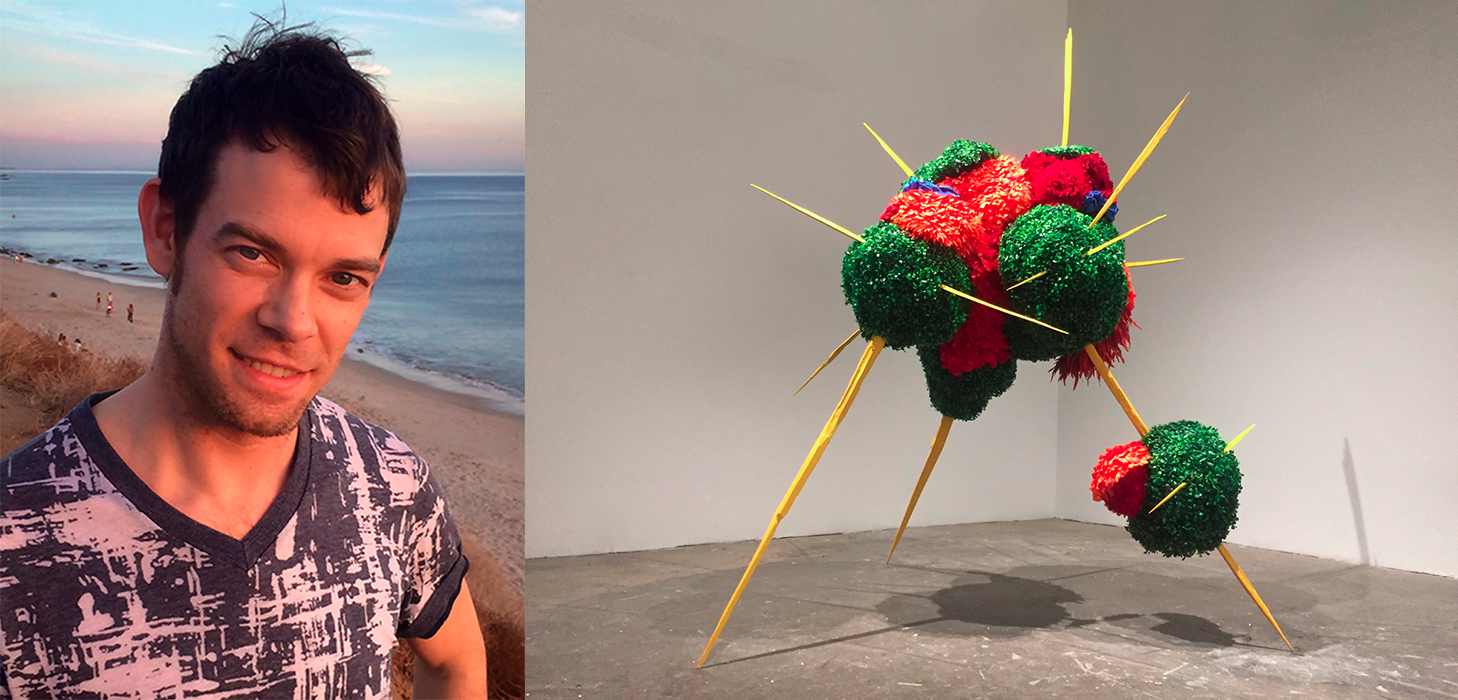 After graduating from St. Mary's in 2003 with a B.A. in Art and Art History, Matt Hollis moved into an artists' studio collective in Washington, D.C. He exhibited his organic-inspired sculptures, two-dimensional works, and full-scale installations throughout the D.C., Maryland, Virginia area before moving to the West Coast in 2017. He is currently pursuing a graduate degree in the MFA program at Otis College of Art & Design in Los Angeles, California.
Eric Jackson '04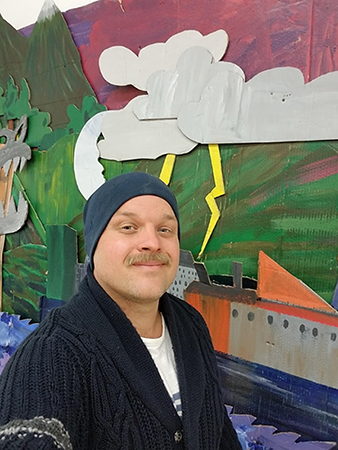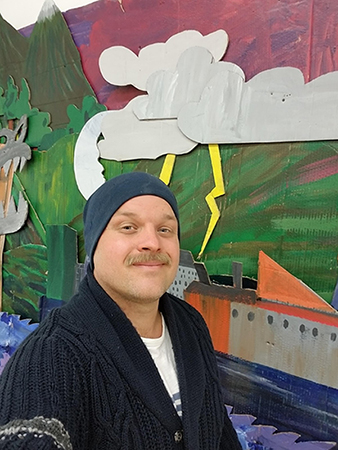 Eric's St. Mary's Project in ART was anchored around a series of landscape architecture projects that were installed in and around the campus (there might still be one in the bamboo forest!). During his senior year Eric was fortunate enough to combine his senior work with a credit internship at a local architecture firm, which turned into his first career after graduating in 2004. He worked doing custom home design and light commercial/institutional architecture for two Southern Maryland firms up until 2009 when he left the field and returned to St. Mary's College to pursue an MAT degree in Art Education. Eric has been a public school teacher since then, teaching Visual Arts K-8 at the Chesapeake Public Charter School in St. Mary's County since 2012.
Anastasia Krylova '08
Current Position: Has been teaching 5th and 6th Grade Special Ed. at Carmody Hills Elementary in Prince George's County and taking night classes through the Prince George's County Teaching Fellows Program for the last year and a half. She will receive full certification by summer '11 and hopes to keep teaching in a high-need urban school in the New York City area.
Angelia Lane (Murray)'05
Current Position: Currently completing an MFA at SUNY New Paltz in painting and drawing.
Website: Angelia's Lane
Ya Haddy Njie '09
Current Position: Lives and works in Johnstown, PA where she is a web content and eMarketing specialist for a biotechnology company, ITSI-Biosciences (a site authored by Ya Haddy).
Emily Norris '09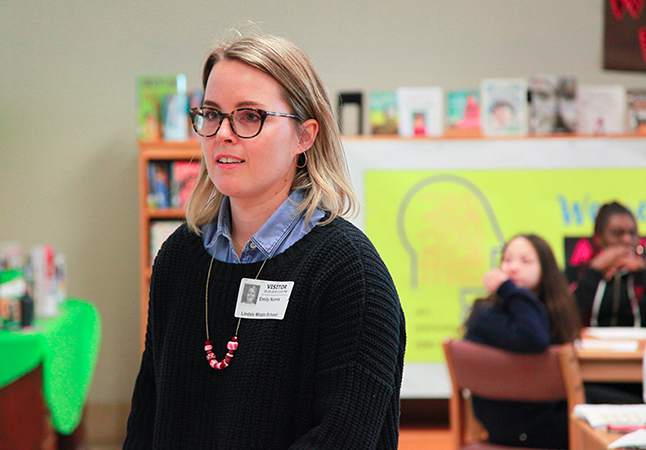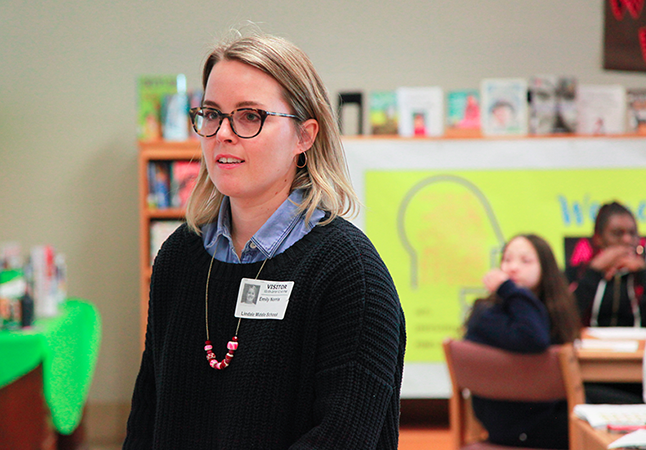 Emily Norris coordinates arts education projects for Young Audiences/Arts for Learning. Projects include a collective impact initiative called Arts Empowered Minds that ensures equitable access to the arts in twelve Northern Anne Arundel public schools, and a summer literacy program in partnership with The Harry and Jeannette Weinberg Foundations' Library Project in Baltimore City Public schools called SummerReads. Both projects utilize professional teaching artists and arts integration to engage students and support educators.
Katherine Rizzo '02
Current Position: Completed graduate work in the Scientific Illustration program at UC Santa Cruz in 2003. She is currently the Art Director and Managing Editor for The Equiery, a regional equestrian multimedia publication. Katherine also teaches part time and continues to do freelance art/illustration/ photography for various clients such as the Smithsonian's Museum of National History, Trust for Public Land, and Waredaca.
Laura (Salzman) Rozengota '01
Current Position: Completed a Masters in Art Education at MICA and has taught art in Calvert County Public Schools for the past 10 years.
April Ryan '09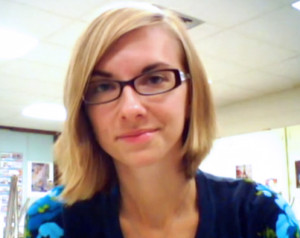 Current Position: Art Teacher at McDonough High School in Charles County, MD. She completed her Master's of Arts in Teaching through St. Mary's MAT program, where she was awarded the Dallas P. Dean Teacher Education Award.
Meet April.
Kirk Saunders '03
Current Position: Is getting his masters in a program called eco-dwelling at the New College of California in San Francisco. He is also working with an organization called City Repair doing community organizing and resource localization in the Bay Area and co-developing a prototype disaster relief home for victims of natural devastations.
Taj Vaccarella '09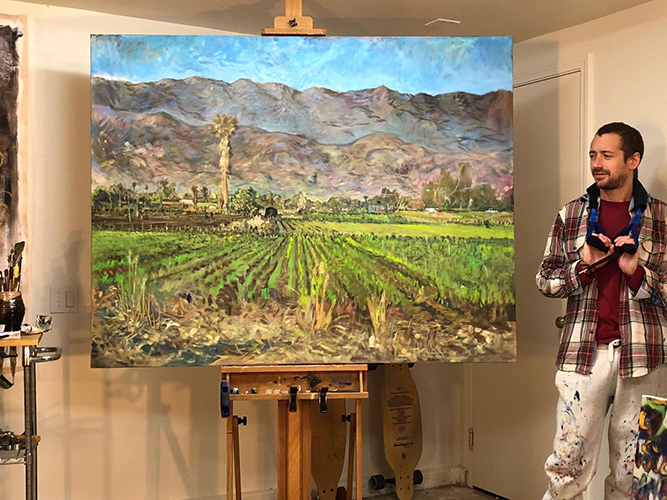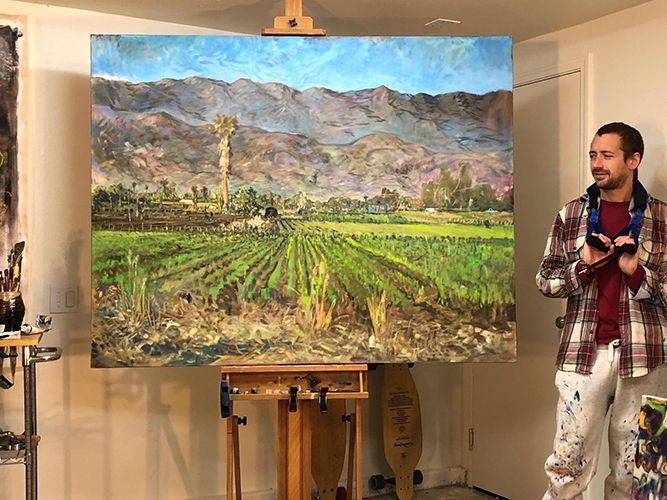 Artist Taj Vaccarella graduated from St. Mary's College in 2009. Shortly thereafter he bought a one-way ticket to Los Angeles determined to continue a livelihood as a fine art painter. He travelled up and down the west coast, bought an old postal van in Mount Shasta, and kept following leads in search of the right locale for creating and selling canvases. The big cities lacked the necessary landscapes to fuel his creative impulse and the beautiful countryside lacked a quality art scene and wealthy art collectors. Taj moved to a new state or landscape every few months throughout his twenties, following love or pursuing beauty almost frantically. He lived in his van for several month stints along the California and Oregon coasts periodically staying with the dear friends he made in college who had also gone West after graduation. He has shown with galleries and in group shows in prestigious venues as well as unglamorous ones, been commissioned and hosted by major art collectors in the US and Europe and each day he's not sure what's next. Many of the regular collectors and patrons of his artworks are themselves St. Mary's College alumni. He has felt well equipped for life as a professional fine art painter with the practical skills he acquired during his art education at SMCM.
Taj currently resides in a small coastal town near Santa Barbara, California and enjoys the kind of beach going lifestyle that keeps him fueled for all night, every night painting sessions. He realized, after the utopian bubble of college, that it takes absolute faith and dedication to pursue the artistic life. And one must do so relentlessly and often with little to no reward aside from artistic progression. Pursuing art and philosophy in school helped him gain the courage and thinking skills to pursue a life of personal freedom and constant creativity.
Bonnie Veblen '09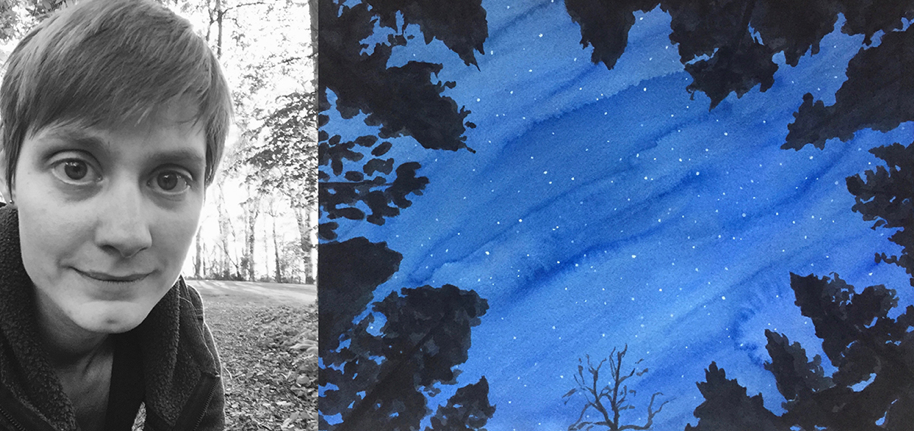 Bonnie Veblen is an artist currently living in Davis, CA who graduated from St. Mary's College of Maryland with a B.A. in Art and Art History in 2009 with minors in Environmental Studies and Biology. She completed a Post-Bac at Pont-Aven School of Contemporary Art in Pont-Aven, France in the fall of 2009. In 2014, Bonnie graduated from the Center for Massage and Natural Health and is certified to practice massage therapy in California. She has worked as an illustrator, graphic and web designer, medical assistant, and massage therapist. Bonnie exhibited some of her photography in a duo exhibition at Yoga on York in Baltimore in 2013. Her illustrations have been published in The Complete Photo Guide to Perfect Fitting (Creative Publishing) and Windpower Engineering & Development (April 2018). Her work is also available to view on the web. Bonnie's current artwork and writing explores the intersections of wildness, interconnection, transformative cycles, nervous system regulation, and wholeness. She often pairs images with words in the form of poetry or prose, so that they become a living unit, mutually informing and adding dimension to each other. Bonnie works in watercolor and acrylic as well as photography to distill the essence of natural spaces and beings she encounters in her daily life and her travels. She is especially interested in the experience of genius loci, the spirit or essence of a place, which is particular to that place alone given all of the qualities that meet there, and how that experience can have deep impact on a person's interior process and wellbeing. Bonnie returns to SMCM in Fall 2018 as an Artist House artist-in-residence.
Vanessa Vizcarrondo '07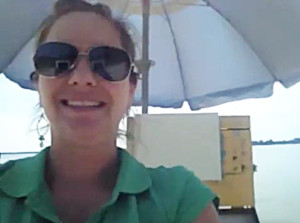 Current Position: Teaching art to students in Pre-K thru 6th grade at St. Michaels Elementary School in St. Michaels, MD. Her most current body of work is based on her recent studies of the Hensche color theory, inspired by her studies with Camille Przewodek in the summer of 2009. Most recently, Vanessa has been focusing on plein air painting out in the landscapes of the Eastern Shore.
Of her new body of work she says, "I find it refreshing to go out into the landscape and capture nature's beauty with the bright and bold colors that I can create with my palette knife."
Meet Vanessa.
1970 – 2000
Letitia Baylor '99
Current Position: Currently working and living in Los Angeles. After working as a photographer, she shifted to the entertainment industry, and is now an executive assistant for the vice president of a television production company.
Diane Burroughs '74
Current Position: Completed a Masters degree in Pastoral Theology from Washington Theological Union in Washington DC in 2000, with a thesis entitled Artistic Expression of Spirituality. She currently works full time as staff chaplain for Hospice of Marion County in Ocala FL.
Corkey (Hay) Desimone
Current Position: Created and runs the Gentle Giraffe Press, an educational publisher that develops books, websites, and interactive teaching tools for children, parents, and teachers in Bethesda Maryland
Website: Gentle Giraffe Press
Shonne N. Farrell '94
Current Position: Completed a graphic design certificate in 2000. Since then she's been working as an independent graphic designer, illustrator, and teacher.
Jeanne Norton Hammett '77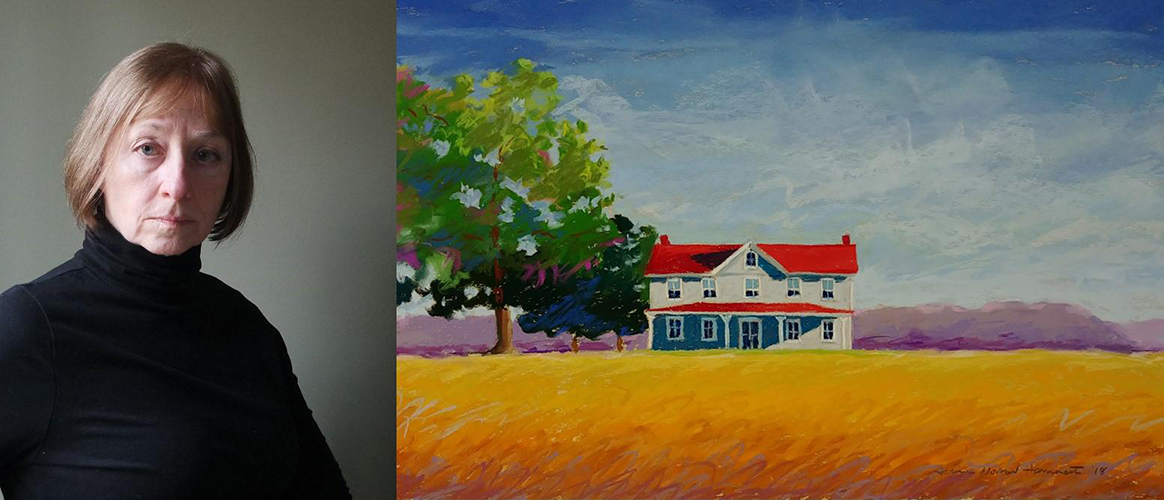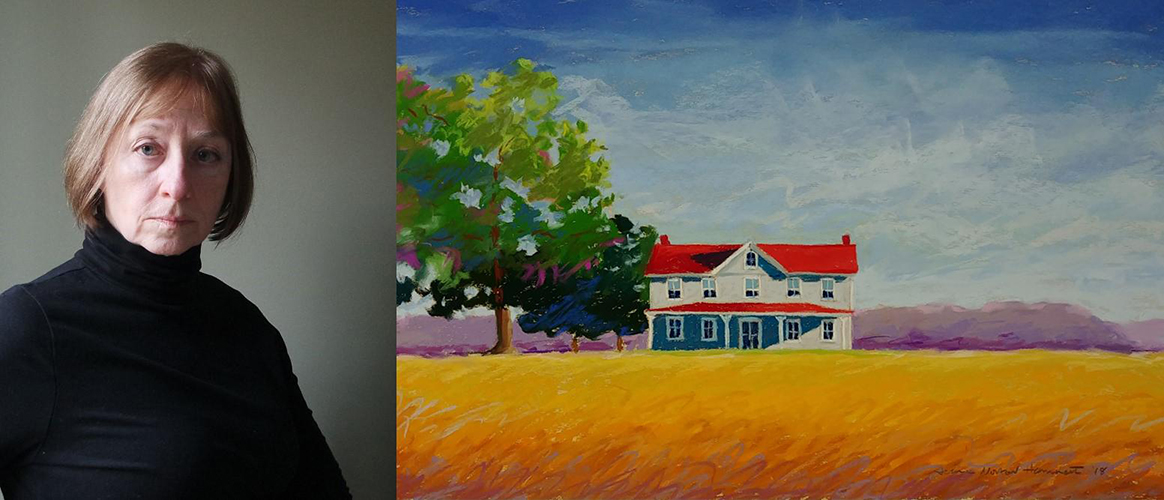 After graduating in 1977, Jeanne worked for ten years as an exhibits designer, graphic artist, sign maker, and draftsman for various military contractors at Patuxent River Naval Air Station, and companies in Lexington Park, MD. In early 1989 Jeanne started her own business as a freelance graphic artist and silk-screen artist. She now focuses solely on being a full-time artist, in the medium of serigraphy or silkscreen printing. She also works in pastel. Jeanne is a charter member of the North End Gallery in Leonardtown, an artist co-op, which was founded in 1986. Her work can be found there, as well as in various galleries throughout the State of Maryland and in selected arts and craft shows on the East Coast. Her work can be found in private and corporate collections around the world.
Gabriel Hodge '93
Current Position: An architect with Bohlin Cywinski Jackson Architects in Pennsylvania. Since his time at St. Mary's he has worked on a variety of design projects including the St. Mary's College campus master plan, and a new student center for Catholic University in D.C. He is also pursuing interests in graphic design and is writing and illustrating a children's book. Gabriel lives in Wilkes-Barre with his wife, Lisa (Chaney, SMCM '93) and their two sons, Aidan and Cohen.
Mike Johnson '96
Current Position: Mike Johnson is an audio-visual technician at University of Baltimore and an adjunct professor at George Washington University in DC, where he has taught classes in video installation and photography. Mike continues to make both electronic and object based art, including assemblage, experimental electronic music, video installation, performance, and photography. Most recently, Mike's sound pieces "You Are Not Alone" were included in The Department of Ecology, Art, and Technology's "Wild Information Network" site-specific installation and his video work was included in the exhibition "Dynamic Field" a group exhibition curated by SMCM alum Jayme McClellan at the Warehouse Arts Complex in DC.
Timothy Johnson '99
Current Position: In Boston reading, thinking, and making art. He plans to return to New York to pursue work at the Studio School, where he spent the summer of 1999.
Karley Klopfenstein '97
Current Position: Deputy Director for Development at the American Folk Art Museum in Washington, D.C. From 2009 – 2012 she was the Director of Development for NURTUREart in Brooklyn, NY. She returned to SMCM as an artist in residence for the fall 2010 semester and exhibited her work in a two person exhibition at the Boyden Gallery, and she continues to make sculpture.
Amy (Sehman) Odem '98
Current Position: Earned a second bachelors in Art Education from Towson University right after St. Mary's. She is currently getting a masters in "Curriculum and Instruction: Integrating the Arts" from Lesley University. She lives in Limerick, Maine and has been an elementary art teacher for two schools in South Portland since 2000. She'd be happy to correspond with St. Mary's students who have questions about becoming an art teacher.
Kevin Patrick '92
Current Position: An adjunct professor of art at Alabama State University. He earned an M.F.A. in Sequential Art from the Savannah College of Art and Design in 2001. In addition to teaching, he is "attempting to create the great American graphic novel."
Julia Robey '00
Current Position: Work has been displayed in numerous Art League juried exhibits and she has done illustration work for Voice of the Hill newspaper and The Parishioner. In June 2002, her family purchased and renovated an old restaurant on H Street, NE turning it into what is now the H Street Playhouse, a full-scale theater. The Playhouse is home to Gallery H, of which Julia is the Director and Curator. The first exhibit in this new space was "Shift," a series of works by fellow St. Mary's Art graduate Julia Oldham. In her spare time, Julia sings and plays keyboards for the jam-band Serious Lee and for a side project, 33 1/3 and she writes a monthly column for Voice of the Hill newspaper. Julia lives just outside of DC in Mt. Rainier, MD.
Jae (Williams) Rossman '95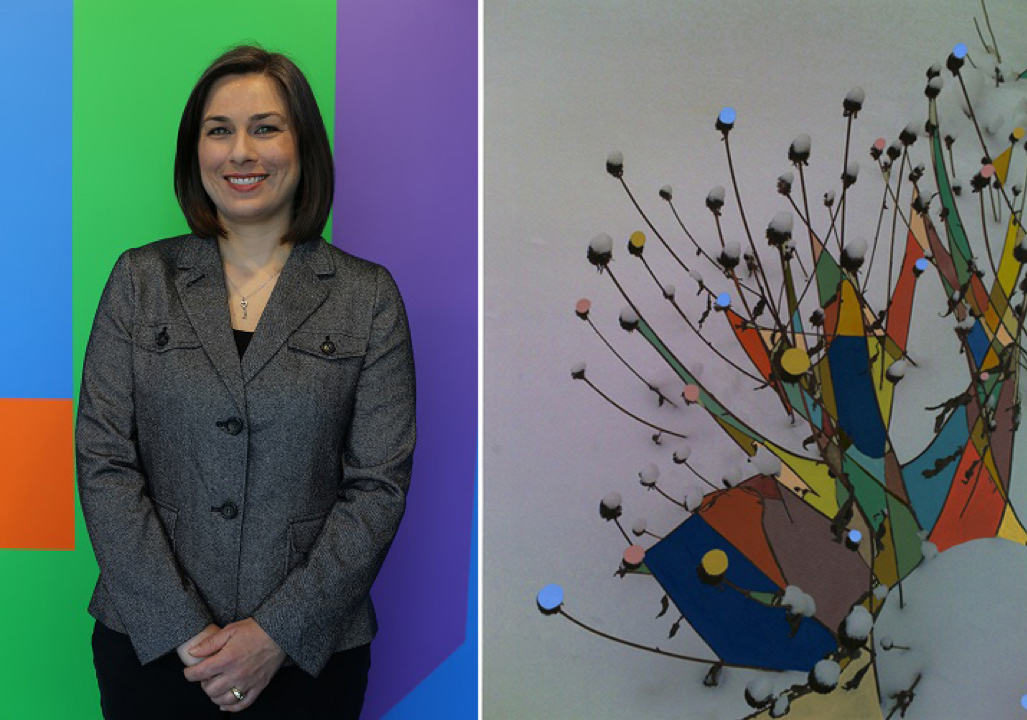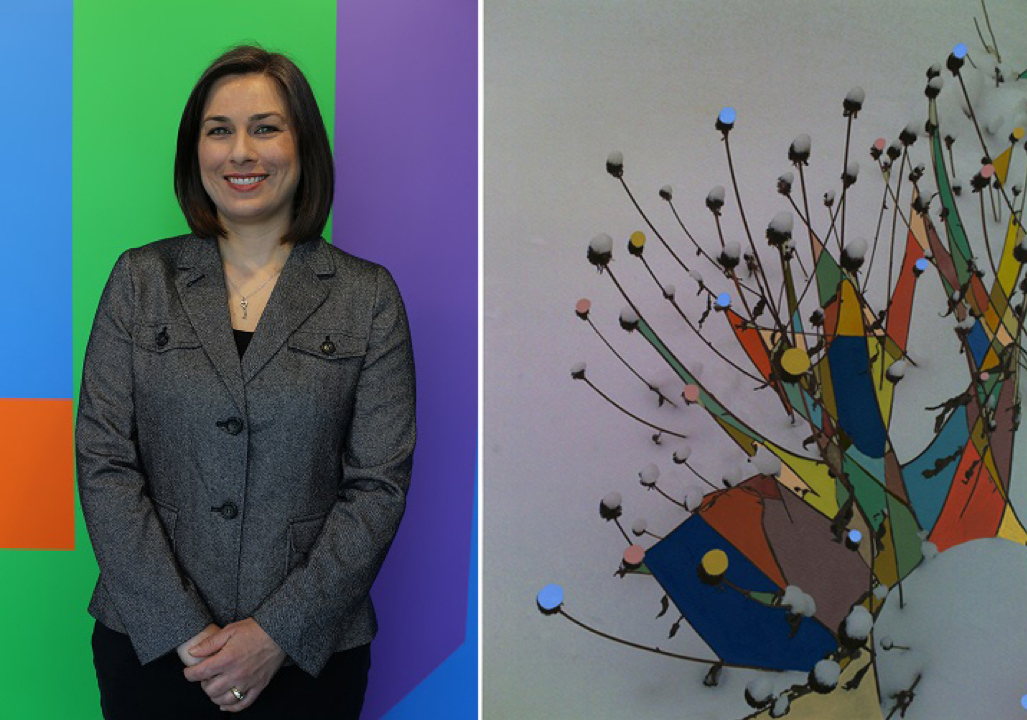 Jae Jennifer (Williams) Rossman '95 is the Director, Department of Area Studies and Humanities Research Support (DASHRS) at the Yale University Library. She leads a team of subject specialists in collection development, instruction, and outreach for a variety of disciplines. DASHRS supports teaching, learning, and research for over 500 faculty and 1600 graduate and undergraduate students. Previously, for over 15 years, she was the head of Special Collections at the Yale Arts Library, where she acquired artists' books and artists' archives, taught with primary sources, lead the exhibition and outreach programs, and revitalized the programming around the library's historic 1839 Albion iron hand press. In addition to her BA degree from SMCM, Jae holds a post-baccalaureate certificate in painting and printmaking from Brandeis University, an MS in Library and Information Science from Simmons College, and an MA in Modern History from Drew University. She is currently a doctoral student in Library and Information Science at Simmons College. In the studio, Jae explores the natural world through the lenses of pattern and color. This image is from her series "Invisible Geometry."
Kim Thorpe '94
Current Position: Presently lives and works in Washington D.C., where she has exhibited in several important group shows. She went straight from undergraduate to graduate studies at the Rhode Island School of Design, where she earned an M.F.A. in 1998. She has also been a resident artist at the Vermont Studio Center.
Are you an alumnus or alumna?
Email us
to tell us what you're doing or to update your info!