Spring 2023
Through the Lens: Defining Community Through Photography
December 16, 2022 – January 29, 2023
Opening Reception: December 17, 2022
Lexington Park Library, Lexington Park, MD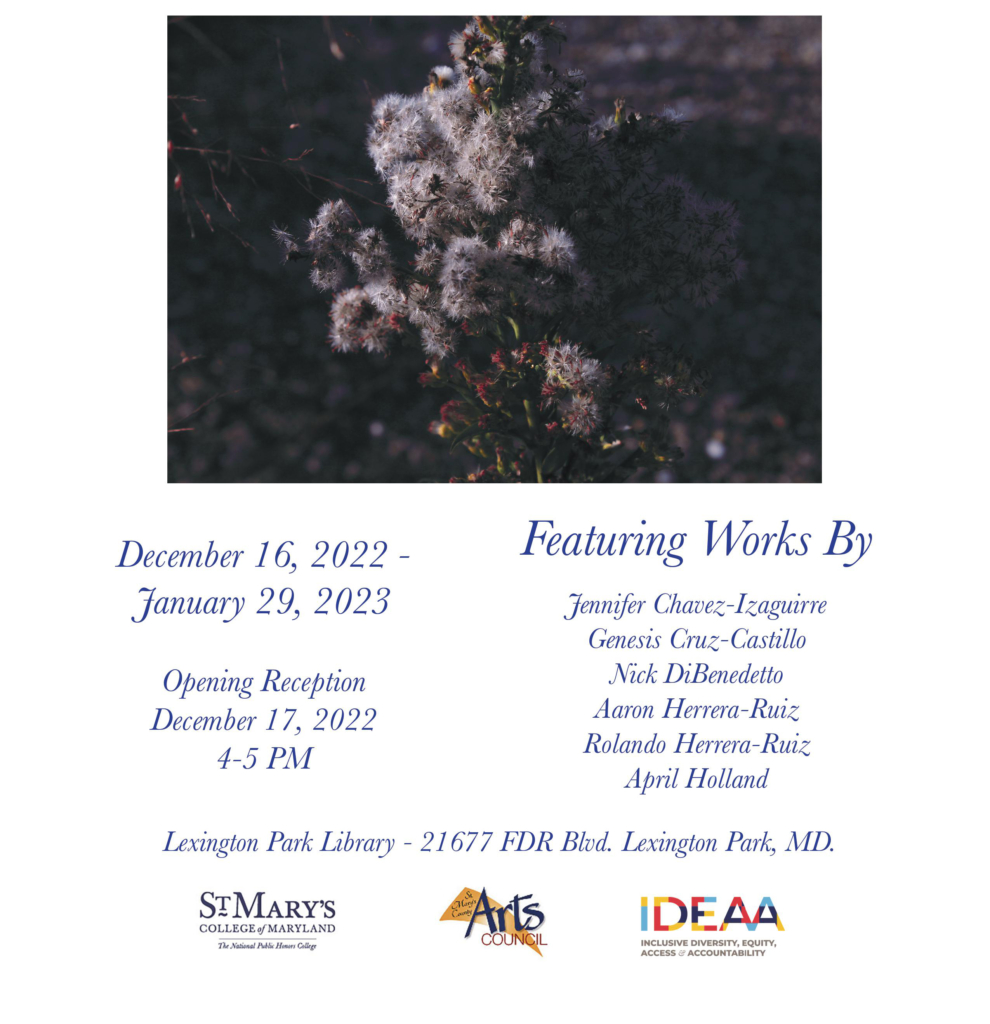 In recognition of the increasing urgency to address equity issues, and to give voice to underrepresented communities, St. Mary's College of Maryland's Division of Inclusive Diversity, Equity, Access, and Accountability (IDEAA) and the Art and Art History Department, in a joint initiative with St. Mary's County Arts Council, launched a photography mentorship program called Through the Lens in 2021. This free-to-participate program is a hands-on learning opportunity for underrepresented youths ages 16-18 (grades 10-12), led by Visiting Assistant Professor Elizabeth Kelly and assisted by St. Mary's College student mentors Taj Reed '23 and Khang Doan '25. Participants will reflect on their communities and voice their concerns through photography. The participants' artwork will be displayed from December 16, 2023, to January 29, 2023, at the Lexington Park Library at 21677 FDR Blvd., Lexington Park, MD, 20653.
Carrie Patterson: Sight to Site
January 24 – March 11
Steven Muller Distinguished Professor in the Arts Event
Boyden Gallery, Montgomery Hall
Guest Curator: Dr. Erin Peters
Opening Reception and Artist-Scholar's Talk: Tues. January 24, 6:30-8:30pm, Artist Talk at 7:30pm
Catalogue pdf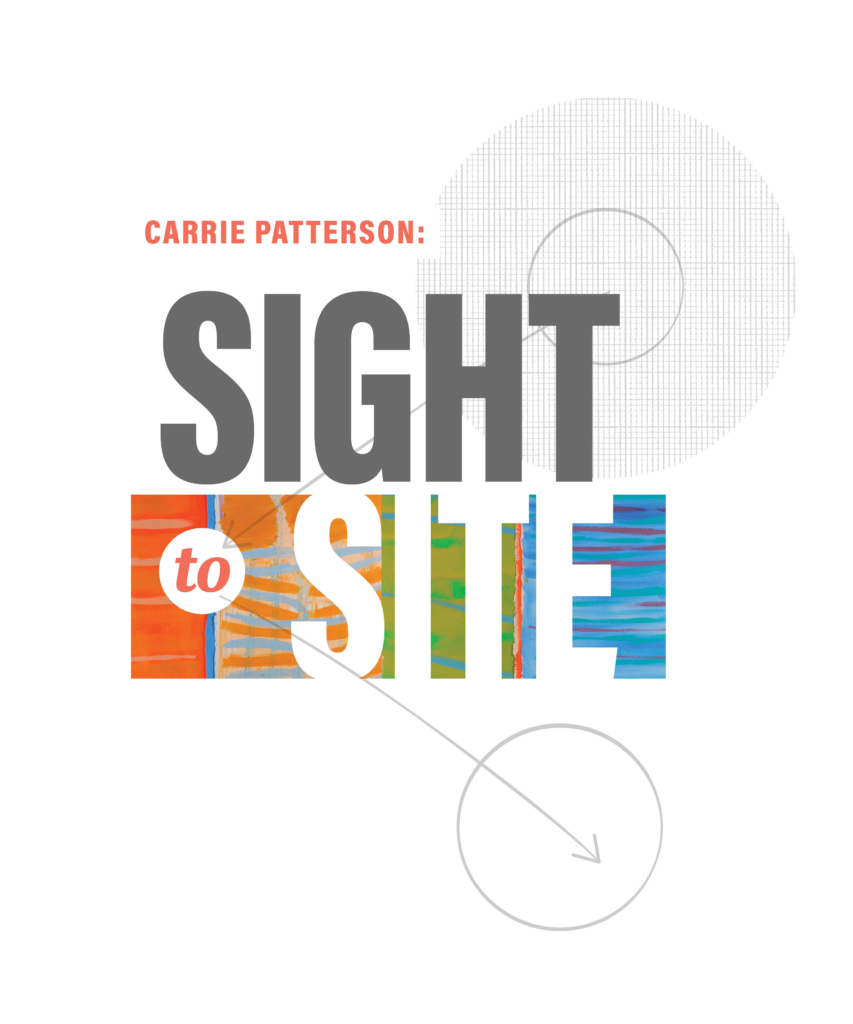 Travel with painter Carrie Patterson on an artistic journey of process: roam and ramble through six continuous and connective parts of her practice in 35 artworks, many of which are shown publicly for the first time. Experience how Patterson constructs landscapes as complex and poetic objects, and envision how you would create your own.
Artist Talk: Elizabeth Kelly, Visiting Assistant Professor of Design and Photography
Wed. February 8, 2023
4:45-5:45pm, Glendening Annex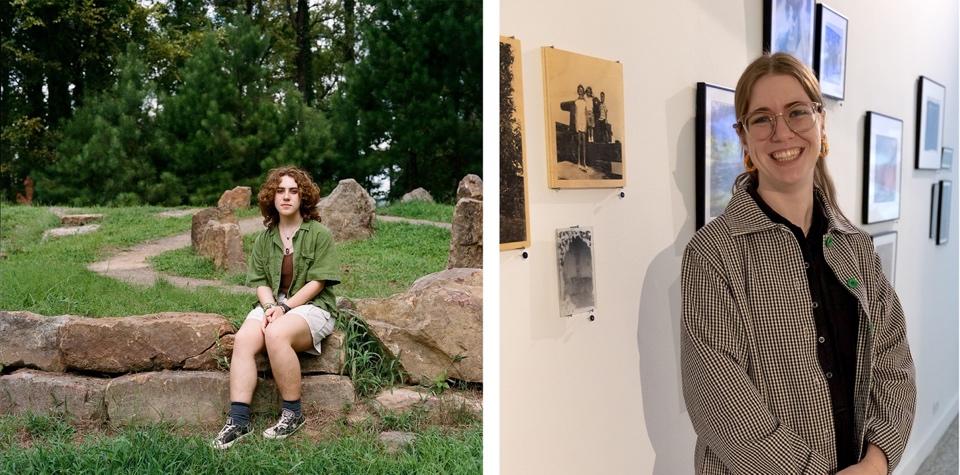 Elizabeth Kelly is a photographer and art educator based in Philadelphia, PA. Working primarily in traditional and alternative process photographic techniques. Her current work features large cyanotype prints on a variety of fabrics, audio visual work, archival photographic manipulation using mordançage, wet and dry plate photography on tin and glass, traditional photo workshops and collaborative photo essays. She is interested in the ethics of portraiture and expanding access to traditional photo education. Focusing on addressing the importance of art education on early expression and sense of self in children who live in communities with limited access to the arts. Kelly has been working to build a comprehensive traveling traditional photographic studio and workspace so she can expand her educational practice beyond the walls of the darkroom.
Kelly's work addresses the human experience and the individuality of the communities and people in her photographs. Though her work may initially seem to cover many different subject matters ranging from the duality of self to the building of Pier no. 9 in Philadelphia, each project offers a look into a community, living or dead, through their images and their narrative history. Each of her bodies of work include or are fully composed of photographic prints and images made using traditional film photography or 19th century and contemporary alternative process image making techniques while addressing themes that have an impact on the contemporary art conversation.
Artist Talk: Maxine Payne
Wed. February 22, 2023
4:45-5:45pm, Glendening Annex


Maxine Payne is a photographer living and working in Arkansas, where her grandparents raised her. She received her M.F.A from the University of Iowa where she was also an Iowa Arts Fellow. Maxine was selected a Fellow of the American Photography Institute at New York University, as well as a Fellow of the College Art Association. Currently a Professor in the Art Department at Hendrix College, she works to find ways to engage community in her work and speaks to the idea of place. Maxine was awarded the 2013 National Museum of Women in the Arts, Arkansas Fellowship for her photographic work. Her collaboration with Alabama Chanin launched in Spring 2014 and her book "Making Pictures: Three for a Dime," was published by Dust-to-Digital in 2015. Currently, Maxine shares the Margaret Berry Hutton Odyssey Professorship with author Tyrone Jaeger. Their collaborative project with Hendrix College students and alum, called Audio Visual Arkansas, focuses on collecting digital stories about Arkansans and can be seen at AVARK.net. She has also collaborated with anthropologist Anne Goldberg documenting the lives of rural women in Costa Rica, the U.S./Mexico border, Africa, and Vietnam. In 2017, Maxine collaborated with biologist Matthew Moran to document the environment and people of the "Big Woods" region in Arkansas. She has photographed hundreds of Arkansas Historic Bridges for the Arkansas Highway and Transportation Department since 2004. Maxine has continued her curatorial work with two historic photographic archives, the Massengill family photographs and the photographs of Ellie Lee Weems, both of which are included in The High Museum of Art's 2023 exhibition and publication Photography and the American South since 1850. Her work can be seen at www.MaxinePayne.com.
Maxine will be in residence at the Artist House February 19-24, 2023. This residency and lecture are supported by the Artist House Residency Programs and the Department of Art.
Artist Talk: Dafna Steinberg
Wed. March 1, 2023
4:45-5:45pm, Glendening Annex

Dafna Steinberg is a lens-based artist living and working in Philadelphia, PA. Her work embodies themes such as grief, personal intimacy, and gender. In the spring of 2022, she graduated from Moore College of Art & Design with an MFA in Socially Engaged Studio Art. Her thesis work examined at how artists can use photographic self-portraiture as a form of social practice and the gender dynamics of selfies during the first year of the COVID pandemic. Before tackling her MFA program, Steinberg worked as an adjunct studio art and photography professor at Northern Virginia Community College. In addition to teaching, Steinberg has been an exhibiting artist for over 15 years. Her work has been shown at institutions such as Grizzly Grizzly, LeMieux Galleries, Indianapolis Art Center, the Puffin Cultural Forum and the International Center of Photography.
"My current work focuses on grief after the death of my father and the experience of rediscovering intimacy in a post pandemic world. I am working on a series that documents my life in 2020 and 2021. Using photography, text, sound and object-based installation, I am showing my own experience with grief after the death of my father. My work aims to show how grief is pervasive and can affect new experiences with touch and intimacy in a post pandemic world. I would like to continue working on this project.
This exploration around myself and my body continues in my present projects. For much of my artistic career, most of my work has been creating self-portrait series. The themes of these works have varied but have all connected to my own personal experiences. While these images are meant to reflect my own life, there is always an element of make believe. Fact and fiction are not a binary, but rather a spectrum. My work plays with that line. I am interested in blurring the lines between fact and fiction to create personal visual stories that are relatable to a larger audience."
Dafna will be in residence at the Artist House February 27 – March 10, 2023. This residency and lecture are supported by the Artist House Residency Programs and the Department of Art.
Art History & Art Capstone II Presentations
Monday, May 1, 2023 @ Boyden Gallery
Art History: 11:00 – 12:30 pm
Art: 1:00 – 4:00 pm
Schedule:
Art History St. Mary's Project Presentations
Mentor: Joe Lucchesi
11:00 am – 11:30 am
Mary Richardson – Laborer, Artist, Athlete: Changing Cultural Perceptions of Ballet Dancers in 19th and 20th Century Visual Images
11:30 am – 12:00 pm
Katherine thor Straten – Contemporary Artists and Utopia: The Use of Science Fiction as a Response to Institutional Oppression
12:00 pm – 12:30 pm
Kathryn Dennis – Behind the Veil of Colorblindness: Seeing and Not Seeing Race in French and American Visual Culture
LUNCH: 12:30 – 1:00 pm
ART Capstone Presentations
Mentors: Sue Johnson (Fall ' 22) & Jessye McDowell (Spring '23)
1:00 – 1:15 pm
Tony Rayo – Constructed Narratives: Examining Isolation and Identity Through Alternative Photography
1:15 – 1:30 pm
Ian Parsons – Building a Drawing: Collaging Scenes of the Self
1:30 – 1:45 pm
Todd Washington – Saying More By Saying Less
1:45 – 2:00 pm
Miranda Woodey – From Brushstrokes to Pixels: The Art of Healing
2:00 – 2:15 pm
Jessica Taylor – A Little Here, a Little There: Dabbling with Life and Spirit
2:15 – 2:30: BREAK
2:30 – 2:45 pm
Abigail Planta: Final Presentation
2:45 – 3:00 pm
Emery Moore – Playing Pretend
3:00 – 3:15 pm
Katie Koerper – Capstone Reflections
3:15 – 3:30 pm
Jessica Lane – Final Presentation
3:30 – 3:45 pm
Sam Boles – Storytelling and Self-Expression in Motion
3:45 – 4:00 pm
Meredith Bromley – Inspiration in Experimentation
4:00 pm – session ends
Pop Up Shop: ART 431 Capstone II

Tuesday, May 2, 2023 @ 12:00 – 4:00 p.m.
Lower Montgomery Hall
Affordable merchandise made by students in Capstone 2!
Fall 2022