Fall 2023
Welcome Back ART Party with pizza, snapshots and SWAG bags
Wed. Aug. 30, 4:45-5:45pm
Upper Monty Commons, Montgomery Hall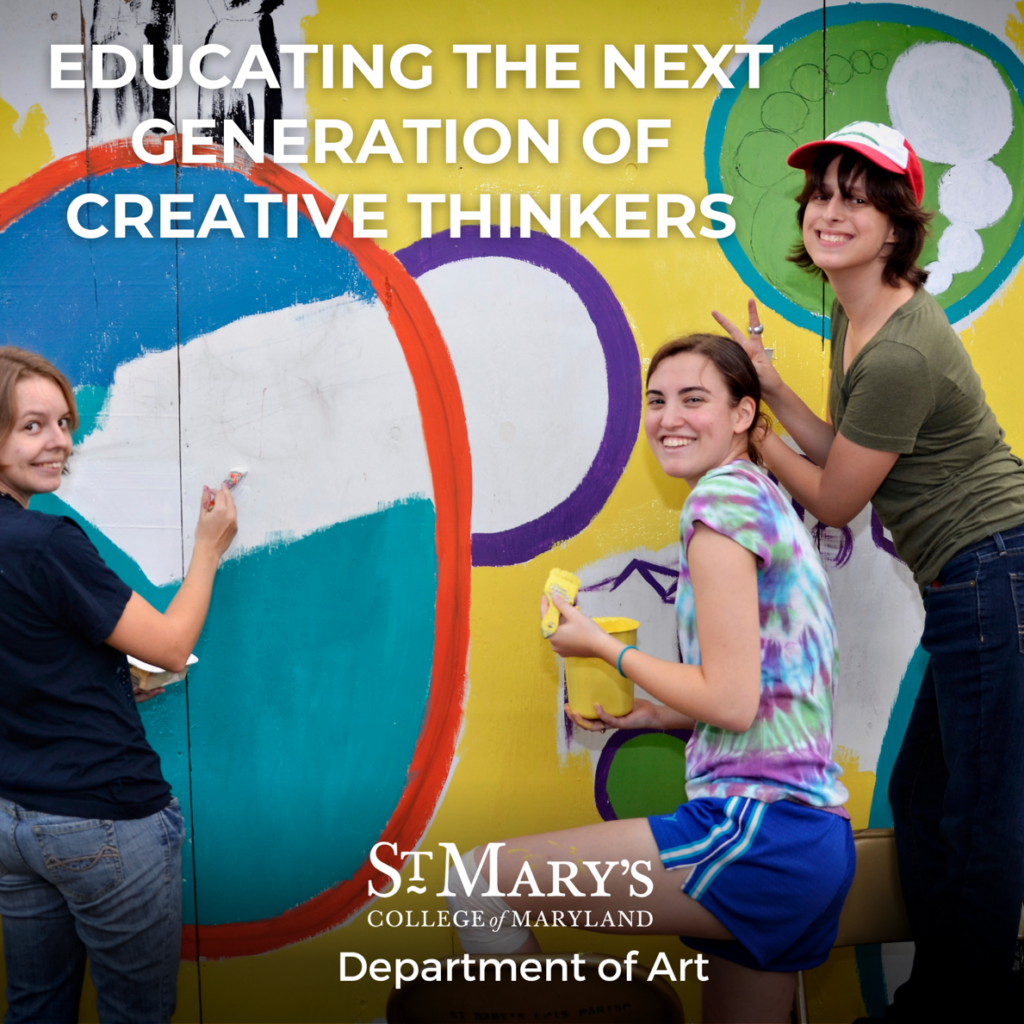 Attention: Current and Prospective Art Majors and Art Minors! We want to welcome you back to campus on Aug. 30th 4:45 – 5:45 with a chance to get to know one another and an opportunity for us to share news about the 2023-2024 academic year over pizza, snapshots, and Art major gift SWAG bags. So mark your calendars! For your reference, note that Sue Johnson is incoming department chair. Tristan Cai has returned from sabbatical. And welcome back to Mary Claire Nemeth, Betsy Kelly, and Rachel Heiss, AND in a new full-time position, Katia Meisinger as the department's Art Studio Coordinator. New to the department is Layla Thompson-Koch. See you on the 30th @ 4:45 in Upper Monty Commons, Montgomery Hall!
Collaborative artist talk: Nancy McFalls '95 and Shel Spangle '95
Tues. Oct 3, 4:45-5:45pm, Glendening Annex
Two SMCM alums return to the College to create new work in The Artist House, visit classes and meet with current students. They will give a joint public lecture that describes their life journeys since graduation that include making art, international business, K-12 art education, UX and software design, world travel, entrepreneurship, and a mural business.
Collaborative Residency: October 2 – 9, 2023
Nancy McFalls '95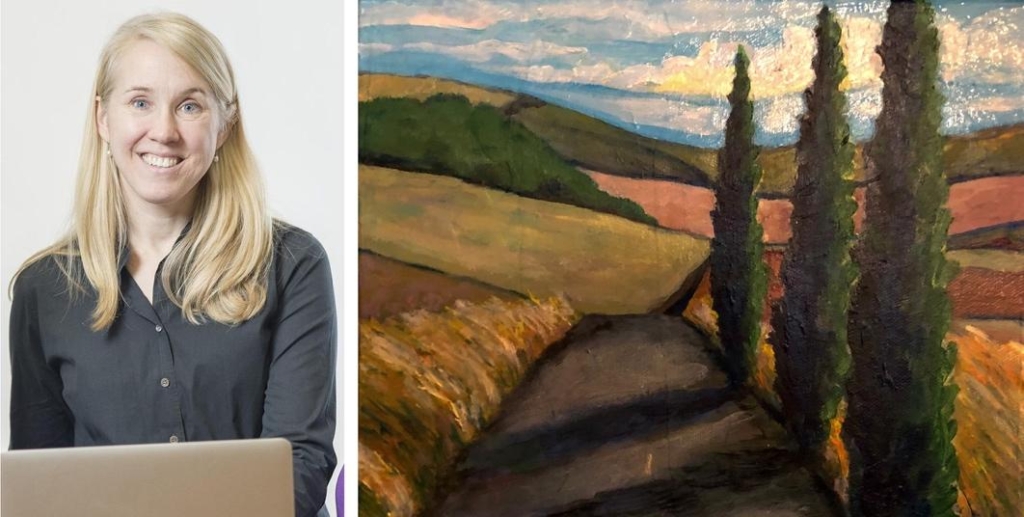 NANCY McFALLS '95 graduated from St. Mary's College of Maryland in 1995 with a major in Human Development while also studying Art. She earned an MBA in International Business from CIMBA. Nancy has 25 years of experience leveraging software to solve challenges in multiple industries with an entrepreneurial approach to business analysis, design, consulting, training, and leadership. She also has an art business that focuses on mural painting for a variety of public and private locations. She is currently a Senior Product Manager – Tech for Amazon Web Services in Arlington, VA. Previous positions include work as a project manager for NTT, Ltd., a User Experience Designer with Design for Context, and a software designer for Personify Corp among other positions.
Shel Spangle '95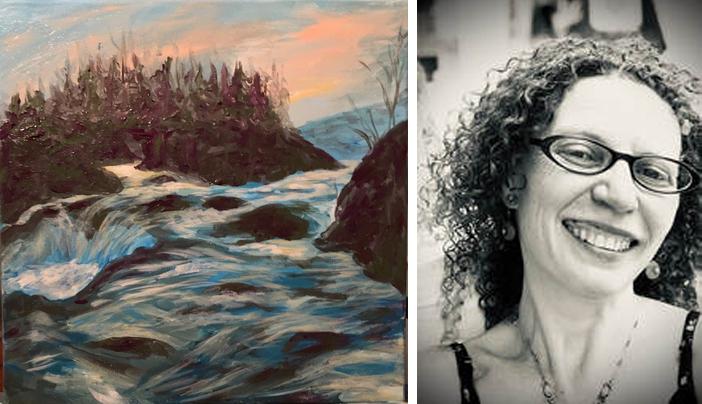 SHEL SPANGLE '95 is a teacher and artist based in Baltimore, Maryland. She has been an educator in public schools in Oregon, Washington, and Maryland for over twenty years and currently teaches visual art at Sherwood High School in Sandy Springs, MD. Over time, Spangle has had the opportunity to mentor multiple teachers new to the profession, to travel to England, France, Spain, Greece, and Italy with art students and to study Spanish in Mexico with other teachers. She says, "I love bringing the light, the colors and the textures from my travels near and far to my work and guiding new generations of students to continue to explore their own ways of seeing the world around them. They are a constant inspiration." Spangle holds a BA in studio art from St. Mary's College of Maryland, an MEd from Portland State University and a Certificate in teaching English language learners from Loyola University of Maryland. https://shelspangle.weebly.com/about.html
Collaborative artist talk: Ruth Jeyaveeran and Elisa H. Hamilton
Mon. Oct. 30, 4:45-5:45pm Glendening Annex
In a joint lecture, Jeyaveeran and Hamilton will present their creative work that involves fibers and textiles, multi-media interactive installation, and socially engaged, community-based art that emphasizes shared spaces and the hopeful examination of our everyday places, objects, and experiences. While in residence at SMCM they will be working on a collaborative installation project to be shown on campus at the conclusion of their residency.
Supported by grants from The Arts Alliance, Lecture and Fine Arts Committee, Department of Art, and the Artist House Residency Programs.
Pop-Up Installation and Exhibition, Hallwalls, Montgomery Hall
Opening reception: Monday, Nov. 6, 4:30-5:30pm. Come and meet the artists! Refreshments will be served.
Collaborative Artist House Residency: October 26 – November 8, 2023
Ruth Jeyaveeran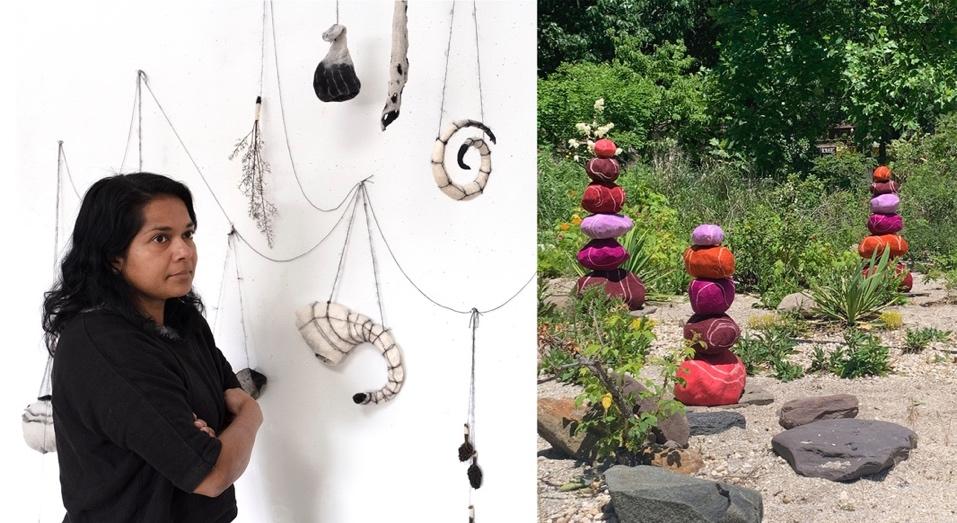 "My work is based on traditional material practices. Drawing from my experience as part of the South Asian diaspora, I use fiber and textiles to examine the relationship between our bodies, the objects we use, and the natural world to confront feelings of otherness, alienation, and dissociation. The act of sewing, tying, and tangling fibers together is my attempt to remake and repair connections with my body, my environment, and my community."
Born in Lusaka, Zambia, and raised in the Midwest, RUTH JEYAVEERAN lives and works in Brooklyn, New York. Recent exhibitions of her textiles, soft sculptures, and installations include, Felt Experience at the Brattleboro Museum, Communion, an installation at Main Window Dumbo and Amplify, a public art installation at the Queens Botanical Garden. Her solo show, Soft Remains, will be exhibited at Field Projects in New York in 2023. She's been awarded residencies at the Jentel Foundation, Lighthouse Works, Willapa Bay, Virginia Center for the Creative Arts, La Napoule Art Foundation, and PADA Studios. Currently, she's an Assistant Professor of Textile Design at the Fashion Institute of Technology.
Elisa H. Hamilton


ELISA H. HAMILTON is a socially engaged multimedia artist who creates artworks and community-centered programs that emphasize shared spaces and the hopeful examination of our everyday places, objects, and experiences. Her work has been shown locally and nationally in solo and group exhibitions, and she has been the recipient of numerous commissions and grants to create artworks, community projects, and participatory programs. Collaborations include projects with the Isabella Stewart Gardner Museum, MA including Sound Lab, a community-centered participatory art project that was commissioned for inclusion in the exhibition "Listen Hear: The Art of Sound," Creative Union, a community-centered participatory art project commissioned by the Currier Museum of Art, NH, Jukebox, permanent public art piece commissioned by the City of Cambridge, MA. Hamilton's project Dance Spot has had many iterations and commissions including at Tyler School of Art. Hamilton earned a BFA in Painting from the Massachusetts College of Art and Design, and an MA in Civic Media Art and Practice from Emerson College.
During her Artist House residency, Hamilton will highlight two projects: Can you see me? and Jukebox. Both projects focus on issues of identity and belonging, and hone in on the individual and collective aspects of being a part of a community. In addition to art, these projects connect to many subjects including oral history, archives, social justice, Black stories, multimedia storytelling, community activism, intergenerational learning, public discourse, and civic engagement. Can you see me? is a participatory art project that uses photography and image transfer as a vehicle for self-exploration. Participants are invited to reflect on visible and invisible aspects of their identity through the process of making and sharing their creations. Can you see me? invokes questions about how we are seen by others, who we really are, what we choose to share about ourselves. This project is installed in the Art Lab at the Institute of Contemporary Art, Boston from October 2022 to June 2023. Jukebox, a participatory public art project, transforms an original 1960 Seeburg jukebox from a machine that plays music to a machine that plays community stories. A number of the 100 Jukebox audio stories were recorded in partnership with the Cambridge Black History Project, an all-volunteer organization committed to researching, accurately documenting, preserving, and illuminating the journeys, accomplishments, and challenges of Black Cantabrigians. In addition, the recorded stories of Jukebox are part of the Archives and Special Collections in the Cambridge Room at the Cambridge Public Library. Hamilton was commissioned by the Cambridge Arts Council, City of Cambridge, as part of the Percent-for-Art Ordinance, to create a public art project responsive to the new Cambridge Foundry where Jukebox is permanently installed. Visit the Jukebox website to learn more.
Artwork Documentation Workshop
Wednesday, November 29, 6:00 – 8:00 pm @ Montgomery Hall 132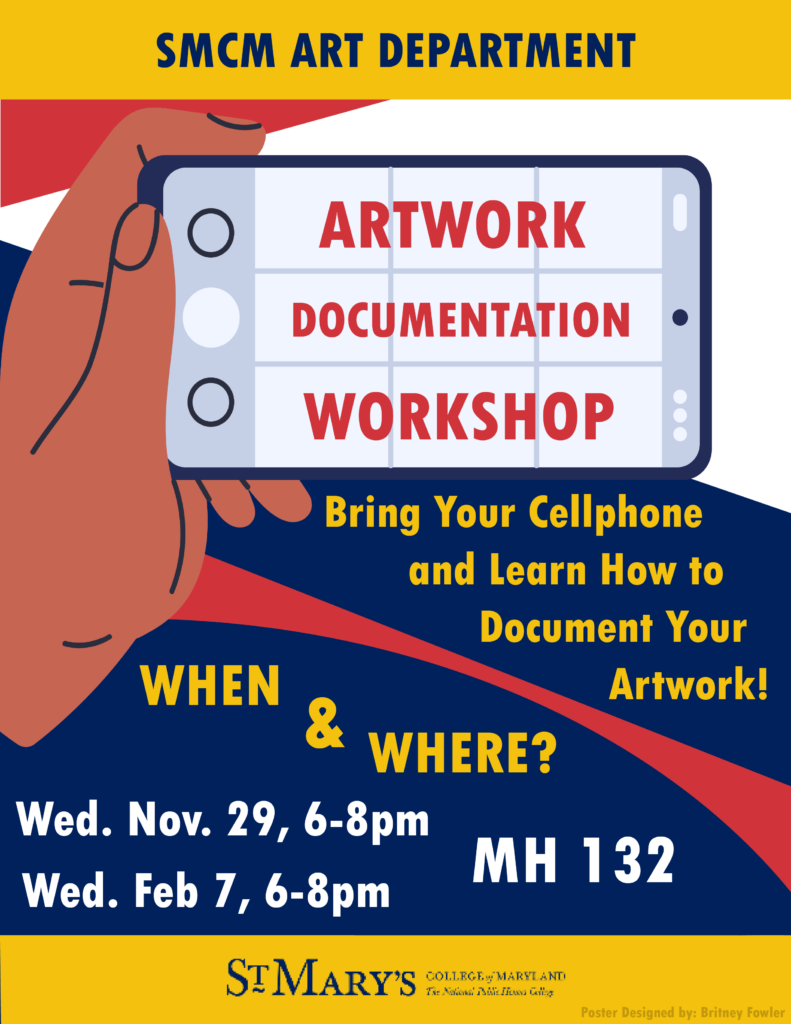 Group Exhibition – ART 430 Capstone I: Creative Practices in Art
Exhibition on view: Monday, December 4 – Saturday, December 9
Opening reception: Monday December 4, 4:45-5:45pm
Boyden Gallery and Upper Commons, Montgomery Hall
Gallery hours: Monday-Friday, 11am -6pm, and Sat 11am-4pm
Spring 2024
Michael Bargamian '13
Artist Talk: Wed. Jan 31, 4:45-5:45pm, Glendening Annex
Artist House Residency January 29 – February 11, 2024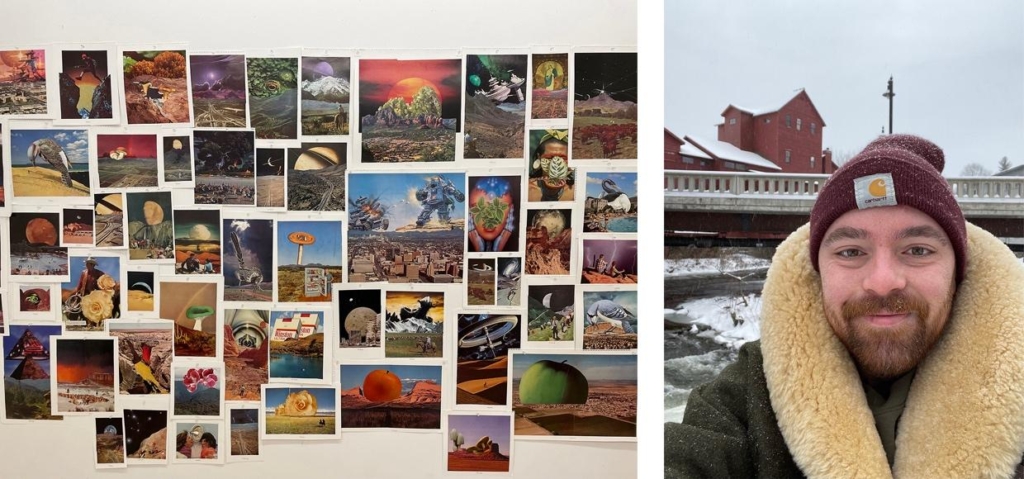 MICHAEL BARGAMIAN '13 is a visual artist who currently lives outside Baltimore, MD. While his initial artist practice encompassed drawing, digital media, and painting, since 2018 his practice and output has been dedicated to collage making. With some 400 plus pieces in this ongoing "project" he wishes to pursue and ensnare viewers with scenes from absurdist real-world scenarios, visions of what could be just around the corner, or landscapes and situations that could very well occur if we just stray a bit off the beaten path. The practice of making new work is just as rewarding to him as it is to share the images with others and see what they think or where the image takes them. Outside of his own art making interests he has worked for several local Maryland organizations including the Howard County Government, the Columbia Art Center, and the Walters Art Museum. He graduated from St. Mary's College of Maryland in 2013 and completed a Master of Professional Studies certificate from the Maryland Institute College of Art in 2020. He currently works in Laurel, Maryland for the Johns Hopkins Applied Physics Lab.
Artwork Documentation Workshop
Wednesday, February 7, 6:00 – 8:00 pm @ Montgomery Hall 132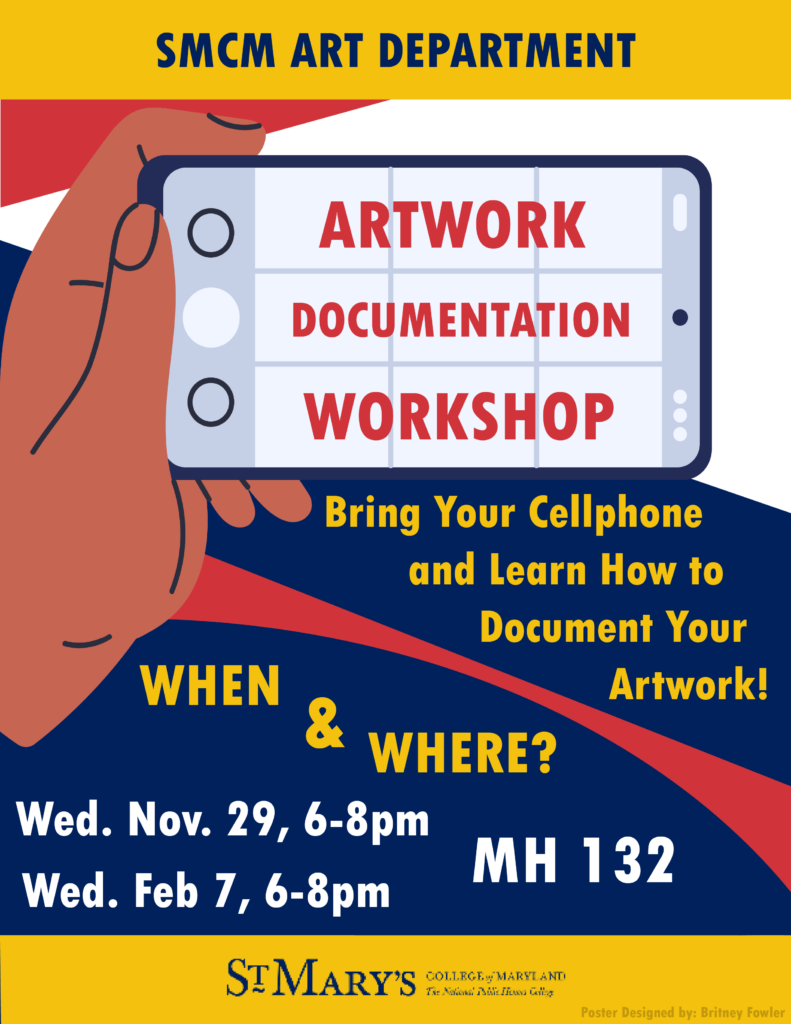 Taj Reed '23
Artist House Residency February 12 – February 19, 2024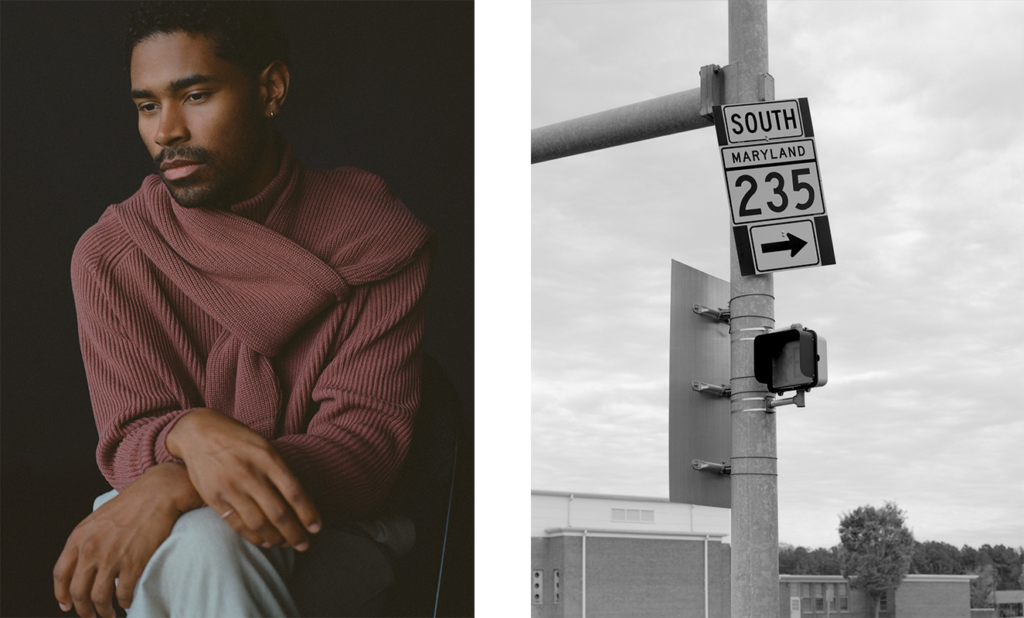 TAJ REED '23 (b. Trenton, New Jersey) is a New York-based artist and photographer. He holds a self-designed BA in Art, Literature, and Human Behavior summa cum laude from St. Mary's College of Maryland and is a candidate at Hartford's International Limited Residency Photo MFA program.
Taj has exhibited work at Hercules Art Studio Program in New York City, Agony Books in Richmond, Virginia, St. Mary's College of Maryland's Boyden Gallery, and digitally through the Maryland State Arts Council. In addition, his images have been featured by Booooooom, Pomegranate Press, Pearl Press, and other digital and print publications. Taj has dedicated himself, through his work, to exploring the communicative and self-actualizing potential of pictures and letters, using his practice as a tool to reckon with selfhood, cultural consciousness, memory, and American institutions.
During his stay at the Artist House, Taj will be working on his project Tulagi Place (2022 – ongoing). As Reed explains, this project "reckons with the turbulent effects of neoliberal politics on one particular Southern Maryland community over time with respect to the associated ideological relation to history, land, and the economically vulnerable at large. On April 25, 2022, the St. Mary's County Planning Commission voted 4-3 in favor of a concept site plan with epochal implications. The proposed plan will supplant 1.75 acres of land for a 16-pump fuel-and-convenience store project led by Royal Farms, a privately held, billion-dollar chain prominent throughout the Mid-Atlantic. The gratuitous project, opposed by community members and local business owners, will raze buildings along Maryland Route 235 and Tulagi Place, an area that has served as a cultural and social center for the riverine town since the 1940s when World War II politico-economic efforts ushered in the development of "Instant Cities.""
Artist Talk: Mary Claire Nemeth, Visiting Assistant Professor of Art (SMCM)
Tuesday, Feb. 13 @ 4:45-5:45 p.m., Glendening Annex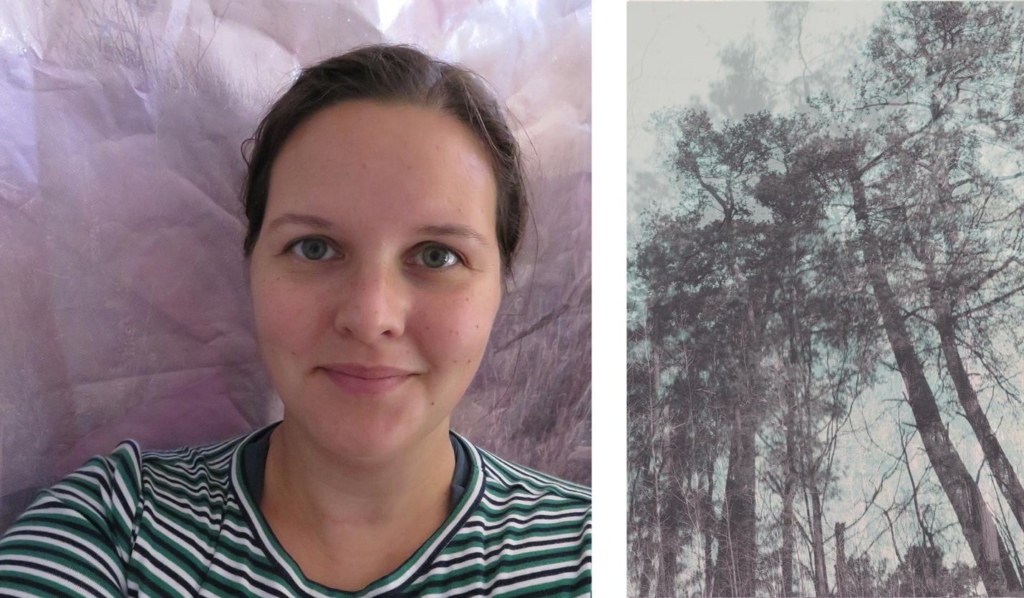 MARY CLAIRE NEMETH holds a B.A. in Visual Arts and Art History from Columbia University, an M.A. in Apparel Design from Cornell University, and an M.F.A. in Textiles from Indiana University. As an artist she works in painting, drawing, screen printing, collage and alternative photography and is interested in representing the spiritual through nature, the ethereal, the in-between spaces, the intangible. She recently received two artist grants from the Maryland State Arts Council and was awarded a residency fellowship from the Vermont Studio Center. At St Mary's, she teaches courses in painting, drawing, textiles, and art history. She is currently working on a body of work that combines digital printing on Tyvek, collage, painting, and sewing.
Collaborative Artist Talk: Katie DeGroot and Kylie Heidenheimer
Tues. March 19, 2024, 4:45-5:45pm, Glendening Annex
Artist House Residencies: March 18 – 24, 2024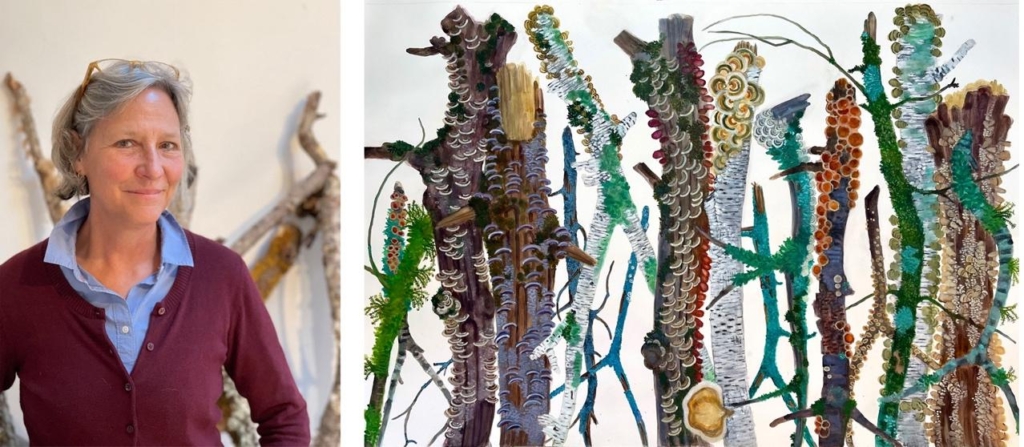 KATIE DeGROOT was born in Kandahar, Afghanistan and attended New York University earning a B.A. and Illinois State University. She says about her work, "When we think of a tree we usually conjure up an image of a perfectly pruned tree, balanced and symmetrical. In nature those rarely exist. Trees are individuals. Trees grow to survive, adapting to their given environment, growing into strange shapes, producing oddly shaped limbs, becoming contortionists to get to sunlight, and bowing to the will of other larger neighboring trees. They grow in context to each other and their neighbors, adapting as best they can to the situation they find themselves in. In many ways they are similar to us, part of a larger community, whose varied geography and specific environments challenge and form us as individuals."
Katie DeGroot first began painting fallen branches and limbs found on the ground, responding to their interesting shapes and the wonderful natural decoration that adorned them. Soon she was collecting branches and even large trunks, festooned by lichens, moss and mushrooms and bringing them back to her studio. At first working with only individual branches, (Katie considers them her "muses") she created singular portraits. Soon Katie started arranging the muses to interact between themselves, responding to something specific in the gesture or attitude of the actual real object. While she uses the branches as an observational starting point, Katie responds within the language of contemporary painting, not trying to realistically represent branches as natural objects. While DeGroot uses watercolors, she is not a "watercolorist," she is a painter. Working with watercolors has also led Katie to exploring the watercolor mono-print process. Some of the artists that Katie admires and who inform her as an artist are Gladys Niilson, Alice Neel, Morandi, Matisse, Charles Burchfield, Catherine Murphy, Barbara Takenaga, and Arlene Shechet just to name a few. For more information on the artist: https://katiedegroot.com

KYLIE HEIDENHEIMER makes abstract paintings and watercolor monoprints that wrest and twist space. She was born in Gainesville, FL, grew up in St. Louis and moved to New York City where she went to Hunter College and earned her MFA. She has a BFA from Washington University in St. Louis. She has a studio on The Lower East Side in NY and also works in Upstate New York. Her work has been in solo shows at J.C. Flowers & Co, Thomas Jaeckel Gallery and The Italian Academy at Columbia University in New York City as well as at Galerie Gris in Hudson, NY and Ohio Northern University in Ada, OH.
Heidenheimer won a Mercedes Matter New York Studio School Alumni Award in 2021 and a Jason McCoy Gallery Drawing Challenge in 2020. She was a Janet Sloane Resident at Yaddo in 2020 and also attended Yaddo in 2016 as well as prior residencies at Blue Mountain Center, Virginia Center for the Creative Arts, The Anderson Center of Disciplinary Studies, and The Millay Colony. Heidenheimer has shown in group exhibitions in New York City at Waterhouse & Dodd Gallery, O'Flaherty's, 56 Henry Gallery, Thomas Jaeckel Gallery, Station Independent, The Hewitt Gallery at Marymount Manhattan College, Equity Gallery, Feature, Inc. and Storefront Bushwick. She has exhibited regionally and nationally in group shows at Private Public Gallery in Hudson, NY, Furnace Art on Paper Archive in Falls Village, CT, Joyce Goldstein Gallery in Chatham, NY, Indiana University's J. Irwin Miller School of Architecture in Columbus, IN, The Hyde Collection in Glens Falls, NY, UT Knoxville's Downtown Gallery and The Kleinert James Center, Woodstock. For more information on the artist: https://www.kylieheidenheimer.com
Merrill Mason
Artist Talk: Wed. April 3, 4:45-5:45pm, Glendening Annex
Artist House Residency: April 1 – 27, 2024

MERRILL MASON has balanced a career as a museum administrator and a practicing artist for over 40 years. She graduated cum laude from Yale in the first undergraduate class to include women (1971) and received an MFA from the School of the Art Institute of Chicago. After graduate school she became a project coordinator at the Fabric Workshop in Philadelphia and eventually the head grant writer. In 2007 Mason moved to the American Philosophical Society as Director of the APS Museum where she oversaw exhibitions curated from the Society's renowned collection of over 13 million manuscripts plus rare books and paintings. Throughout her years as a museum administrator Mason continued to produce artwork and to exhibit. Examples include Quilt National, Award of Excellence; multiple residencies at J.M. Kohler's Arts Industry program; and a commissioned permanent bathroom installation at the J.M. Kohler Museum. She was adjunct faculty at University of the Arts and Maryland Institute College of Art, and a Visiting Artist at schools such as Cranbrook Academy of Art, University of the Arts, and the School of the Art Institute of Chicago. Currently Mason works in multiple media including photography, textiles, and poetry. She is working on a quilt using Charles Darwin's manuscripts of On the Origin of Species. She is also creating a series of smaller pieces using Darwin's scientific notes. Mason's studio is in the Germantown section of Philadelphia. For more information about the artist: https://www.merrillmason.com
Spring 2023
Through the Lens: Defining Community Through Photography
December 16, 2022 – January 29, 2023
Opening Reception: December 17, 2022
Lexington Park Library, Lexington Park, MD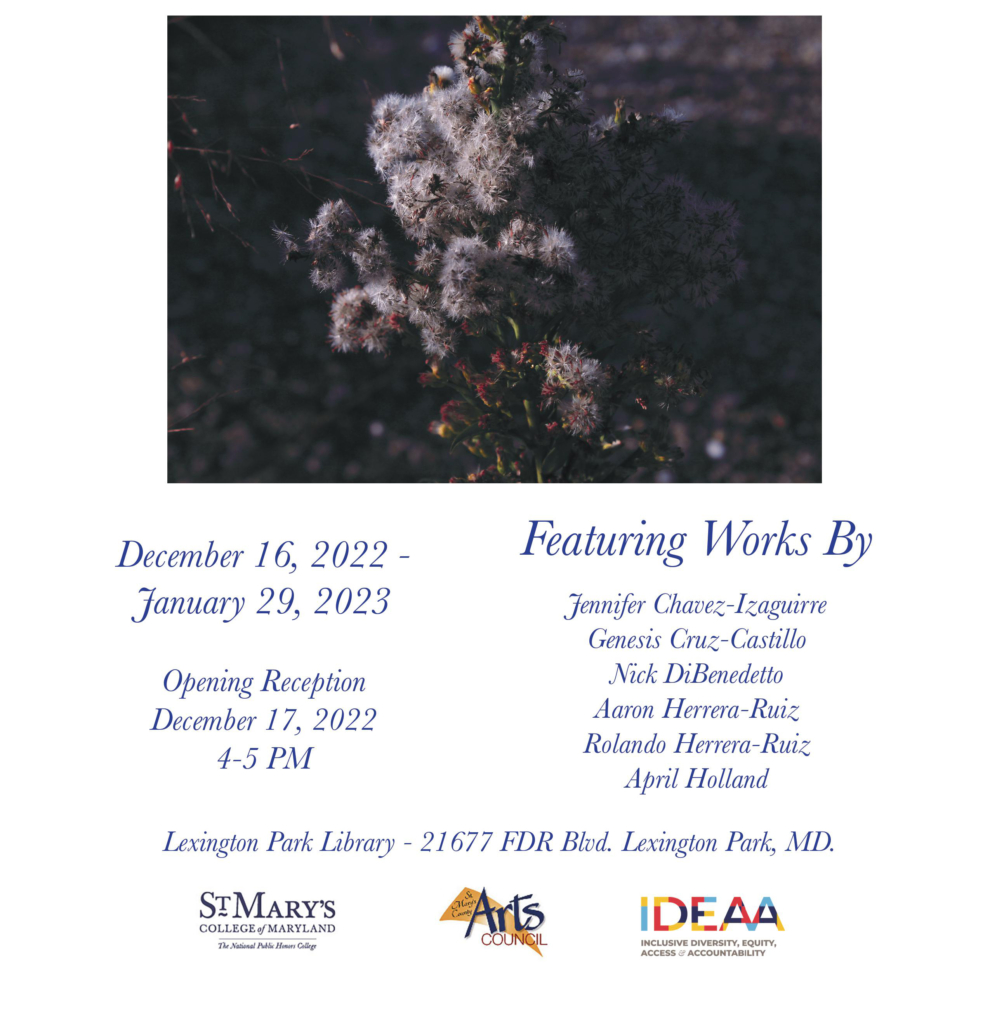 In recognition of the increasing urgency to address equity issues, and to give voice to underrepresented communities, St. Mary's College of Maryland's Division of Inclusive Diversity, Equity, Access, and Accountability (IDEAA) and the Art and Art History Department, in a joint initiative with St. Mary's County Arts Council, launched a photography mentorship program called Through the Lens in 2021. This free-to-participate program is a hands-on learning opportunity for underrepresented youths ages 16-18 (grades 10-12), led by Visiting Assistant Professor Elizabeth Kelly and assisted by St. Mary's College student mentors Taj Reed '23 and Khang Doan '25. Participants will reflect on their communities and voice their concerns through photography. The participants' artwork will be displayed from December 16, 2023, to January 29, 2023, at the Lexington Park Library at 21677 FDR Blvd., Lexington Park, MD, 20653.
Carrie Patterson: Sight to Site
January 24 – March 11
Steven Muller Distinguished Professor in the Arts Event
Boyden Gallery, Montgomery Hall
Guest Curator: Dr. Erin Peters
Opening Reception and Artist-Scholar's Talk: Tues. January 24, 6:30-8:30pm, Artist Talk at 7:30pm
Catalogue pdf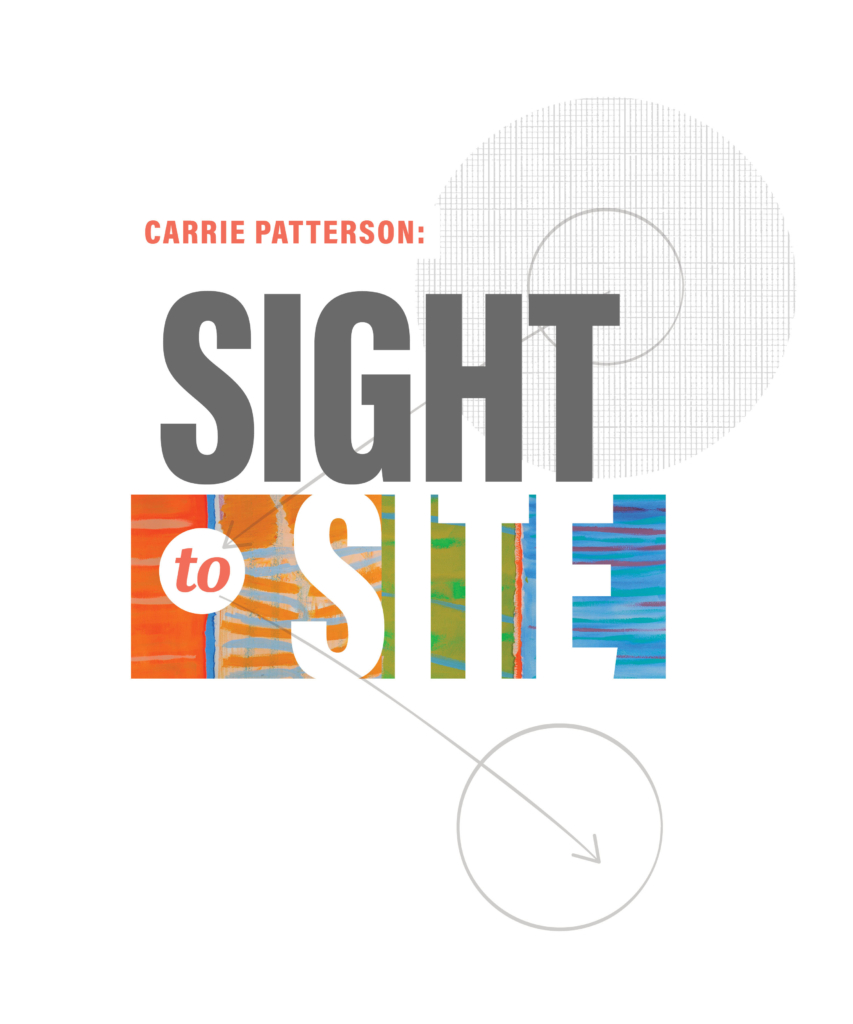 Travel with painter Carrie Patterson on an artistic journey of process: roam and ramble through six continuous and connective parts of her practice in 35 artworks, many of which are shown publicly for the first time. Experience how Patterson constructs landscapes as complex and poetic objects, and envision how you would create your own.
Artist Talk: Elizabeth Kelly, Visiting Assistant Professor of Design and Photography
Wed. February 8, 2023
4:45-5:45pm, Glendening Annex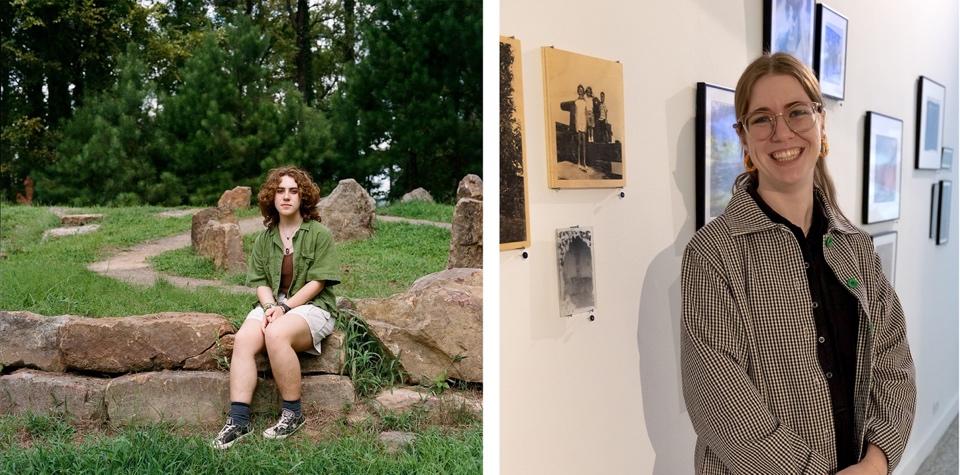 Elizabeth Kelly is a photographer and art educator based in Philadelphia, PA. Working primarily in traditional and alternative process photographic techniques. Her current work features large cyanotype prints on a variety of fabrics, audio visual work, archival photographic manipulation using mordançage, wet and dry plate photography on tin and glass, traditional photo workshops and collaborative photo essays. She is interested in the ethics of portraiture and expanding access to traditional photo education. Focusing on addressing the importance of art education on early expression and sense of self in children who live in communities with limited access to the arts. Kelly has been working to build a comprehensive traveling traditional photographic studio and workspace so she can expand her educational practice beyond the walls of the darkroom.
Kelly's work addresses the human experience and the individuality of the communities and people in her photographs. Though her work may initially seem to cover many different subject matters ranging from the duality of self to the building of Pier no. 9 in Philadelphia, each project offers a look into a community, living or dead, through their images and their narrative history. Each of her bodies of work include or are fully composed of photographic prints and images made using traditional film photography or 19th century and contemporary alternative process image making techniques while addressing themes that have an impact on the contemporary art conversation.
Artist Talk: Maxine Payne
Wed. February 22, 2023
4:45-5:45pm, Glendening Annex


Maxine Payne is a photographer living and working in Arkansas, where her grandparents raised her. She received her M.F.A from the University of Iowa where she was also an Iowa Arts Fellow. Maxine was selected a Fellow of the American Photography Institute at New York University, as well as a Fellow of the College Art Association. Currently a Professor in the Art Department at Hendrix College, she works to find ways to engage community in her work and speaks to the idea of place. Maxine was awarded the 2013 National Museum of Women in the Arts, Arkansas Fellowship for her photographic work. Her collaboration with Alabama Chanin launched in Spring 2014 and her book "Making Pictures: Three for a Dime," was published by Dust-to-Digital in 2015. Currently, Maxine shares the Margaret Berry Hutton Odyssey Professorship with author Tyrone Jaeger. Their collaborative project with Hendrix College students and alum, called Audio Visual Arkansas, focuses on collecting digital stories about Arkansans and can be seen at AVARK.net. She has also collaborated with anthropologist Anne Goldberg documenting the lives of rural women in Costa Rica, the U.S./Mexico border, Africa, and Vietnam. In 2017, Maxine collaborated with biologist Matthew Moran to document the environment and people of the "Big Woods" region in Arkansas. She has photographed hundreds of Arkansas Historic Bridges for the Arkansas Highway and Transportation Department since 2004. Maxine has continued her curatorial work with two historic photographic archives, the Massengill family photographs and the photographs of Ellie Lee Weems, both of which are included in The High Museum of Art's 2023 exhibition and publication Photography and the American South since 1850. Her work can be seen at www.MaxinePayne.com.
Maxine will be in residence at the Artist House February 19-24, 2023. This residency and lecture are supported by the Artist House Residency Programs and the Department of Art.
Artist Talk: Dafna Steinberg
Wed. March 1, 2023
4:45-5:45pm, Glendening Annex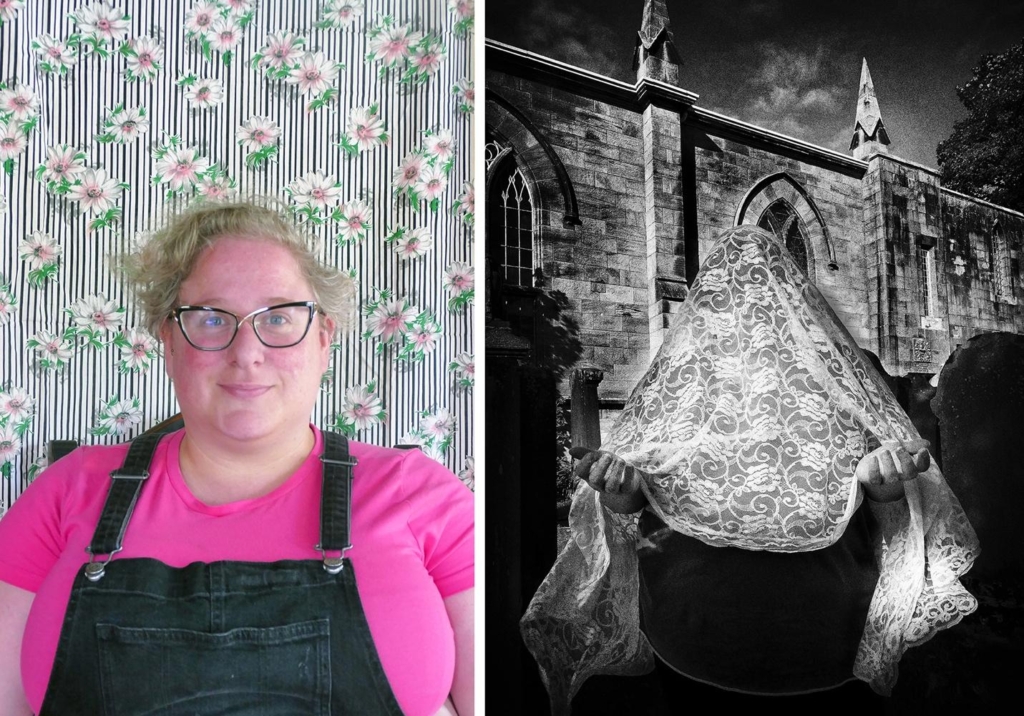 Dafna Steinberg is a lens-based artist living and working in Philadelphia, PA. Her work embodies themes such as grief, personal intimacy, and gender. In the spring of 2022, she graduated from Moore College of Art & Design with an MFA in Socially Engaged Studio Art. Her thesis work examined at how artists can use photographic self-portraiture as a form of social practice and the gender dynamics of selfies during the first year of the COVID pandemic. Before tackling her MFA program, Steinberg worked as an adjunct studio art and photography professor at Northern Virginia Community College. In addition to teaching, Steinberg has been an exhibiting artist for over 15 years. Her work has been shown at institutions such as Grizzly Grizzly, LeMieux Galleries, Indianapolis Art Center, the Puffin Cultural Forum and the International Center of Photography.
"My current work focuses on grief after the death of my father and the experience of rediscovering intimacy in a post pandemic world. I am working on a series that documents my life in 2020 and 2021. Using photography, text, sound and object-based installation, I am showing my own experience with grief after the death of my father. My work aims to show how grief is pervasive and can affect new experiences with touch and intimacy in a post pandemic world. I would like to continue working on this project.
This exploration around myself and my body continues in my present projects. For much of my artistic career, most of my work has been creating self-portrait series. The themes of these works have varied but have all connected to my own personal experiences. While these images are meant to reflect my own life, there is always an element of make believe. Fact and fiction are not a binary, but rather a spectrum. My work plays with that line. I am interested in blurring the lines between fact and fiction to create personal visual stories that are relatable to a larger audience."
Dafna will be in residence at the Artist House February 27 – March 10, 2023. This residency and lecture are supported by the Artist House Residency Programs and the Department of Art.
Art History & Art Capstone II Presentations
Monday, May 1, 2023 @ Boyden Gallery
Art History: 11:00 – 12:30 pm
Art: 1:00 – 4:00 pm
Schedule:
Art History St. Mary's Project Presentations
Mentor: Joe Lucchesi
11:00 am – 11:30 am
Mary Richardson – Laborer, Artist, Athlete: Changing Cultural Perceptions of Ballet Dancers in 19th and 20th Century Visual Images
11:30 am – 12:00 pm
Katherine thor Straten – Contemporary Artists and Utopia: The Use of Science Fiction as a Response to Institutional Oppression
12:00 pm – 12:30 pm
Kathryn Dennis – Behind the Veil of Colorblindness: Seeing and Not Seeing Race in French and American Visual Culture
LUNCH: 12:30 – 1:00 pm
ART Capstone Presentations
Mentors: Sue Johnson (Fall ' 22) & Jessye McDowell (Spring '23)
1:00 – 1:15 pm
Tony Rayo – Constructed Narratives: Examining Isolation and Identity Through Alternative Photography
1:15 – 1:30 pm
Ian Parsons – Building a Drawing: Collaging Scenes of the Self
1:30 – 1:45 pm
Todd Washington – Saying More By Saying Less
1:45 – 2:00 pm
Miranda Woodey – From Brushstrokes to Pixels: The Art of Healing
2:00 – 2:15 pm
Jessica Taylor – A Little Here, a Little There: Dabbling with Life and Spirit
2:15 – 2:30: BREAK
2:30 – 2:45 pm
Abigail Planta: Final Presentation
2:45 – 3:00 pm
Emery Moore – Playing Pretend
3:00 – 3:15 pm
Katie Koerper – Capstone Reflections
3:15 – 3:30 pm
Jessica Lane – Final Presentation
3:30 – 3:45 pm
Sam Boles – Storytelling and Self-Expression in Motion
3:45 – 4:00 pm
Meredith Bromley – Inspiration in Experimentation
4:00 pm – session ends
Pop Up Shop: ART 431 Capstone II

Tuesday, May 2, 2023 @ 12:00 – 4:00 p.m.
Lower Montgomery Hall
Affordable merchandise made by students in Capstone 2!
Fall 2022