Fall 2018
Carrie Patterson, Professor of Art, Department of Art and Art History
Brown Bag Lunchtime Talk: Painting, Writing, and Everything under the Kitchen Sink
Tuesday, September 11, 12 Noon-1pm, Glendening Annex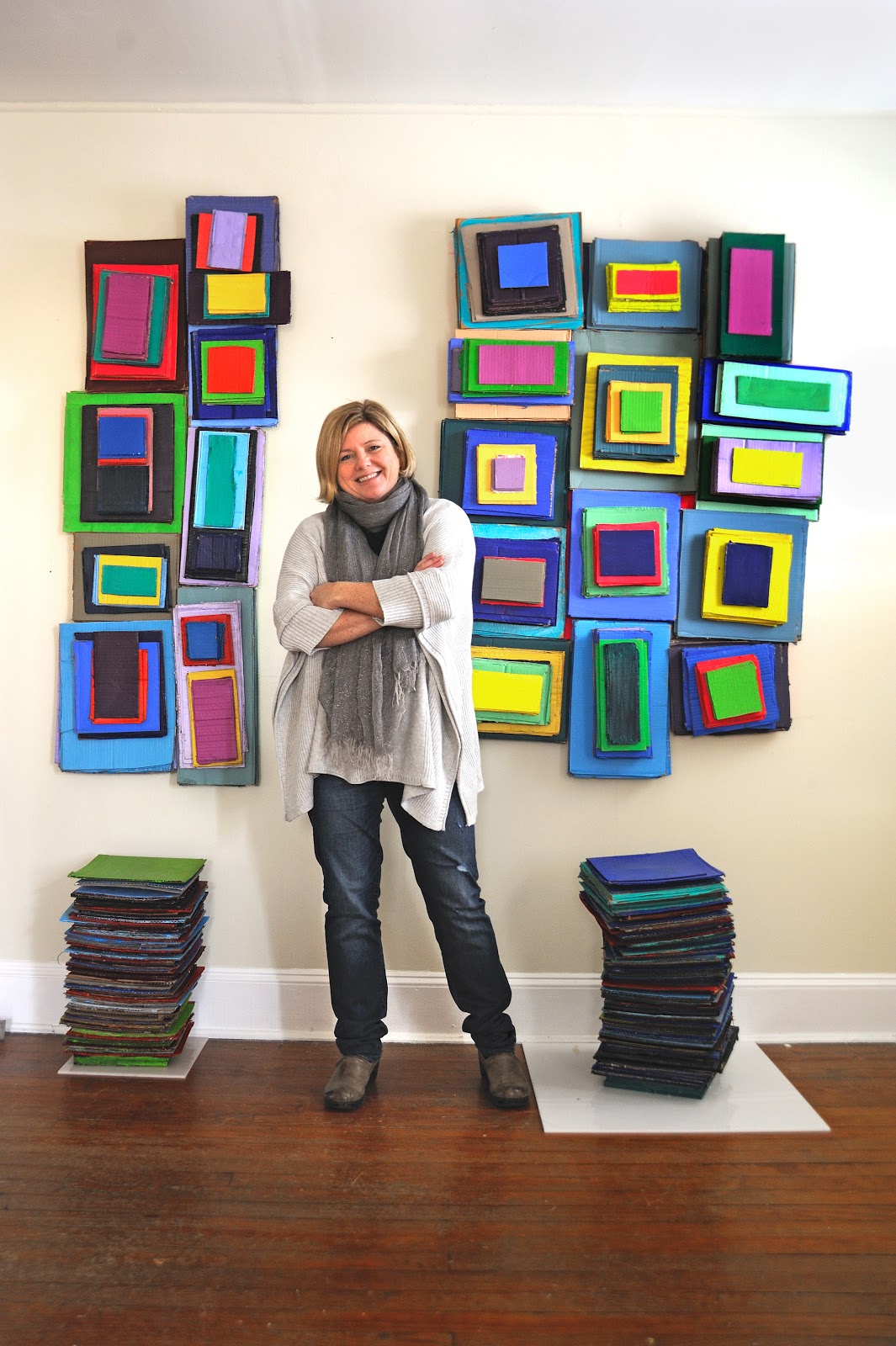 Carrie Patterson, Professor of Art at SMCM, returns from sabbatical to deliver a Brown Bag Lunchtime Talk: Painting, Writing, and Everything under the Kitchen Sink. Patterson is a visual artist working in Leonardtown, Maryland. Her artwork considers how color, form, and line metaphorically measure the human condition as experienced through the body. She earned a B.F.A in studio art from James Madison University and an M.F.A in painting from The University of Pennsylvania. Additionally, she was a student resident at The New York Studio School where she worked with second generation abstract expressionists: Charles Cajori, Mercedes Matters, and Rosemarie Beck. Her artwork has been exhibited across the country with solo shows in New York City, Philadelphia, Virginia, and Minnesota. In 2017 her solo show titled: Lightbox consisted of brightly colored cardboard constructions and stacked floor paintings at Hood Gallery at Mary Baldwin University in Staunton, Virginia. Recently, she has been making painted constructions based off her lived experience of architectural forms and their relationship to the landscape. Most recently her work was included in a group exhibition titled: X Marks the Spot, Women of the New York Studio School. She is a Professor of Art at St. Mary's College of Maryland, and former owner of Yellow Door Art Studios, a community art school. Her art curriculum called The Yellow Line features lesson plans for early childhood and K-12. Currently she is developing a course titled How to See for The Great Courses.
Janis Goodman
Brown Bag Lunchtime Artist Talk
Tuesday Sept 18, 12:00-1:00pm, Glendening Annex
Note: Janis will be returning to SMCM in February for an Artist House Residency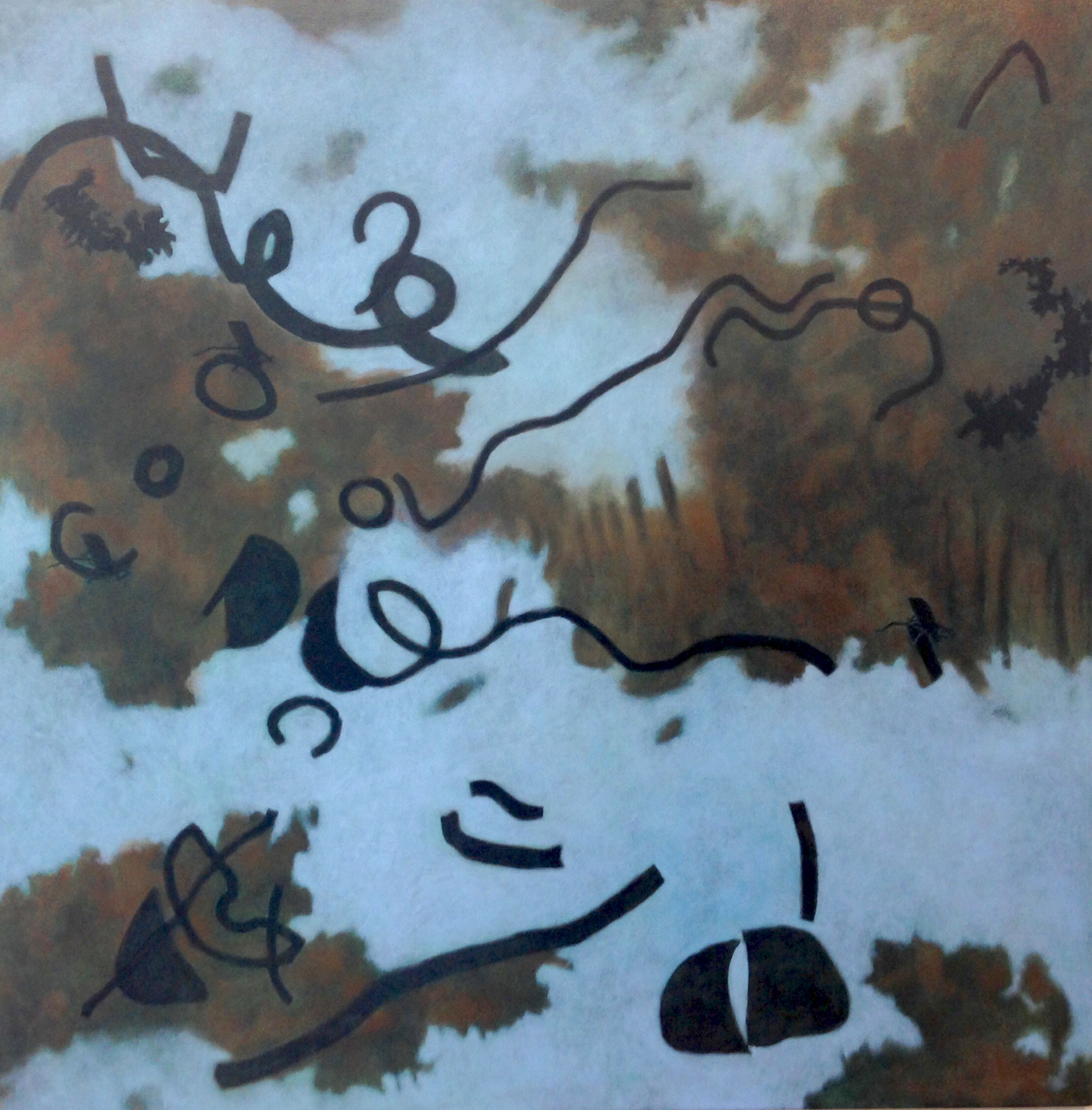 Janis Goodman's work moves between the narrative and the deconstructed. It is based on the laws of nature but governed by intuition and experience. Years of hiking national parks and kayaking rivers along the mid-Atlantic and New England have formed the backdrop of her work. Her fascination with natural disasters additionally fuels the sense of the absurd and the possibility of chance. Goodman's oil paintings travel and negotiate the ripples and tides of estuaries and coves. They also follow the invisible energy paths connecting the dots between the observed, imagined and remembered. Her color expands in all directions suggesting chaos, impermanence and random activity. The paintings don't specifically pay witness to an event but set up a strategy of cause and effect. They slow down the motion that is invisible to the eye and give the observer visual signs of a time or a direction. Goodman's paintings rely more heavily on perception than fact. Her work continues to explore the relationship between the environment, global shifts and the perception of constancy. She suggests in her paintings the humblest of relationships that exist in the environment.
Janis Goodman, is a Professor of Fine Arts at the Corcoran College of Art + Design/George Washington University in Washington, DC. She is the coordinator of the Fourth Year Fine Arts Program as well as a Professor of Drawing and Painting. She is the arts reviewer for WETA TV, Around Town, a PBS affiliate in Washington, DC. Goodman is a recipient of numerous DC Commission on the Arts Grants as well as a National Endowment Exhibition support grant. In 2017 she received the Franz and Virginia Bader Award for excellence in art. Goodman is a founding member of the socially engaged Workingman Collective. Goodman is included in North American Women Artists of the Twentieth Century: A Biographical Dictionary by Nancy Heller and Who's Who in American Art. Her work was highlighted in the book 100 Artists of Washington, DC by F. Lennox Campbello. She is represented by Turtle Gallery, Deer Isle, ME; Thomas Deans Fine Art, Atlanta, GA; and Lee Hansley Gallery, Raleigh, NC. In Washington, DC her work can be found at Neptune Brown Gallery and Reyes + Davis. Recent solo shows include exhibitions at Thomas Deans Fine Art, Atlanta; JK Gallery in Los Angeles; Reyes + Davis in Washington, DC; Lee Hansley Gallery in Raleigh, NC; and Michael Connor's Gallery in New York. Her work has been reviewed in the New York Times, Art in America, The Washington Post and The City Paper.
ART SMP Open Studios – Marathon, Art Annex (100 Main)
Monday, September 17, 6:30-8:00pm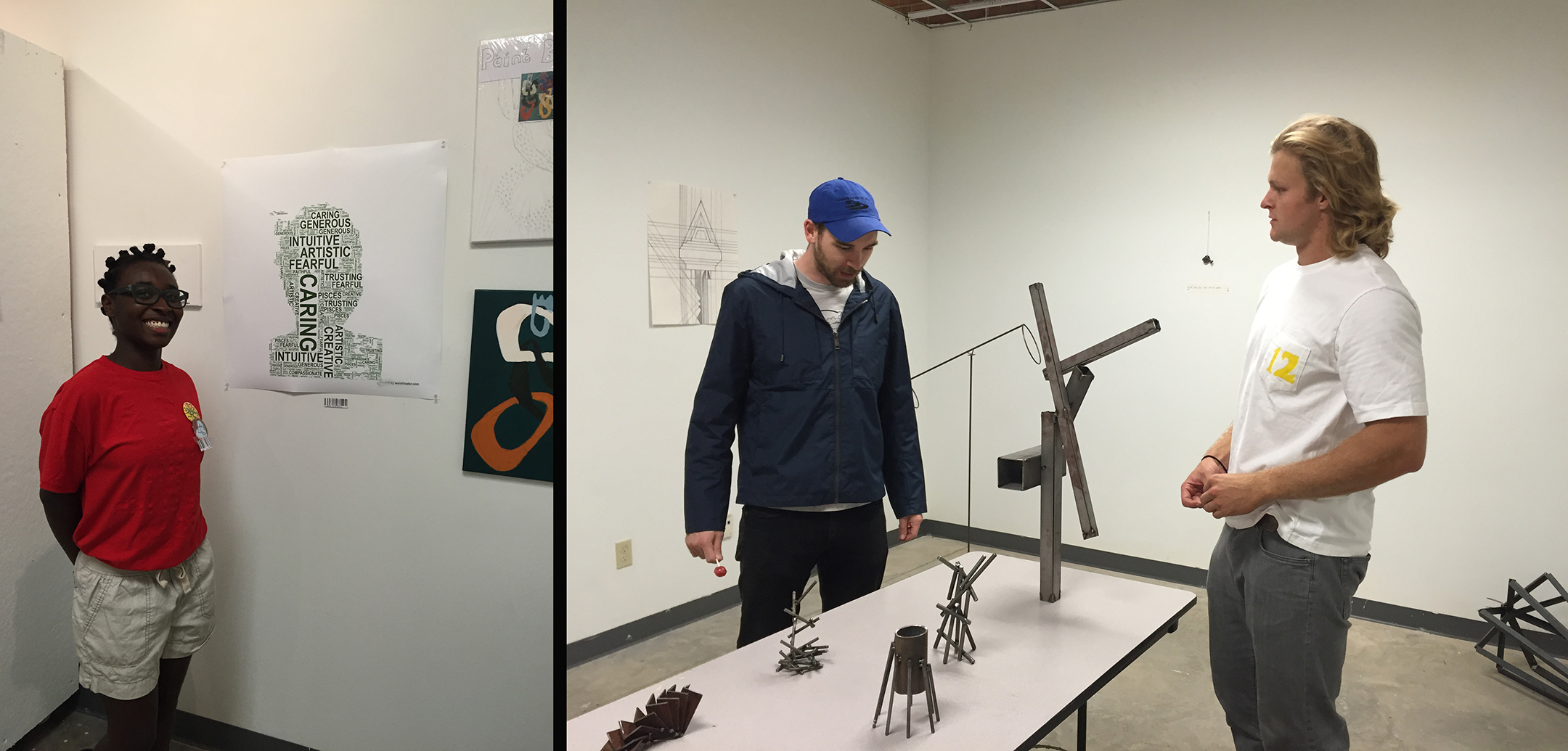 Fall 2018 SMP in Studio Art students will spend the first three weeks of this semester working on an art-making Marathon, culminating in this open studio event and potluck. At this point in the semester, students will have made at least 20 artworks responding to a series of prompts, and all are welcome to come by and see how students have pushed their boundaries and energized their creative spirits, in preparation for their year-long SMP projects. The event will be held at the Art Annex, located next to the Physical Plant and across from the tennis courts.
SMCM Faculty Exhibition: Finding Elsewhere
September 24 – November 10, 2018
Boyden Gallery, Montgomery Hall
Opening Reception: Monday, September 24, 2018, 4:45-5:45pm
Gallery open hours: Tues-Fri 1:00-6:00pm / Sat 11:00-4:00pm
Artists: Tristan Cai, Sue Johnson, Giulia Piera Livi, Jessye McDowell, Carrie Patterson, and Lisa Scheer
Exhibition curator: Kate Pollasch '10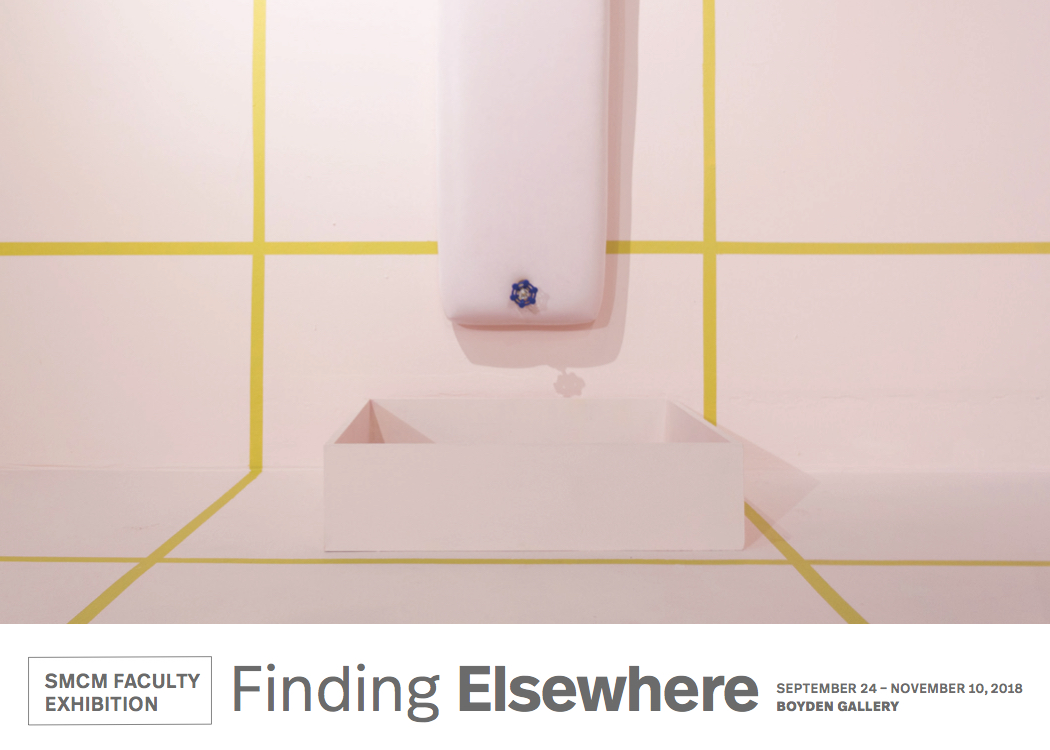 The SMCM Faculty Exhibition: Finding Elsewhere is on display until November 10, so stop in on your way to class or on a rainy day to view the wonderful artwork from SMCM's very own faculty.
The six artists and professors in this exhibition, Tristan Cai, Sue Johnson, Giulia Piera Livi, Jessye McDowell, Carrie Patterson, Lisa Scheer traverse a range of mediums from digital modeling, printmaking and artist books, to painting and installation. While their use of formal choices of composition, color, subject, light and more vary widely, common thread lines run through each artist, pulling individual practices into the warp and weft of a multicenter group exhibition.
Giulia Piera Livi
SMCM-MICA Artist House Teaching Fellow 2018
Artist Talk: Thursday October 11, 4:45-5:45pm, Glendening Annex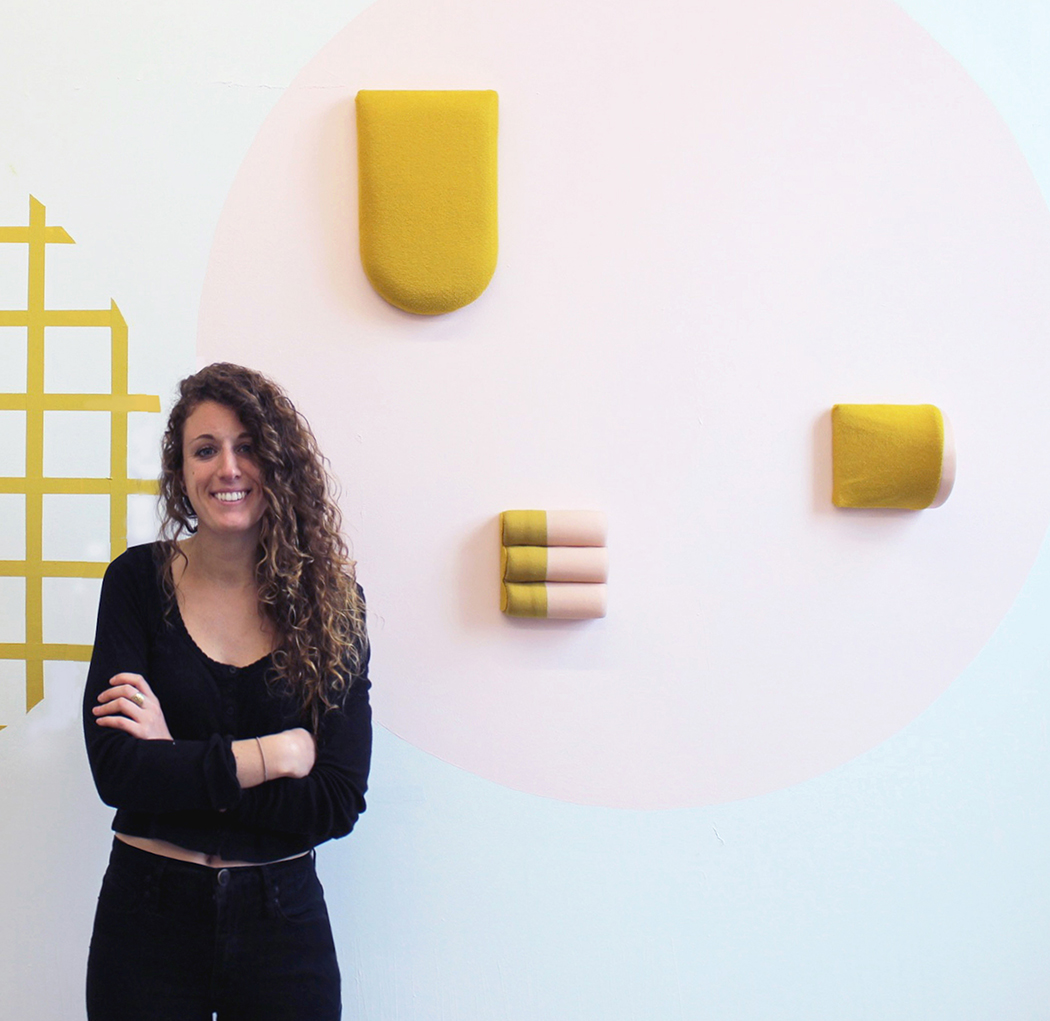 Giulia Piera Livi is a Baltimore-based interdisciplinary artist whose work in painting and installation is an investigation of interior space and design, focusing on the acute and the polite, the domestic and the utilitarian. Her immersive rooms employ color and form to work out ideas of the weirdly functional. Livi's work has be exhibited both nationally and internationally including at Viridian Artists Gallery (New York, NY), VAE (Raleigh, NC), Arlington Arts Center (Arlington, VA), Studio Arts Center International (Florence, Italy), Maryland Art Place (Baltimore, MD), Gallery B (Bethesda, MD), School 33 Art Center (Baltimore, MD), Woskob Family Gallery (State College, PA), and the Philadelphia Sketch Club (Philadelphia, PA). Livi earned a B.F.A. from Penn State University (2015) and an M.F.A. from the Mount Royal School of Art at MICA (2017). She was a 2017 Bethesda Trawick Young Artist Award Winner, and a 2017 and 2018 Janet & Walter Sondheim Prize Semi-Finalist. In fall 2018, Giulia will teach two courses in the Department of Art and Art History: ART 204: Introduction to Drawing and ART 239 Painting and Drawing from Life.
ART & ART HISTORY Field Trip to NYC
Saturday, October 27, 2018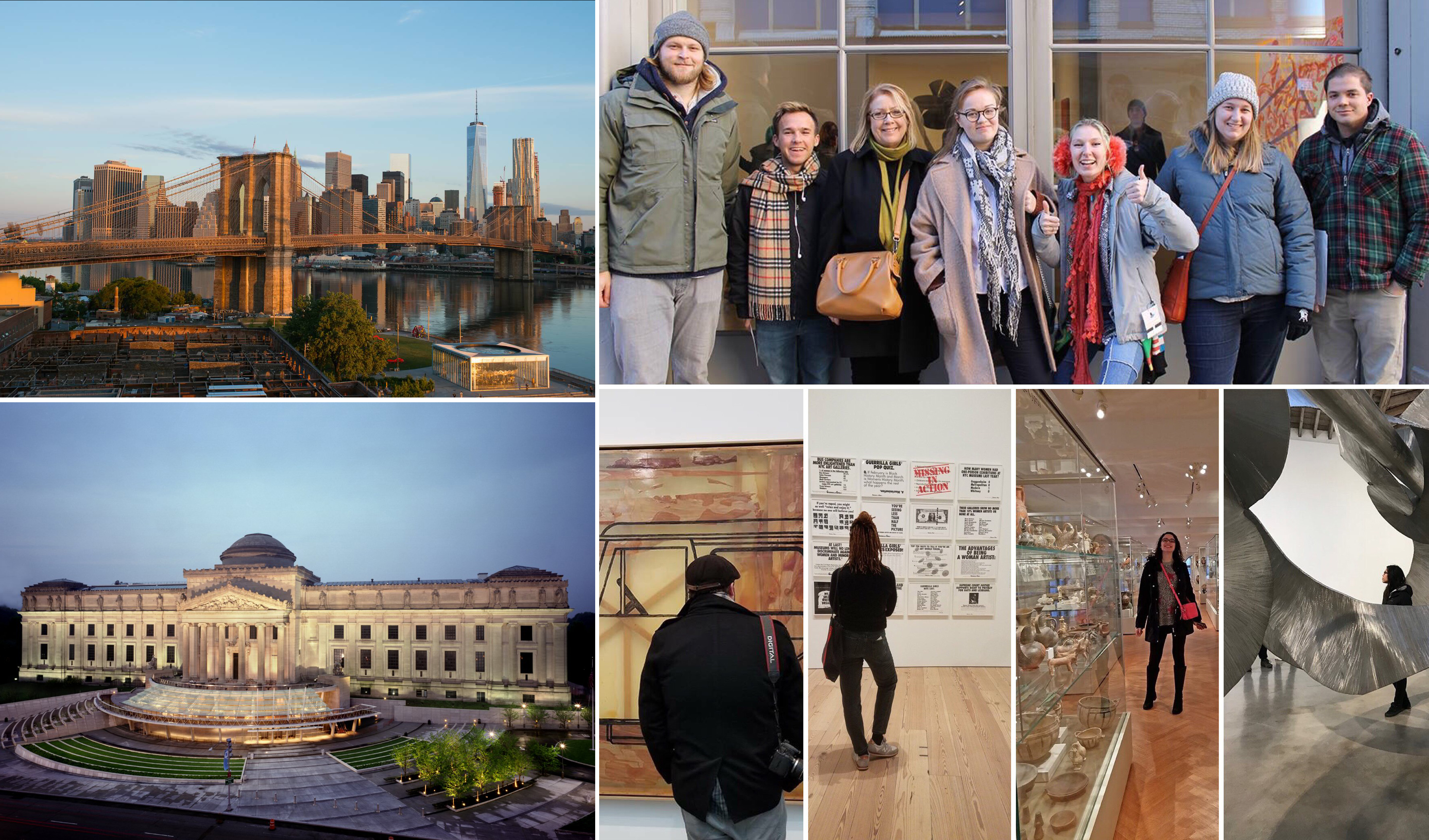 This year's popular departmental field trip to NYC will take us to Brooklyn! One of New York City's most vibrant boroughs, Brooklyn has a long history of culture and creativity. On our one-day trip we'll stop at the Brooklyn Museum of Art–whose displays of global art are among the most innovative in the country–and visit artist studios in the up and coming neighborhood of Bushwick. In between, we'll have time to enjoy beautiful Prospect Park, historic Grand Army Plaza, and the diverse food and shopping in surrounding neighborhoods. Spend some time looking at art and exploring a new place with your professors and classmates!
Watch out for more details and an informational meeting early in September. This trip is designed to be easy and affordable for all St. Mary's art and art history students. Participation is first come, first served. If you have any questions, contact Professor Emily Casey at eccasey@smcm.edu.
Behind the Scenes with Curator Kate Pollasch (SMCM '10)
Boyden Art Gallery, Montgomery Hall
Monday, November 5 @ 1:30pm
Interested in working in a museum or art gallery?
Thinking about how to become a professional curator?
Wondering what paths your SMCM Art History major or minor might lead you to?
Curious about the work that goes into curating an art exhibition?
Please join SMCM alumna Kate Pollasch (Art and Art History, '10) for an informal student discussion about her work as a curator, a behind-the-scenes tour of her process as curator of the current Boyden Art Gallery exhibition Finding Elsewhere, and her professional path from SMCM Art History graduate to writer and curator.
Kate Pollasch '10 is an Art History graduate of SMCM. She holds an MA in Modern art History and Theory and an MA in Arts Administration and Cultural Policy from The School of the Art Institute of Chicago. She has held positions with The American Visionary Art Museum, The Art institute of Chicago, the Roger Brown House Museum, Sullivan Galleries, and Rhona Hoffman Gallery. She is a contributing writer for New City, The Seen, and Elite Daily. She was a 2015-2016 HATCH Curatorial Resident at Chicago Artists Coalition. She was the 2017 Terrain-HATCH Public Art Curatorial Resident and also the 2017 Gaylord and Dorothy Donnelley Foundation Curatorial Fellow. She was also the 2018 guest curator of Sullivan Galleries Low-Res MFA exhibition.
Art History to Art World: Conversations with SMCM Alumni in Museum and Gallery Fields speaker series
Curator's Panel Discussion, SMCM Faculty Exhibition: Finding Elsewhere
Monday November 5, 4:45-5:45pm, Boyden Gallery, Montgomery Hall
Moderator: Exhibition Curator, Kate Pollasch '10
Panelists: Tristan Cai, Sue Johnson, Giulia Piera Livi, Jessye McDowell, Carrie Patterson, and Lisa Scheer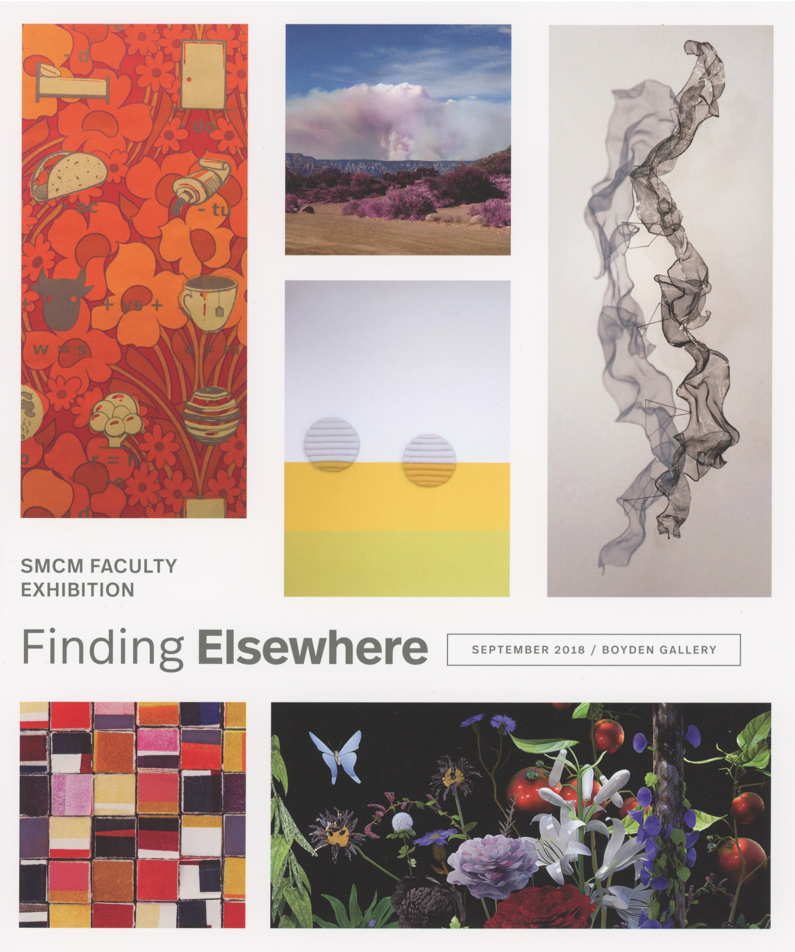 Exhibition: American Modernism in the St. Mary's College of Maryland Bocour Collection
Boyden Gallery, Montgomery Hall
Dates: Opens in late November and will run through the Spring semester
Opening celebration: December 11 @ 4:30 Pizza Party in the Gallery

Drawn from an art history St. Mary's Project by alum Sami Wright '18, this exhibition explores the vibrant history of modern American art through a singular body of paintings in the college's collection. Acrylic paint producer Lenny Bocour was a central figure in the New York art scene from the 1950s through '80s. The artists who used his paints paid homage to him in their work, and repaid him through gifts of art works. In turn, Bocour gifted portions of his collection to St. Mary's College of Maryland. The result is a unique insight into the excitement and experimentation among an expansive group of artists–both known and unknown–during a dynamic period in American art history. The exhibition's highlights from the Bocour collection showcases remarkable works on the college's campus, as well as the stellar state of undergraduate research at St. Mary's today.
Join us for a kick-off celebration (and a break from finals) on Tuesday, December 11 at 4:30. We'll have a pizza party in the gallery to toast the exhibition and the end of the semester.
Bonnie Veblen '09
Lecture: Widening Circles: Life and Learning After Graduation
Monday November 12, 4:45-5:45pm, Glendening Annex
Artist House Residency: October 10 – December 8, 2018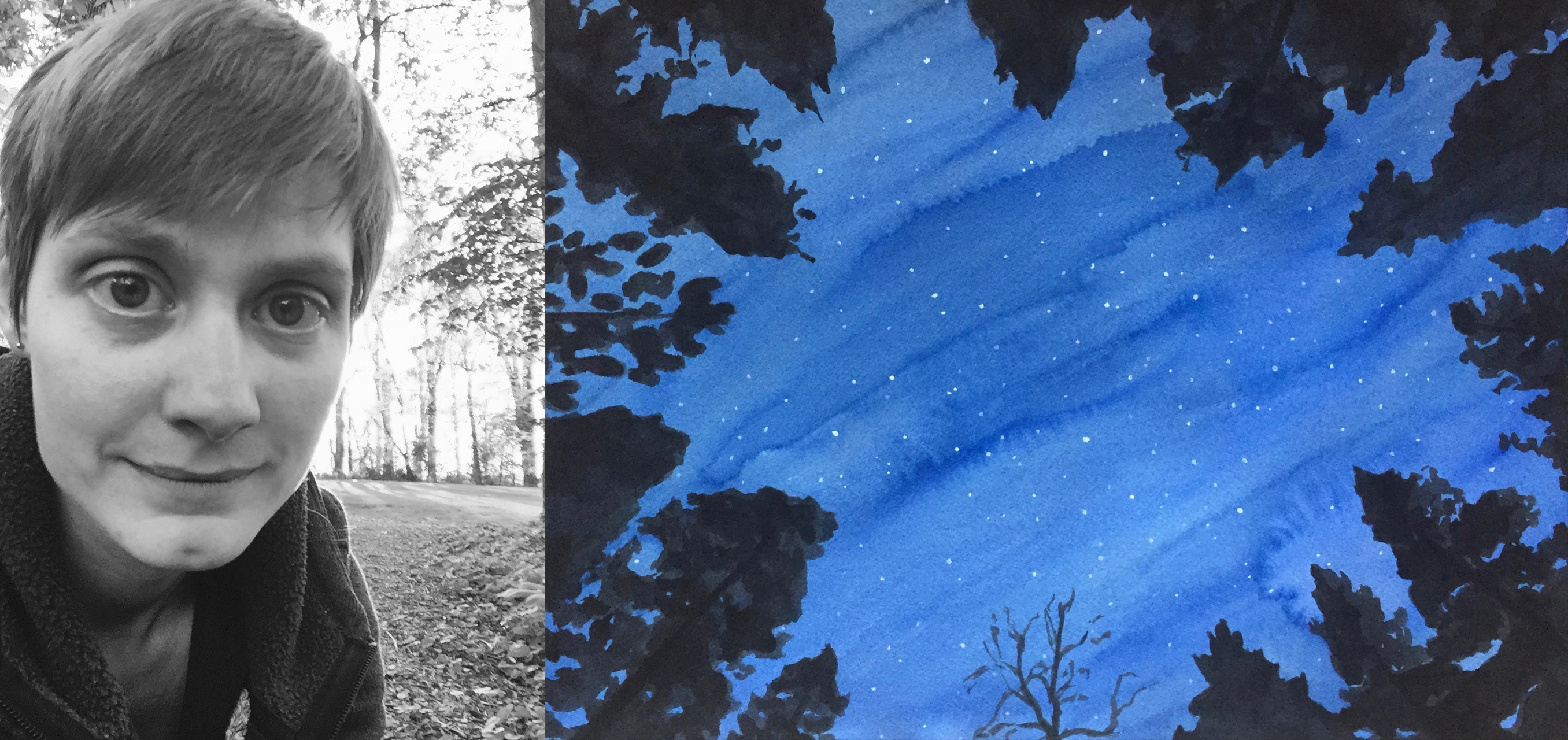 Bonnie Veblen is an artist currently living in Davis, CA. She graduated from St. Mary's College of Maryland in 2009 with a B.A. in Art and Art History, and minors in Environmental Studies and Biology. She completed a Post-Bac at Pont-Aven School of Contemporary Art in Pont-Aven, France in the fall of 2009. In 2014, Bonnie graduated from the Center for Massage and Natural Health and is certified to practice massage therapy in California. She has worked as an illustrator, graphic and web designer, medical assistant, and massage therapist. Bonnie exhibited some of her photography in a duo exhibition at Yoga on York in Baltimore in 2013. Her illustrations have been published in The Complete Photo Guide to Perfect Fitting (Creative Publishing) and Windpower Engineering & Development (April 2018). Her work is also available to view on the web.
Bonnie's current artwork and writing explores the intersections of wildness, interconnection, transformative cycles, nervous system regulation, and wholeness. She often pairs images with words in the form of poetry or prose, so that they become a living unit, mutually informing and adding dimension to each other. Bonnie works in watercolor and acrylic as well as photography to distill the essence of natural spaces and beings she encounters in her daily life and her travels. She is especially interested in the experience of genius loci, the spirit or essence of a place, which is particular to that place alone given all of the qualities that meet there, and how that experience can have deep impact on a person's interior process and wellbeing.
Open Studio @ The Artist House with artists-in-residence, Giulia Piera Livi and Bonnie Veblen
Thursday, November 15, 4:45-5:45pm

All are invited to visit the Artist House studios to see the works of Bonnie Veblen and Giulia Piera Livi. Mattapany Road just above the playing fields. Please walk or carpool as parking is very limited.
ART SMP Open Studios and Public Critique
With Visiting Critic James Williams II, Program Manager @ the Hamiltonian Gallery, Washington, DC
Art Annex Studios
Monday, December 3
Open Studios from 4:30-5:00 pm
Public Critique with Visiting Critic 5:00-9:45pm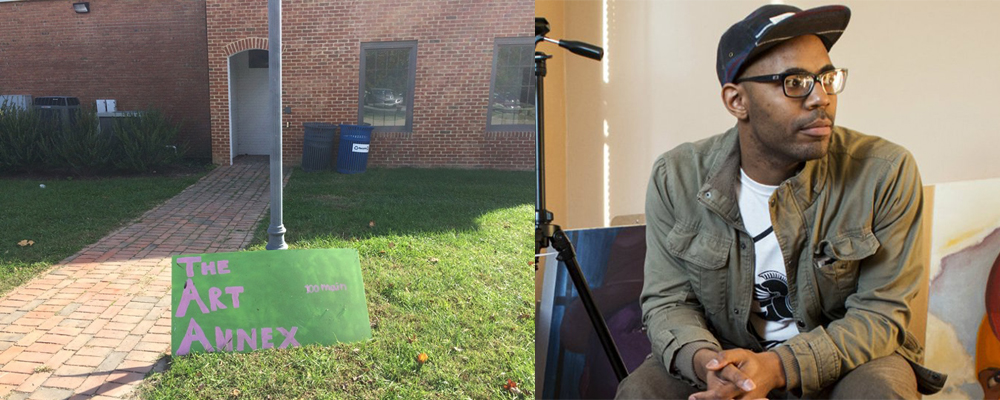 The culminating event of the Fall Semester's SMP in Studio Art will be an open studio event, followed by a public critique in the Art Annex (located next to the Physical Plant and across from the tennis courts). Visitors are invited to see the artwork the students have made over the course of the semester, and to be observers in a formal critique with a visiting critic. This semester's critic will be James Williams II, a painter and the Program Manager at the Hamiltonian Gallery in Washington, DC.
Spring 2019
Christopher Merrill
Artist House Residency: January 15 – February 3, 2019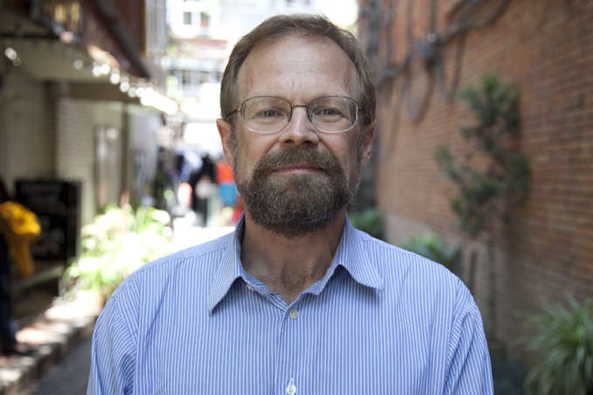 Christopher Merrill has published six collections of poetry, including Brilliant Water and Watch Fire, for which he received the Lavan Younger Poets Award from the Academy of American Poets; translations of Aleš Debeljak's Anxious Moments and The City and the Child; several edited volumes, among them, The Forgotten Language: Contemporary Poets and Nature and From the Faraway Nearby: Georgia O'Keeffe as Icon; and five books of nonfiction, The Grass of Another Country: A Journey Through the World of Soccer, The Old Bridge: The Third Balkan War and the Age of the Refugee, Only the Nails Remain: Scenes from the Balkan Wars, Things of the Hidden God: Journey to the Holy Mountain, and The Tree of the Doves: Ceremony, Expedition, War.
His work has been translated into twenty-five languages, his journalism appears in many publications, and his awards include a knighthood in arts and letters from the French government. He has held the William H. Jenks Chair in Contemporary Letters at the College of the Holy Cross, and now directs the International Writing Program at The University of Iowa. He serves on the U.S. National Commission for UNESCO, he has conducted cultural diplomacy missions in over thirty countries for the U.S. State Department, and in April 2012 President Obama appointed Merrill to the National Council on the Humanities. http://www.christophermerrillbooks.com
Nando Alvarez Perez (collaborative residency with Emily Reynolds)
January 14 – February 14, 2019
Artist Talk: TBA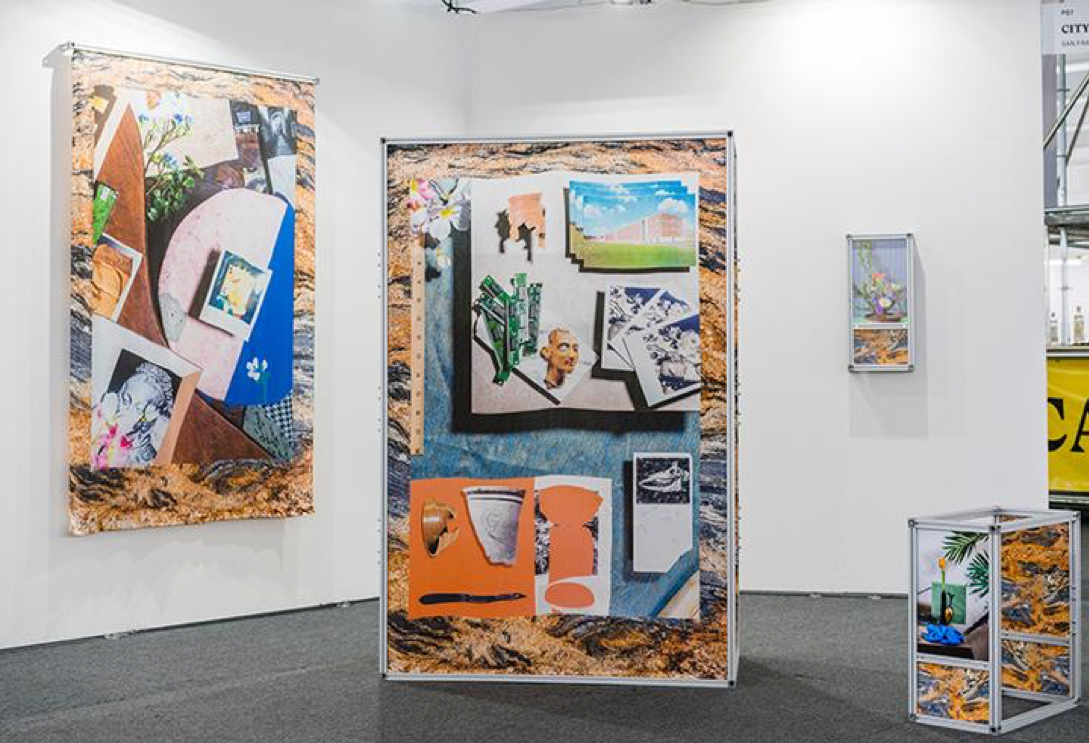 Nando Alvarez-Perez is an artist and educator based in Buffalo, NY. In 2014, he graduated from the San Francisco Art Institute where he was awarded the Master of Fine Arts Fellowship in Photography. Since graduating his work has been exhibited throughout the Bay Area and internationally, most recently at Material Art Fair in Mexico City, the Drake One Fifty in Toronto, Interface Gallery in Oakland, CA, and the Visual Studies Workshop (VSW) in Rochester, NY, where was recently in residence. He has taught classes at the California College of the Arts, the Art Studio at UC Berkeley, and the San Francisco Art Institute and will be teaching an intensive workshop on the creative repurposing of archives in summer 2018 at the VSW.
Alvarez-Perez creates vivid color photographs packed with visual juxtapositions which bring about rich associations. The photographs appear flattened and collage-like but depict actual still lives made in his studio. They exude a kitschy quality that mirrors the vast range of imagery we encounter in our consumer-driven, late capitalist culture. He often merges the photographs into sculptural installations that draw upon the material languages of interior design (wallpapers, rugs, etc.) and trade fairs (extruded aluminum frames and free-standing "booths"), reflecting his interest in exploring how we live with art objects, both avant-garde and kitsch, as well as the relationship between art, history, and capitalism.
Emily Reynolds (collaborative residency with Nando Alvarez Perez)
January 14 – February 14, 2019
Artist Talk: TBA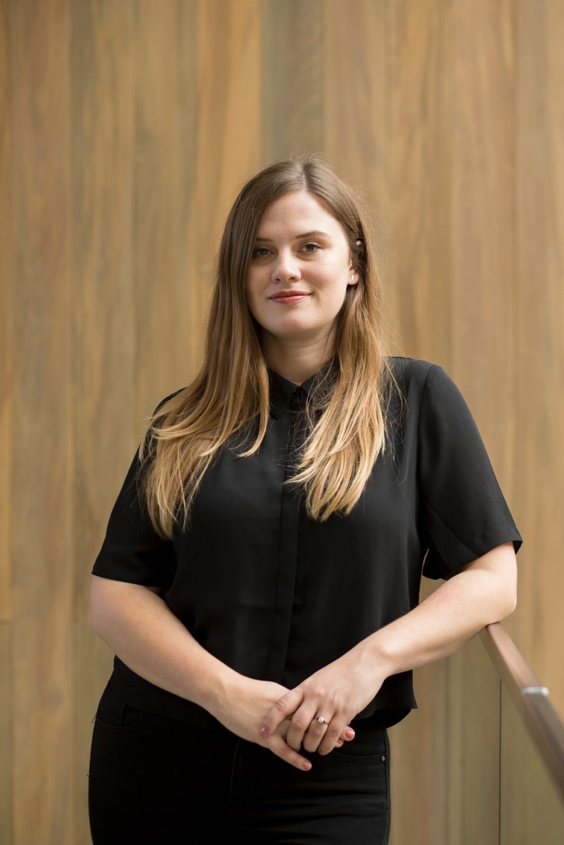 Emily Reynolds is a curator and museum professional based in Buffalo, NY. She holds a B.A., magna cum laude, from the University of Colorado, Boulder in Art History and a M.A. in Exhibition and Museum Studies from the San Francisco Art Institute. As a curator and designer, Reynolds is primarily interested in the way that bodies interact with space. Utilizing an educational background that combines architectural practice with curating and the history of art and cinema, Reynolds works with artists to realize projects that leave a phenomenological imprint on the memory of those who experience their exhibitions. Collaboration is central to her curatorial approach; she prefers to work with one to two artists to specify their individual visions versus furthering her own ideas and politics through group exhibitions.
Reynolds is a founding partner of Bass & Reiner Gallery, an experimental gallery located in San Francisco, where she curated from 2014-2017. Reynolds was also a co-founder of the Parking Lot Art Fair, a renegade art fair that took place in San Francisco in 2015. Reynolds has over 10 years of museum experience in a broad range of positions, working as a Curatorial Assistant at the University of Colorado Art Museum, in visitor services positions throughout the country, and as the Marketing Manager at Yerba Buena Center for the Arts. Reynolds is currently a consultant on a paradigm-shifting platform for arts funding, CultureBank, and the Marketing Specialist for the Niagara Falls Underground Railroad Heritage Center. She is a board member at Hallwalls Art Center – an early iteration of an artist run space. Along with partner Nando Alvarez-Perez, she will launch the Buffalo Institute for Contemporary Art (BICA) in fall of 2018.
Lori Rubeling
Lecture: Human-Centered Design Research Practices and Case Studies
Wednesday, February 27, 4:45-5:45, Glendening Annex
Artist House Residency: February 24 – March 3, 2019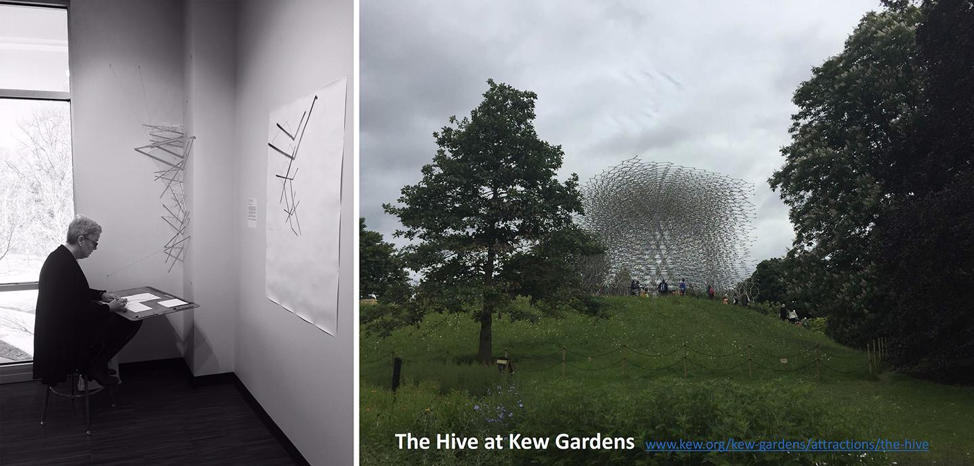 Lori Rubeling's creative interest centers around how spatiality can be represented in drawings, in aesthetic concepts, and in material form. Since 1981, she has studied and produced spatial art and design in theatre arts, theoretical architecture, interior architecture, and sculpture contexts. She has also produced a 200-volume sketchbook library.
Her current practice-led research asks the question:
How can encounters with and observational drawing(s) of historic material artifacts inform the comprehension and valuing of the histories of design?
Rubeling is also actively involved in curation of art and design and human-impact design practices. Her leadership in this area includes a two-year Gallery@ Case[werks] curator residency, as program committee member for the Society for History and Graphics, and as co-curator for D Center Baltimore's monthly impact design conversations.
Rubeling's undergraduate education includes the study of fine art and theatre at Towson University; interior architecture studies at MICA; and the completion of a BFA Studio Art degree from the Corcoran School of Art. Her graduate studies include studying theoretical architecture w/ Daniel Libeskind at Cranbrook Academy of art. She holds a Masters of Arts in the Liberal Arts degree from St. John's College, Annapolis, MD. She was a member of Daniel Libeskind's Cranbrook Academy of Art architectural studio that won a Stone Lion Prize at the 1985 Venice Architectural Biennale for the Three Machines Palminova Project. She has also received sculptural works commissions from the City of Detroit and from Baltimore's Artscape. Rubeling exhibits nationally and internationally: In 2013, she was a visiting artist and lecturer at Art•Sun's 25th anniversary exhibition in Kurashiki, Japan. She has been awarded four Stevenson University scholarship research grants; been a visiting artist and designer for Washington, DC's Art Barn summer programming, Baltimore's Contemporary Museum and Artscape, and the Northeast Regional Honors Council. Her human-centered teaching practice has been recognized by the President of Stevenson University, the Mayor of Baltimore, and the US Department of Commerce.
Rubeling currently teaches in the Graphic Design Department, in the School of Design at Stevenson University. Subjects taught at Stevenson include foundation art and design studios, rapid visualizing drawing scenarios, visual design theory, history of design, aesthetics, theatre collaboration, and exhibition design. She also teaches drawing systems at Morgan State University in the graduate architecture program. Her previous teaching positions include MICA, CCS College of Art and Design, and Mt. Saint Mary's University. This residency and related events are co-sponsored by the Lecture and Fine Arts Committee, and the Environmental Studies Program and the Department of Art and Art History.
Michelle Kohler '01
Artist House Residency: March 1 – 10, 2019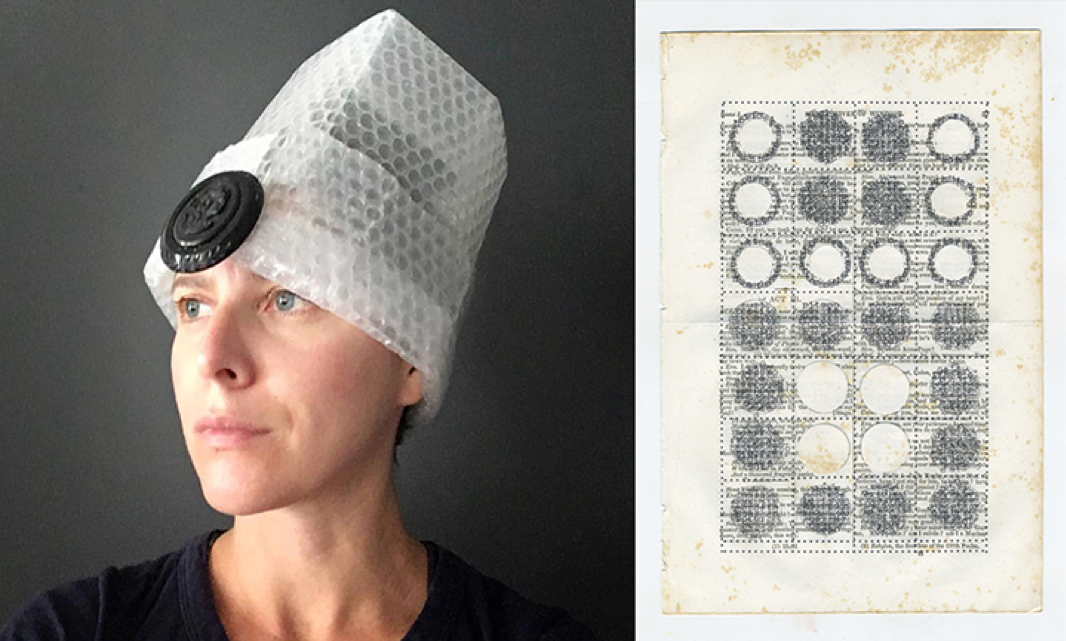 Michelle Kohler '01 is a conceptual artist working in Washington, DC. Using the constraints of domesticity, her work emerges at the intersection of art and everyday life. Through text, installation, and performance, Michelle examines the distance between the numinous and the mundane, self and other. Inspired by 17th Century tantric paintings, she uses a typewriter to transcribe spiritual texts into contemplation forms. The mechanical up and down, left and right motion of the typewriter frames her interest in non-dualism. Practicing the ideals set out in texts, she playfully seeks boredom and discomfort as opportunities for creative intervention. Through collaborations, Michelle interrupts accepted stories and habits, often trying to embody the experience of another person.
Michelle received a MAT in Art from the Corcoran College of Art and Design and graduated from St. Mary's College of Maryland in 2001 with a BA in Art and Art History (ART). For the past four years, Michelle has been a resident artist in motherhood. As an ARIM artist she has collected a year's worth of number 2 pencils from the playground, gone hunting with her father, and published The Bhagavad Gita Typestracts, the complete Bhagavad Gita written in visual form. She is a decorative painter, a certified yoga therapist, and a former DC Public School teacher. Michelle's work has been shown at Gradient Project Space in Thomas, WV. She is the beneficiary of the 2011 McCarthy Tall Tales Prize, a geodesic dome owner, and spent her honeymoon hiking 1000 miles on the Continental Divide Trail. In addition to creating new work, while in residence at the Artist House Michelle will participate in the ART SMP mid-term reviews and visit the new Professional Practices course as a visiting artist.
Alyssa Salomon
Artist House Residency: March 18 – April 8, 2019
Artist Talk: TBA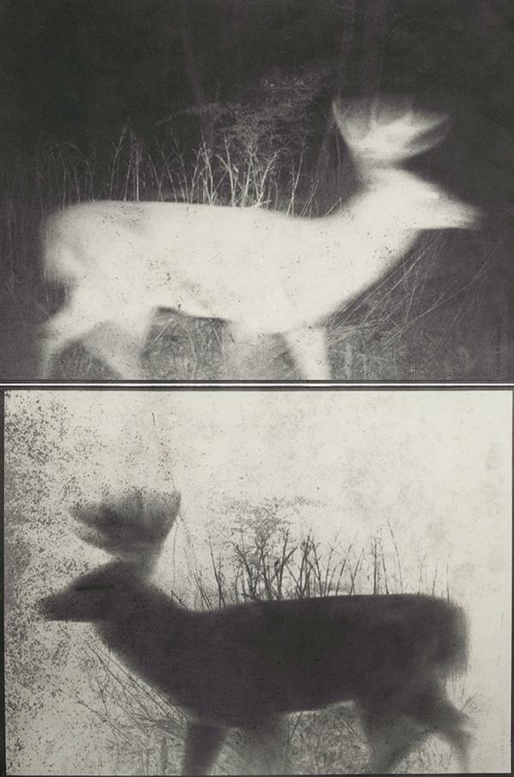 Alyssa Salomon's studio practice relies on discovery through process, and explores our visual experiences and understandings. Working with photography, she is a printmaker first and foremost, dedicated to the image that is made from what has been seen and speaks to what we value. Salomon's newest venture is Blue Skies Workroom through which she designs, prints and manufactures affordable home textiles, bags, books and gifts from natural fibers and eco-friendly inks. She likes to say about Blue Skies Workroom, "We print happiness."
Printmaker, photographer, educator and entrepreneur, Alyssa C. Salomon is currently Artist in Residence at Virginia Commonwealth University School of Business. Her ongoing project, ANIMAL LAND, exploring feral beauty and the Romantic sublime within the nocturnal landscape of our well-developed East Coast corridor, has been featured in exhibitions at Candela Gallery (Richmond VA), Panopticon Gallery (Boston MA), and art fairs. A Chicken in Every Plot, her two year collaboration with the Valentine Museum about chickens and the backyards in which they roam, was on view at the Valentine during most of 2016. Salomon's newest venture is Blue Skies Workroom, a studio based in Richmond VA that designs, prints and fabricates home goods, personal accessories, and cards, using eco-friendly inks and natural fibers, selling wholesale, at pop-up shops and markets, and on Etsy. Salomon and Blue Skies Workroom were invited to design the more than two dozen illuminated textile centerpieces for this year's Collectors Night gala at Visual Arts Center of Richmond. BlueSkiesWorkroom.com Salomon's work has been recognized with awards including two VMFA Professional Fellowships and the Theresa Pollak Award for Excellence in the Arts. She holds degrees from Kenyon College (BA, Art) and University of Chicago (MBA, Business Policy and Finance), apprenticed with daguerreotypist Robert Shlaer, and studied and taught at Penland School of Crafts. Salomon is represented by Candela Gallery (Richmond VA), Soho Myriad (Atlanta GA), and Penland Gallery (Penland NC). AlyssaSalomon.com
Parran Collery
Artist House Residency: April 8 – 29, 2019
Artist Talk: TBA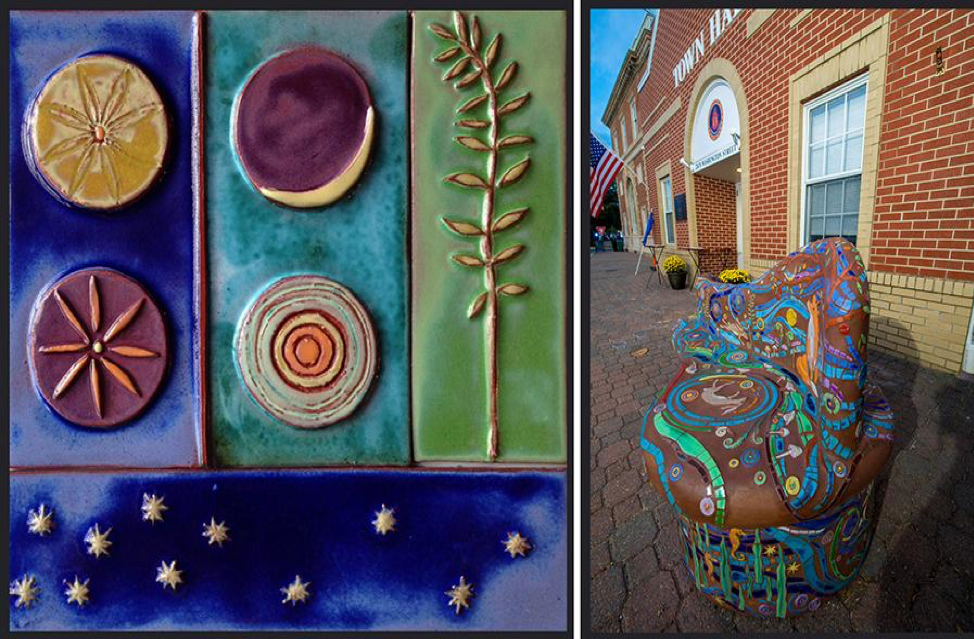 Parran Collery is a ceramic artist based in southern Maryland, where she is the artist/owner of a studio from which she runs an art business called Eartha Handmade Tile. Founded in 1997, Eartha Tile creates a collection of limited production tiles for sale in shops and galleries throughout the US, and also creates custom commissioned mosaic designs and one of a kind artwork. Collery received a BA from the University of Vermont (summa cum laude) in 1989 and a MFA from Mason Gross School of the Arts, Rutgers University in 1992. She taught undergraduate Ceramics at Rutgers from 1990-92, and was an Adjunct Instructor of Ceramics at Toms River Community College from 1993-95. At Toms River she taught all levels of ceramics including Independent Studies. She also apprenticed at Peace Valley Tile Studio in Bucks County PA for four years before founding her own studio.
For the past 30 years, Collery has exhibited her sculptures and tile designs extensively through the states. Museum exhibitions include group shows at the Flemming Museum, Burlington VT, and the Heckscher Museum in Huntington NY. Other exhibitions include shows at Mackerel Sky Gallery, East Lansing MI, Backas Gallery, Baltimore MD, Carroll County Arts Council, Westminster MD, Indigenous Gallery, Cincinnati OH, Annmarie Sculpture Garden and Arts Center, Solomons MD, Pewabic Pottery Invitational, Detroit MI, and North End Gallery, Leonardtown, MD. She has also participated in several American Craft Council shows. Collery has been a resident artist at Watershed Center for Ceramic Arts in Maine (1999 and 2006). She is also a highly popular Artists in Education visiting artist resident, working with young students at over 15 primary and secondary schools in MD and VA since 2000 to facilitate and create permanent ceramic tile installations. These projects include numerous wall mosaics, bench projects, and free-standing mosaic garden sculptures. In addition to dozens of private commissions, commercial tile installations by Collery include The Ruddy Duck restaurant bar countertop in Solomons MD, The Rock Bar entry floor in DC, and welcome sign installation at Annmarie Art Center, Solomons MD. She is currently completing a 30-panel bird identification project for Annmarie Art Center, to be installed in 2018. She has also received two public art grants: DC Commission for the Arts H Street Revitalization Project 2004, and the 2017 inaugural Town of Leonardtown Public Art Grant, in partnership with the MD State Arts Council.
ART SMP Exhibition
Boyden Gallery, Montgomery Hall
More information coming soon!
Bethany Springer
Artist House Residency: May 16 – June 6, 2019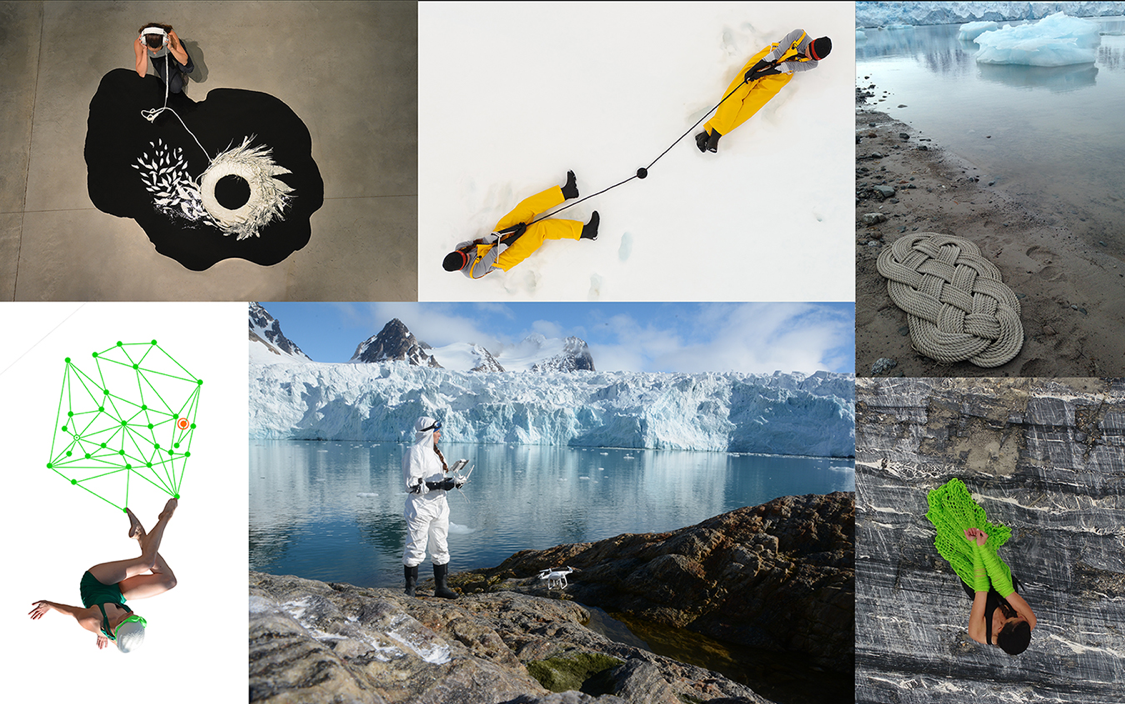 "My current work lies somewhere between romanticism and realism, an inquiry into place and identity as influenced by history, heritage, globalization, and the information age.
How place is established, reinforced, and lost is referenced through the juxtaposition of disparate historical and contemporary images, metaphors that find ironic commonality through online searches. Often, I use search engines as a tool to interpret and inhabit the world beyond my own heritage and environment, pairing a simple word or phrase with a complex network of associations connecting semiotics, historical origin, consumer items, and fads. In an attempt to have a deeper understanding of place and of the objects that represent place over time, I recreate images found on the internet or repurpose objects that have historical significance yet have lost their value in present society. I find it important to travel to locations referenced in my work so I may collect information from institutions and residents who have deep roots in their community. The resulting installations are usually hybrids of collected research, a fusion of personal and digital information that visually manifests the fragile link tethering identity to place."
Bethany Springer has received grants from the Pollock-Krasner Foundation, Arkansas Arts Council, Iowa Arts Council, the University of Arkansas Community and Family Institute, and the Center for Digital Technology and Learning at Drake University in Des Moines. Springer has been in residence at Full Tilt Creative Centre and Terra Nova National Park in Newfoundland, Canada, The Arctic Circle in the International Territory of Svalbard, the Hambidge Center for the Creative Arts & Sciences, the Fine Arts Work Center, and the Bemis Center for Contemporary Arts. Selected exhibitions of her work include Maryland Art Place (MAP) in Baltimore, Boston Center for the Arts, Milwaukee Institute of Art and Design, Creative Arts Workshop in New Haven, CT, Grounds for Sculpture in Hamilton, NJ, City Gallery East in Atlanta, the Walton Arts Center in Fayetteville, and Full Tilt in Newfoundland. She is currently an Associate Professor in Sculpture at the University of Arkansas in Fayetteville.