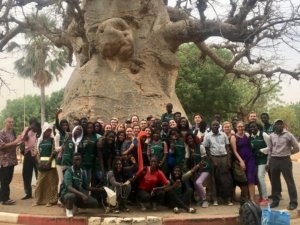 Pre-Requisites
Minimum GPA: 2.5
Judicial Check
Academic Conduct Review
Dates
Winter 2020: January 3rd – January 17th
Highlights
Bandia Wildlife Reserve
Goree Island, UNESCO World Heritage Site
University of Thiès
Grand Mosque at Mouride holy city of Touba
Eco resort and afternoon homestay on the Saloum river delta
Study Abroad Budget
Estimated Budget: TBA
Sights and Sounds of Senegal Study Tour, Winter 2020
Overview
Join instructors Maribeth Ganzell (student club coordinator) and Bill Roberts (professor and department chair of anthropology) for a thirteen-day study tour in Senegal, West Africa, a country known for gracious hospitality (teranga) and generosity. This is the third SMCM trip to Senegal. Students visit sites of significant cultural, environmental, and historic interest. This trip includes visits with contemporary artisans and artists, and a tasty introduction to Senegalese food and music. Students will meet and talk with their Senegalese student counterparts in high school English clubs or Senegalese universities at each of five stops. In Senegal, Muslims and Christians celebrate religious holidays together and live together in respectful appreciation of their respective faiths. We will visit the holy city of Touba Mbacké and see the largest mosque in West Africa. We will see antelope, giraffe, monkeys, ostrich, rhino and zebra during our safari through Bandia Wildlife reserve. We'll meet many English speakers in Senegal, but will study some of the basics of the Wolof language so that we can greet our new friends in a local language. Students who have studied French will be able to use their language skills throughout the trip.
Study tour leaders will meet with students during the fall semester, 2019, to provide background information about the itinerary and a set of readings and written and video materials that provide an overview of Senegalese culture, geography, history and society.
Preparation
Students must have a valid passport with more than six months validity, consult with their doctor or an international travel clinic for required immunizations and malaria prophylaxis during the fall semester, 2019.
Fulfills ELAW requirement. Students may earn credit for directed research project with Prof Roberts following the study tour during SP 2020 semester. How credits taken abroad will transfer back to SMCM.
The academic and judicial requirements for any student considering studying abroad.
How financial aid will apply towards your study abroad program and what scholarships are available.
Payment processes for semester-long, short-term, and non-SMCM study abroad programs.