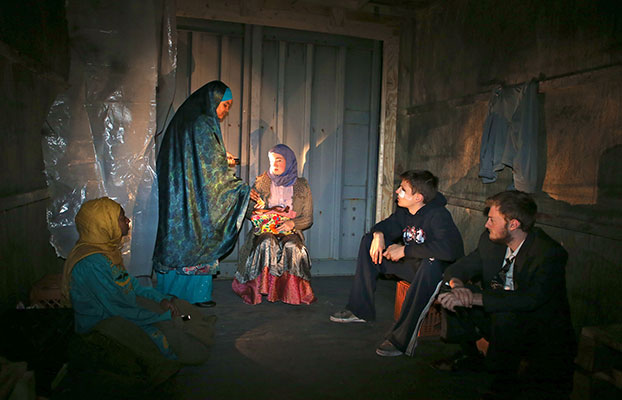 Theater Opportunities
Theater Productions
As part of our annual theater and arts season, St. Mary's produces three major shows in the 200-seat Bruce Davis Theater. Directed by the faculty or guest artists, these productions encompass the widest possible range of theatrical forms, genres, and periods, spanning Shakespeare to Japanese kyogen to musicals like Hair and Cabaret.
Talk-Back Night
A unique opportunity to for the public to ask questions of the cast and crew. These talk-backs are often the source of enlightening discussions of benefit to both the cast, the crew, and the audience.
Learn more about Theater Opportunities
Student Productions
We have a second performance space, The White Room, that is completely run by students, who annually elect a committee to oversee the shows produced in this lab. All students are welcome to serve on the committee and to propose projects that might be student-written, student-directed, and/or student-designed for production in the lab. Some years are more active than others, depending on student initiative, but a typical year would include 4-6 student productions in this space.
Learn more about The White Room
Film Opportunities
Film Production Opportunities
St. Mary's provides technical and academic support to film and media majors whilst they work on their own projects. Many majors have used their time at St. Mary's to create their first short, feature length, animated or documentary film.
There are currently four filmmaking and post-production facilities on campus, one located in the Baltimore Hall Library (the Media Center) and the other three located in Montgomery Hall (the Pro-Lab, Learning Lab, and the TFMS Editing Room, or Digital Video Lab). Each facility is variously equipped with an array of technology for supporting high-end digital video work, including an audio/video editing and recording studio, editing stations, and utilities for story-boarding and for producing professional-level DVDs. Students have produced a range of creative projects by using these facilities and their technologies, from short-form interview documentaries to full-length movies with special effects.
Learn more about Film Opportunities
Events
Visiting Guest Artists
St. Mary's complements its production season with occasional guest artist residencies. Guest artists may direct or design main stage shows, or may be members of regional, national, or international theater companies that hold workshops and performances for the St. Mary's community. Prior visiting guest artists include Nobel Prize-winning playwright Wole Soyinka; performance artists Peggy Shaw, Robbie McCaule, and John O'Neal; filmmakers Alan Berliner, Su Friedrich, Scott Hamilton Kennedy, Yung Chang, and Lewis Klahr; and the nationally acclaimed Teatro Luna, the Chicago-based all-Latina performance ensemble co-founded by SMCM theater alum Coya Paz, '97.
TFMS Night
Each May, we host TFMS Night to showcase student work in the performing arts and in film and media at St. Mary's. Department faculty encourage the participation and attendance of all TFMS majors and minors. Students enrolled in TFMS courses (e.g. acting, directing, movement and dance, documentary practices, media production) perform scenes or screen films from work crafted in class.