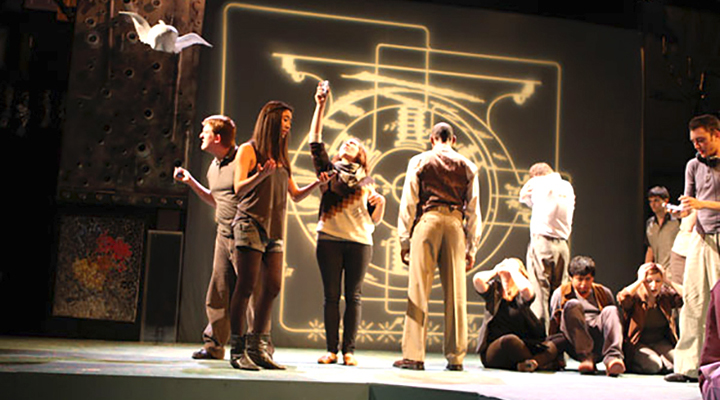 The White Room is a student-run organization, whose principal function is to showcase student-produced work. Students may apply for use of the space through The White Room Committee.
Students who plan to use The White Room for a St. Mary's Project or independent study must follow all regulations established by The White Room Committee and by the TFMS department for satisfactory completion of the work.
The White Room Committee
The committee is made up of a group of students that evaluates proposals, schedules rehearsal periods and performance dates, and operates, when necessary, as liaison with the technical director of the Bruce Davis Theater and the resident designer for use of department shop facilities. Faculty may also request use of The White Room through The White Room Committee.
All items borrowed from the department for White Room activities must be returned to their proper places and in original condition, unless otherwise agreed upon, at a time arranged with the technical director or resident designer.
Policies
Although The White Room is an independent organization, without formal ties to performance activities of TFMS, students involved in White Room shows must follow all rules, regulations, and procedures for use of department shop facilities, properties, costume pieces, furniture/scenery pieces, and lighting instruments. Please note: Main stage productions receive priority in the use of all shop facilities, furniture/scenery pieces, properties, costumes, lighting instruments, and tools, but efforts will be made to accommodate White Room requests.
---
Recent White Room Productions
"24-Hour Playwriting Competition" (and performances), student-produced, -written, and -directed (2015)
[title of show], by Jeff Bowen and Hunter Bell (2011)
A Cabaret Night (a night of singing, dancing, and comedy), student-conceived, -produced, and -directed (2010)
Check, Please, by Jonathan Rand (2010)
Stage Orphans, an original student-written and -directed play (2010)
Blue Window, by Craig Lucas (2008)
Another One-Act Festival (included The Actor's Nightmare, by Christopher Durang; The Pillowman, by Martin McDonagh; and original performance pieces by students Liz Lawrence ("Consent") and Megan Rippey ("The Abortion Monologue")) (2008)
WTF WAS THAT!?!?, a night of quirky one-acts (included Auditions and a revival of My Daughter's Dead, two original performance pieces written by students; Sure Thing and English Made Simple, by David Ives; Alone at Last, by Gina Barnett; and Controlling Interest, by Wayne Rawley) (2007)
Life Under Water, by Richard Greenberg (2007)
Resounding Room and 12 Stereos, student art/music installations (2004, 2005, 2006)