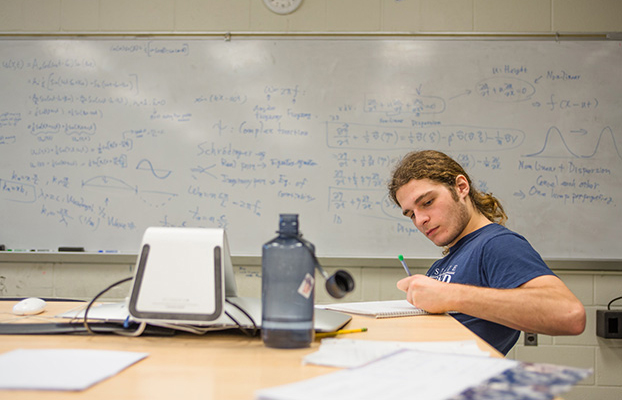 A minor in Physics can equip you with the critical thinking, research, and excellent verbal and written communications skills that provide the ideal complement to any major. A Physics minor can present advantages in scientific careers, technology, business, government, and health care as well as many other national and international industries.
Degree Requirements for the Physics Minor
Required courses
Required courses: All students in the minor must take the 12-credit introductory general physics sequence:
PHYS 151: Fundamentals of Physics I (recommended) or PHYS 141 General Physics I
PHYS 152: Fundamentals of Physics II (recommended) or PHYS 142 General Physics II
PHYS 251: Fundamentals of Physics III
Elective Courses
Students must take eight credits (two courses) from among any of the courses listed below:
PHYS 281: Mathematical Methods in Physics
PHYS 311: Advanced Laboratory or PHYS 312: Advanced Laboratory
PHYS 342: Mechanics
PHYS 351: Electricity and Magnetism
PHYS 382: Optics
PHYS 390: Astrophysics and Cosmology
PHYS 462: Quantum Mechanics
PHYS 473: Statistical Mechanics
PHYS 475: Topics in Applied Physics I
PHYS 476: Topics in Applied Physics II
PHYS 490: Topics in Physics
If a student in the minor takes both PHYS 311 and PHYS 312, only one of these courses will count towards credit in the minor.
Students should note that most upper-level physics courses have prerequisite or co-requisite mathematics courses which also must be taken. Students should also note that not all of the upper-level courses listed here will be offered every year. Chemistry majors who pursue a physics minor are strongly encouraged to take PHYS 462 (Quantum Mechanics) or PHYS 473 (Statistical Mechanics) as elective courses.
Minimum Grade and GPA Requirements
Students must maintain a minimum 2.0 GPA within the minor.