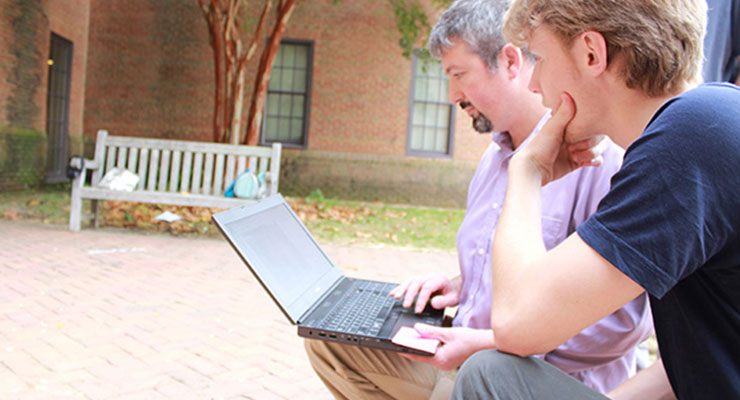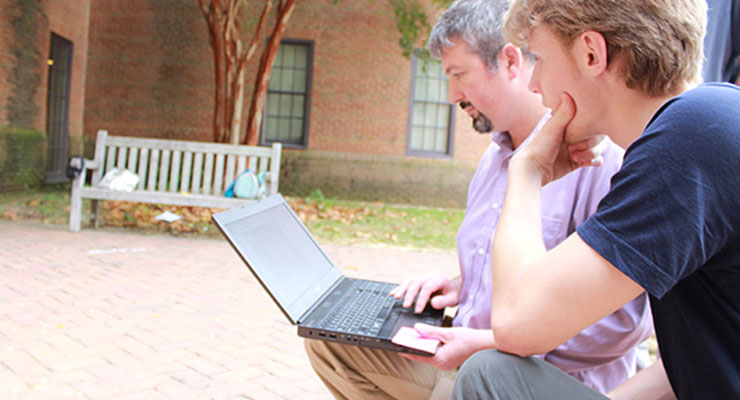 Students perform research in and outside of the classroom. Students benefit from research training, state-of-the-art equipment, and student/professor research collaborations. Physics students hone their speaking skills with lab presentations in both Fundamentals of Physics 3 and Advanced Laboratory courses, as well as project presentations in many upper level courses. Students work with professors on St. Mary's Projects, directed research courses, and summer internships. Students also receive training in finding internships beyond St. Mary's.
Student/Professor Collaboration
Atom Interferometery and Light Scattering
Professor – Chuck Adler
Professor Adler has been in a long-term collaboration with Dr. Frank Narducci of NAWCAD. The research in this collaboration involves using ultra-cold atoms to build highly sensitive magnetometers for Navy uses. The project involves fundamental properties of quantum mechanics: the idea that atoms, like light waves, can be interfered. Currently, his research involves building this system; in particular, he is constructing a dual MOT (Magneto-Optical Trap) for trapping and cooling atoms for the interferometer. This involves the design and construction of a novel electromagnet system.
For the last two decades, Dr. Adler has also been involved with research in atmospheric optics: optic of the rainbow, ice crystal halos, the Green Flash, and other aspects of the interaction of light with the atmosphere and landscape. He hosted the 10th International "Light and Color in the Open Air" conference at St. Mary's College in June, 2010. This is a gathering of scientists from around the world who study atmospheric optics; it was the first international scientific conference ever hosted by the college. The photographic exhibition running parallel to the conference, "The Atmosphere Exposed", has been displayed at the National Science Foundation main headquarters as part of the "Art of Science" program, and traveled to the American Center for Physics in May, 2012.
He is interested in a wide variety of other topics: he currently is researching the interrelation between science and music in the work of Vincenzo Galilei (Galileo's father) and writing a book on the science of science fiction, which will be published by Princeton University Press in late 2013.
Laser Cooling, Trapping Atoms, & Quantum Walks
Professor – Josh Grossman
Professor Grossman's research with students falls into two categories: (1) applications of laser cooling & trapping of atoms and (2) quantum processes. Students have been co-authors on many presentations of this research at national conferences. Sara DeSavage '10 was featured for her research in the SPS Observer, the national magazine of the Society of Physics students. Dan Powell '09 won St. Mary's Geneva Boone Award for Outstanding St. Mary's Project.
The group pursues two laser cooling projects which have received financial support from the Office of Naval Research and from Research Corporation for Science Advancement. In one project, Prof. Grossman and students are constructing microchip traps for atoms which could one day be the building blocks of a quantum computer. In the second project, a collaboration with Prof. Adler and Dr. Frank Narducci of NAVAIR researches using laser cooled and trapped atoms for sensors to be deployed on aircraft. They are also investigating miniaturizing atom trapping experiments using bichromatic laser cooling. Many students who worked in this collaboration have gone on to employment with NAVAIR.
Professor Grossman and students also research quantum walks. These quantum analogues of classical random walks are a source of new computer algorithms and they help explain physical processes such as energy transport in photosynthesis. Another project investigates implementing an unusual class of quantum measurements, which have applications in quantum cryptography.
High Energy Physics Phenomenology
Professor – Erin De Pree
Professor De Pree studies high-energy phenomenology and physics education. High-energy phenomenology focuses on theoretical predictions of various models at colliders and cosmic sources. Models of interest include warped extra dimensions, universal extra dimensions, fourth generation, and multiple extra dimensions. Studying these models lets physicists predict where to look for evidence for (or against) the model.
The high-energy phenomenology group is delighted that alum Jeremy Perrin was a finalist for the American Physical Society's 2013 Apker Award which recognizes outstanding research in physics by undergraduate students. Jeremy developed a seven-dimensional model with one warped dimension and two additional dimensions compactified on either a sphere or a torus. Together Jeremy and Professor De Pree wrote a paper that is currently under in the peer review process required prior to publication.
Professor De Pree developed "Career Moments in Physics", a curriculum used in Fundamentals of Physics 3 to help students explore their career options and find summer research opportunities both on and off campus.
Acoustical Properties of Inhomogeneous Materials
Professor – Michelle Milne
Professor Milne investigates the acoustical properties of inhomogeneous materials, which have a number of interesting applications in the medical field of ultrasound. She is particularly interested in using ultrasound to examine cardiac tissue, but she and her students have also looked at other materials that exhibit similar long-fiber structure such as pineapples.
The Nature of Quantum Mechanics & Sound
Professor – Katsunori Mita
Professor Mita focuses his research on reformulating quantum mechanics in the hydrodynamical form. Together with his SMP student Brian Tennyson (2011), Professor Mita recently solved a rather lengthy set of nonlinear differential equations. They obtained the full spectrum of the coherent and squeezed states of the harmonic oscillator.
Professor Mita also explores the physics of sound: reproducing 2D resonances, recreating sounds, and studying the complexities of the string vibrations.
External Research Opportunities
Many St. Mary's physics students spend their summers doing research off-campus. These experiences enrich the students' lives and education. Students have gone to summer programs at NASA, the American Physical Society, National Institutes of Health, the National Institute of Standards & Technology, Navy research centers, the Johns Hopkins Applied Physics Laboratory, Georgetown University, Purdue University, and many others.